Microsoft (MSFT) announced at E3 this week that the Zune Store will be offering video game downloads to the XBox 360 console thereby removing the middle-man (read GameStop (NYSE:GME) ). This is bad news for the video game retailer and comes on the heels of the Wal-Mart (WMT) announcement last month, that the giant retailer would be testing video game trade-in kiosks in 77 stores across some key markets in the east.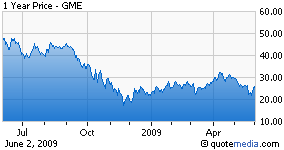 GameStop has had its share of woes lately, even amidst a booming video game market, which is one of the few retail segments still showing strength in these tough economic times. Last month, GameStop announced a very weak earnings forecast and trimmed its full-year same-store sales outlook. The company's outlook for the quarter ending in July called for earnings per share of 28 cents to 33 cents, while analysts were expecting for 40 cents, on average. Same-store sales are expected to drop 8 percent to 11 percent, compared with growth of 20 percent in the year-earlier quarter. Already this information hit the stock hard last month as it tumbled 15% in a single session.
With this Microsoft announcement, Gamestop's future looks pretty bleak, and they will now depend on trade-in's even more so than they did in the past. It will be interesting to see how Wal-Mart's plans shape up over the next few months.