Ambarella (NASDAQ:AMBA) remains a favorite stock of mine and I keep continuing buying on every dip. My first article posted on March 16th talked about the potential of the company before its latest earnings report. The stock price has risen from $11 to the current price of around $14. In the last few weeks, a nice consolidation has occurred and I believe we are ready for higher prices again.
The story
AMBA is a leader in the video processing field. It is a semiconductor play on increasing video content generation from portable devices. The company makes chips that enable significant innovation in video camera markets. AMBA makes chips for smaller video cameras that are easy to use and offer high-definition video. The company can be described as a video processing specialist including software to enable portable camera innovations.
AMBA's high definition video focused products offer superior performance giving it a leading share in the space. The company sells chips to a number of different companies. This diversified market coupled with the diversified customer base makes AMBA an exciting play into 2013 and 2014.
Growth is driven by a range of markets. The cameras continue to sell quite well and they provide chips for cameras in the sport market, automotive sector and also security cameras.
The company is a leader and in my opinion, it has more than 3 years lead before any competition can be seen. AMBA also spends quite a bit of money on research and development and recruits a number of engineers to keep innovating their exciting products.
The importance of video processing
Video processing starts with video capture, compression and decompression and changing of video formats. Video quality continues to get better and better. High resolutions, high frame rates and better compression algorithms are three key characteristics that helps video process better. Cisco's research estimates that mobile video will be 71% of total mobile traffic in 2015.
Video formatting continues to evolve. One can see how AMBA has progressed throughout the years.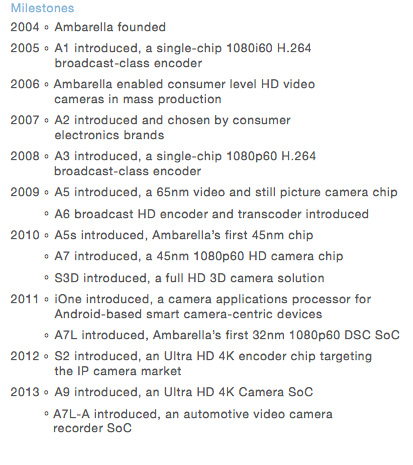 The improvement in high definition video has also been amazing as seen below.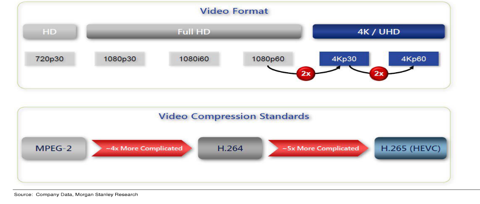 The 4K transition has already started as it's being used in automotives. On January 8th, AMBA unveiled advanced HD automotive camera solutions which enables single and dual view camera configurations.
This is quite interesting as we know that on February 15th, 2013, numerous dashboard cameras were being used to capture the Russian meteor. I believe that we will see these cameras enter the United States eventually and their use by insurance companies can be huge.
Recently, AMBA partnered with Dolby and Hamronic to provide a flexible platform to increase the quality and the density of video transcoders and video contribution links.
Company Overview
The business segments in AMBA are divided in 2 main categories. 77% of revenues is derived from cameras whilst infrastructure generates 23% of revenues. The biggest factor why I like AMBA's potential is the fact that they are the leaders in HD cameras in the security, auto and broadcast markets. After the bombing in Boston, I believe that security cameras need to get better and AMBA is definitely in a position to take market share from their competitors.
The management is very strong with prior experience in the video markets. AMBA was founded in 2004, and IPO'd in 2012. The CEO, Fermi Wang, holds several digital-video related patents, including one of MPEGLA's core MPEG-2 and MPEG-4/AVC patents.
Big products endorsing AMBA's chips
For the everyday consumers, AMBA produces chips for 2 major products that we see everyday. The chips that one finds in the GoPro series of wearable cameras are produced by AMBA. It's amazing that a camera can produce such quality during motion and in such circumstances. The Dropcam is also another popular product that uses AMBA's chips. Sales continue to surge as seen here.

Financial overview
Some key points:
Market capitalization of $400m.
Cash in hand of $100m.
0 debt (Reducing chances of a secondary offering of shares).
Float 14.11m
% short = 600,00 shares or 7% (As of April 15, 2013).
Earnings analysis
The last earnings reports have been stellar. Here are some key points:
"Revenue of $121.1 million for the year ended January 31, 2013, represents an increase of 24.5% over the prior year revenue of $97.3 million."
"Non-GAAP net income for Q4 2013 was $5 million, or $0.18 per diluted ordinary share, compared with non-GAAP net income of $2.7 million or $0.08 per diluted ordinary share in the same period in the previous year."
"Revenues for the first quarter ending April 30, 2013, to be between $31 million and $33 million. This represents an increase of between 20% and 27% over Q1 of last year."
These results speak for themselves.
In the previous earnings report, AMBA's management stated:
During Q3, we saw continued growth in the professional IP camera market led by major IP camera makers, including Axis of Sweden, the market leader in IP camera, Bosch of Germany, and Avigilon of Canada.
Let's give a recent example that shows the potential in AMBA's next earnings report. Avigilon, a company based in Vancouver, Canada, is engaged in the design, manufacturing and marketing of network-based surveillance systems. Avigilon uses AMBA's chips in their products.
One can see how this company continues to grow. Sean Peasgood, an analyst with Clarus, states that the video surveillance market is immense as he estimates that the market can grow from $16 billion in 2011 to $29 billion by 2015.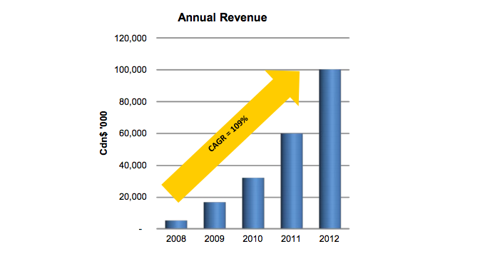 This is one example of the collaboration that AMBA has with one company. There are numerous others showing this type of growth.
Technical analysis
The daily chart shows massive strength and potential for new highs. Volume continues to increase as shorts get squeezed and institutions continue to load.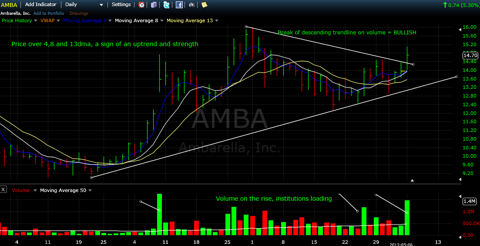 The weekly chart also looks great. Look how support was found at the 10 day moving average in the last 4 weeks.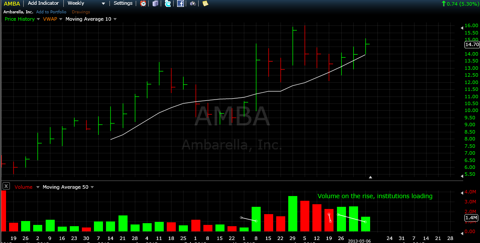 Conclusion
With the recent massive earnings report, experienced management, strong cash in hand and a small float with a high percentage of it being short, I believe that AMBA has big potential for the future. The recent volume surge makes me believe we will see new highs soon. Keep an eye for a breakout over $16. It remains one of my favorite buys for 2013 and one I am willing to hold for the next few years.
Disclosure: I am long AMBA. I wrote this article myself, and it expresses my own opinions. I am not receiving compensation for it (other than from Seeking Alpha). I have no business relationship with any company whose stock is mentioned in this article.