One of my favorite indicators I look at when researching stocks is the level of institutional buying. Institutions typically have resources far greater than the average individual investor when it comes to research.
In addition, they have – in all likelihood, spoken with the head of investor relations at the company, something the average investor just isn't able to do.
So when institutions start accumulating a stock, chances are it's for good reasons. One stock that has been experiencing heavy institutional buying is Vistaprint Limited (VPRT).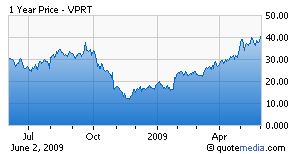 Vistaprint is a Bermuda-based company that provides small businesses one-stop shopping, for just about everything needed to get small businesses around the world up and running.
It offers a customized slate of products and services ranging from business cards, postcards, apparel, stationery, calendars, and creative design services. In addition, Vistaprint will design and provide copywriting services, organize direct mail campaigns, signage, website design and hosting.
With workers around the world getting laid off in droves, many have decided to take the plunge and go into business for themselves.
That makes Vistaprint an attractive alternative to dealing with different companies for all the different needs a small business has when starting up.
And it must be on to something: its website receives over 31,000 orders each and every day. That's translated into an impressive ramp in the stock, up over 230% since last November.
And with no end in sight for the recession – and big business continuing to lay off workers – chances are excellent that the explosive growth Vistaprint is experiencing will continue.
Look for any big dips in the market as possible entry points to initiate a position. And if you're planning on starting a small business – or if you already have one – checkout Vistaprint's one-stop offerings.