Molycorp (MCP) is set to release its first quarter financial results on May 9, 2013. For fourth quarter 2012 the company reported net revenue of $134.3 million, a gross loss of $20.4 million and a loss attributable to shareholders of $364.2 million. Revenues declined over 35% versus 3Q 2012 and management estimated that 1Q 2013 results could be worse.
Here's what to look for on the earnings call:
Price Deterioration
The following chart illustrates price and volume by segment for actual three months results through September 30, 2012, and estimated three months results through December 31, 2012. I estimated price and volume per segment based upon the midpoint of management's estimates provided in Molycorp's January 23, 2013, 8-K pursuant to its capital raise. That said, estimated 4Q revenue was very close to the company's actual revenue.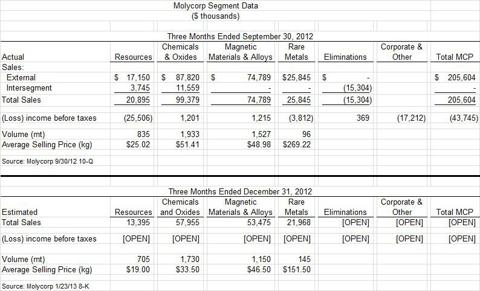 Click to enlarge
These are key metrics that drive the company's top line. They are also indicators of whether Molycorp is nearing a trough in price deterioration or whether prices, and its business prospects, have further to fall. Since Molcycorp is one of two junior miners providing commercially viable products to the marketplace - Lynas (OTCPK:LYSCF) is the other - its pricing may be a harbinger for other junior miners.
Intangibles
The company's fourth quarter loss included an intangibles write-off of about $258.3 million. I previously gave four reasons why Molycorp should have written off $1B of intangibles, one of which is that the write-off would have put the Neo Materials acquisition in the former CEO's bailiwick. That said, Molycorp currently has $691 million of goodwill and intangibles on its balance sheet. If the financial results of Neo (since renamed "Molycorp Canada") continue to decline, further write-offs may occur, making the Molycorp Canada deal and related write-offs interim CEO Constantine Karayannopoulos' problem. Given that the company recently had debt-to-asset constraints removed from debt covenants, the decks may now be cleared for a much bigger intangible write-off this quarter.
Inventory
At year-end the company had inventory of $313.5 million, up from $116.3 million a year earlier. Part of the increase was due to the Molycorp Canada acquisition. Though inventory increased, the company's revenue declined since the acquisition. Molycorp's slow moving inventory which could be due to the company's inability to manufacture product above cost or due to declining customer demand. Inventory as a percentage of GAAP book value was 57% and I expect Molycorp to reduce its inventory balances - either through reduced production during the quarter or due to a bigger than normal write-off.
Cash Flow
In its January 2013 press release which predated its capital raise, Molycorp intimated a 2013 cash flow short fall. The company's run-rate cash outflows have been in the $45 million - $50 million range. Molycorp raised approximately $414 million in its most recent debt and equity offering. Including its year end cash balance of about $228 million, the company should have had cash on hand of about $642 million in early January. Longs are betting that the company will have enough cash to survive long enough to take advantage of a second half turnaround in prices. If 1Q cash outflow from operations is in the $50 million - $60 million range, it may be a bullish sign for the stock. However, if its run-rate outflow come in around $75 million or more, it may signal that Molycorp won't have enough cash on hand to fund operations and complete its Mountain Pass mine expansion, leading to potential bankruptcy or another capital raise.
Corporate And Other Costs
Molycorp's "corporate and other" costs were $17.2 million for 3Q 2012. These costs rose substantially after the Molycorp Canada transaction. On its 4Q 2012 earnings call, the interim CEO was keen to reduce these costs. He began to follow through on his promise after severing John Ashburn Jr, and John Burba, general counsel and Chief Technology Officer, respectively. There is a real need to reduce overhead as revenues have declined since the second half of 2012. Moreover, the corporate and other cost figure is a proxy for whether the interim CEO can deliver on past promises, something the company has been unable to do in recent quarters.
Conclusion
I expect additional operating losses, negative cash outflows and asset write-offs during Molycorp's earnings release. Molycorp longs may look for signs of a second half rebound in pricing and earnings. However, given the company's near term operating losses, balance sheet issues and soft demand for its product suite, I rate the stock a sell.
Disclosure: I am short MCP. I wrote this article myself, and it expresses my own opinions. I am not receiving compensation for it (other than from Seeking Alpha). I have no business relationship with any company whose stock is mentioned in this article.
Additional disclosure: I own June puts on the Molycorp