The US banking industry is on its way to a steady growth as the earnings season demonstrated substantial profits. Specifically, the larger banks have sustained their profitability by emphasizing expense cuts. A report by Deloitte identifies the outlook for 2013 as "the age of re-regulation." As the regulatory pressures start to take hold, investors are beginning to adjust their stance on the industry. In this current situation, Bank of America (NYSE:BAC) appears to be a viable opportunity for investors for a number of reasons. Firstly, the financial results have started to improve and the business is geographically well diversified. Moreover, the cheap valuation of the company provides a stronger upside potential.
Industry Analysis
Bank of America operates in the diversified financial industry, competing against JPMorgan (NYSE:JPM), Citigroup (NYSE:C) and Wells Fargo (NYSE:WF). One major factor that these banks have in common is that they are all projecting a decent recovery in their financial performance as reported in the first quarter reports of FY13. This recovery was brought about by substantial expense cuts and reserve releases. These factors do not project a sustainable source of long term growth but these measures have substantially supported the profitability of banks in difficult periods. The management of larger banks also appears to be confident regarding the improvement in the banking industry outlook.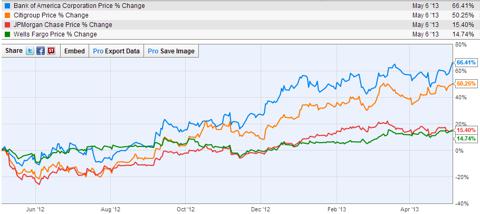 Source: YCharts
The above chart represents the change in stock prices of these four big players of the US banking industry in one year. Bank of America has demonstrated the highest price appreciation of 66.41% followed by Citigroup whereas the price appreciation of JPMorgan and Wells Fargo has remained limited to approximately 15%. The substantial upward trend is expected to gain further momentum due to the following factors.
Settling Litigation Costs
One of the major issues due to which analysts have remained reluctant with Bank of America is litigation cost. The bank has had long running litigation issues with the Municipal Bond Insurance Association (MBIA). Recently, the bank has agreed to pay $1.6 billion to MBIA in order to settle the difference over mortgage securities. The approval of settlement will assist the bank in reducing the burden of litigation costs and moving forward with its core operations. According to a Reuters' article, the deal will provide Bank of America with stock-purchase warrants which will allow the bank to attain a 4.9% stake in MBIA. Furthermore, the bank is also awaiting court approval with regards to the Countrywide mortgage-backed securities issue. A few other potential litigation costs still persist but these major settlements have certainly marked a positive step towards improvement.
Attractive Valuation
Despite competing against some of the most profitable financial institutions in the US, Bank of America has managed to sustain its position as a viable opportunity. This is because the extent of undervaluation is more than other major players.

The above table shows a clear distinction between the bank's valuation and that of its competitors (Source: Yahoo Finance). Furthermore, the improvement in the outlook of the banking industry suggests that the valuation will have the capacity to adjust and become closer to its historical pre-crisis figures. According to Morningstar statistics, Bank of America was valued at approximately double its book value up until FY06. The P/B has improved from 0.3 in FY11 to a current figure of 0.63. Similar trends can be witnessed in other valuation metrics. The PEG ratio confirms that the big players of the industry are undervalued.
Potential Risk Factors
The financial crisis of 2008 has furthered investor awareness of financial risks. Investors have learned a valuable lesson that in times of financial meltdown, banks perform the worst which is why it is advised that investors surrender their positions as soon as a credible threat to economic and financial stability is in sight. Also, the US economy is facing substantial monetary expansion. According to Parasnand Madho, Director of Market Watch & Corporate Actions, the Federal Reserve is expected to continue its expansive monetary policy until unemployment reaches a target of 6.5% and inflation increased to 2%. In this low interest rate environment, banks have to diversify their business as the net interest margins of these financial institutions remains limited. Bank of America has conducted a thorough process of industrial and regional diversification.
Conclusion
Various estimates have suggested the banking industry outlook will attain its momentum in FY14. In the meantime, large banks are doing an impressive job of sustaining profitability. US macroeconomic targets are also likely to be met in this period. Therefore, a buy recommendation is proposed for Bank of America as currently the market is substantially undervaluing the position of the bank in the industry. The overall industry is also undervalued which is expected to improve by FY14. In the short term, the bank's stock price may be subject to some stagnation or undesirable fluctuations but in the long term, Bank of America will prove to be a lucrative investment opportunity for equity investors.
Disclosure: I have no positions in any stocks mentioned, and no plans to initiate any positions within the next 72 hours. I wrote this article myself, and it expresses my own opinions. I am not receiving compensation for it (other than from Seeking Alpha). I have no business relationship with any company whose stock is mentioned in this article.