Monday, I cut back Meritage Homes (MTH) to a 0.2% exposure for reasons explained clearly in the title [Jun 1: Cutting Back Meritage Homes Pending This Week's Mortgage Applications]

Rarely of late have things worked out that perfectly... the stock was sold off just under $21, and today (48 hours later), sits just over $18. So at a 13.5% discount, I am going to get back my position. If it falls below $18, MTH has downside to the lower $16s so I'll take a measured approach in purchasing here and only go back to a 1.4% stake.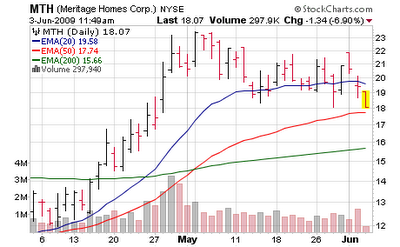 In this market where the thesis changes by the day, I don't know if housing will be in favor again in 2 days, we'll be back to commodities or if it's consumer discretionary - the bull cases are so numerous, I cannot keep track. But until proven otherwise, the "dip buyers" are the only winners.
Until they are blown up one day, they will continue their practice and those who do not drink Kool Aid are only left behind. So we have to assume the Friday employment report (notice how this is barely talked about this month? complacency has set in) is to be dismissed and marked as "backwards looking" even as another 500K (government counted) aka 800K people in reality lost their jobs. Until data starts to matter again, we have to act like the mob I suppose. We are way overdue for a smacking of the bulls as the cockiness is now egregious but until it happens, hard to press short on anything.

Today's very obvious line in the sand has been S&P 930 which was the simple moving average (200 day) we broke through Monday. A very eager defense has been put up there all morning.

Disclosure: Long Meritage Homes in fund; no personal position