Valence Technology (VLNC) and S&C Electric Company announced that they have signed a Memorandum of Understanding, agreeing to work together to develop and evaluate products for stationary grid-connected electrical energy storage systems.
Jim Sember, Vice President of S&C's Power Quality Products Division, said, "Renewable energy sources like wind and solar introduce ongoing and unpredictable power variations. The incredibly fast response of advanced battery storage systems allow for compensation of these fluctuations at a level not possible with today's fossil generation plants."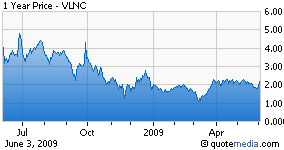 Valence has been a busy company of late with a range of announcements from boat batteries, scooter batteries and motorcycle batteries to battery plant construction.
Technically, VLNC has been getting stronger in recent months and appears to be carving out a double bottom base with a confirmation on a breakout above $2.90. It's currently trading around resistance of the 200 day moving average, so will need to get through there first.