Cree (NASDAQ:CREE) reported earnings in line with analyst estimates in late April. The company is staging a turnaround after a disastrous drop in share price of more than 60% in 2011. Earnings have suffered, 44% in 2012 together with a sharp decline in gross profit margins. The latest earnings report is the third consecutive quarter of increasing profitability. Revenue growth is picking up too, and Cree is on its way to achieve substantial earnings growth this year.
FQ3 Highlights
Cree reported adjusted earnings of $0.34, representing a 70% increase over last year's $0.20. Revenue grew 23% to $348.9 million. Gross profit margin improved 320 basis points to 38.8% when compared to the same quarter last year, and it was down 40 basis points sequentially. The sequential decline is due to the start-up costs related to the new LED bulb launch.
The company expects fourth quarter revenue in a $365 million to $385 million range, a 22% increase at mid-point. Earnings are expected to be in a $0.34-$0.40 range, a 48% increase at mid-point. Gross profit margin is expected to be around 39.5%, representing further improvement as it would increase 70 basis points sequentially.
On March 5th, Cree introduced "The biggest thing since the light bulb". The new Cree LED light bulb shines as brightly as a comparable incandescent light bulb while saving 84% of the energy. It will be exclusively available at The Home Depot (NYSE:HD). With a retail price of $9.97 for the warm white 40-watt replacement, $12.97 for the 60-watt warm white replacement and $13.97 for the 60-watt day light, the bulbs are more affordable and compelling to consumers. They come with a 10-year guarantee, and they are designed to last 25,000 hours or 25 times longer than typical incandescent light bulbs, reducing the need to replace bulbs for years.
Cree expects to take advantage of the secular growth trend of power savings. The company expects to exploit the growth opportunities in China, North America and Europe. China is looking to increase the use of LED technology to help reduce energy costs and greenhouse gas emissions. China accounted for 32% of Cree's revenue in fiscal 2012, and the company expects to expand presence there.
Earnings cycle
Cree reported three consecutive quarters of earnings growth, and the growth accelerated from 8% to 28%, and to 70% in the most recent quarter. The company is recovering after six consecutive quarters of earnings declines from Q3 2011 through Q4 2012. Gross profit margin increased along the way, ending a downward cycle. Further expected increases in earnings, revenue and gross profit margins, and positive analyst estimates revisions put Cree in the most favorable second stage of the earnings maturation cycle. The second stage most often results in a substantial increase in share price. Cree's stock price is up more than 130% since October 2012, when it reported the first earnings growth in the almost two years.
On the charts below, you can see quite well how the share price moved pretty much in sync with gross profit margin, and quarterly earnings growth was also in sync with the share price. Analysts expect earnings to increase 39% this fiscal year and 38% next year, and further margin improvements are expected, suggesting that the earnings growth cycle will remain in the second stage in the following quarters.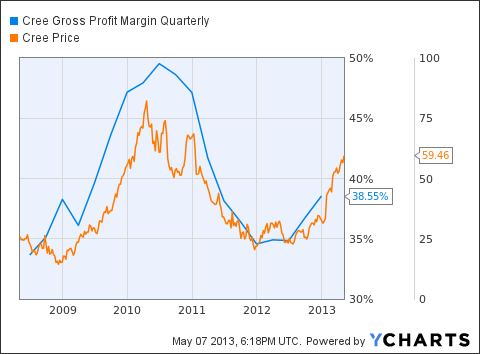 CREE Gross Profit Margin Quarterly data by YCharts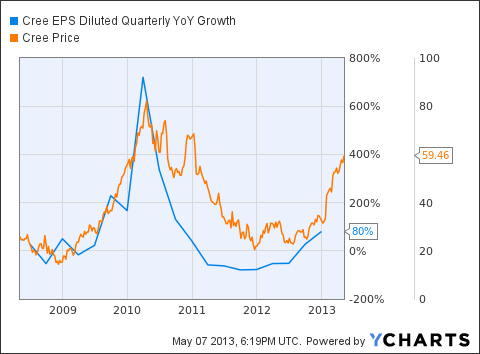 CREE EPS Diluted Quarterly YoY Growth data by YCharts
Price action
Cree is one of the better performing stocks this year, with shares up 75% year-to-date. The stock cleared a recent consolidation and made new 52-week highs recently, and has been getting support at the 50 day moving average line along the way.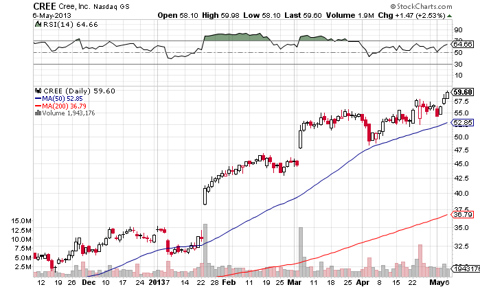 Click to enlarge
Source: Stockcharts
Conclusion
Cree offers a compelling opportunity to participate in the power savings trend. It is positioned well in the key markets and is expected to expand its presence in China, North America and Europe. Expanding margins, rising earnings and revenue put the company in the most favorable second stage of the earnings maturation cycle and if the company keeps delivering, we can expect a higher share price.
Disclosure: I have no positions in any stocks mentioned, and no plans to initiate any positions within the next 72 hours. I wrote this article myself, and it expresses my own opinions. I am not receiving compensation for it (other than from Seeking Alpha). I have no business relationship with any company whose stock is mentioned in this article.