Cliffs Natural Resources (NYSE:CLF) has gone from being a shooting star of the industrial metals and minerals sector to suffering through the indignity of a $1B asset impairment charge on its 2011 acquisition of Consolidated Thompson Iron Mines Limited. We saw similarities between the rapid rise and recent decline of Cliffs and Chesapeake Energy (NYSE:CHK). One key difference between CLF and CHK was that at least CLF's CEO Joseph Carrabba has kept a lower profile than CHK's Founder and Former CEO Aubrey McClendon (AKA the world's most reckless billionaire). Joe Carrabba has been the Chairman, CEO and President of CLF since April 2005 after a 22 year career at Rio Tinto (NYSE:RIO) where he served in a wide variety of leadership positions. We believe that Joe Carrabba and his team are probably wishing that they had held off on acquiring Consolidated Thompson back in 2011 at the peak of the market. We like the fact that CLF is trading at a 37.5% discount to its book value and we believe that is one reason why J.P. Morgan and Barron's like it. However, we are concerned that it could also be a potential value trap due to global macroeconomic headwinds.
CLF had faced a challenging operating environment during the first three quarters of 2012 and it was no surprise that Q4 2012 results would be exhibiting the same trends that were seen in the previous three quarters. Q4 2012 revenue declined by 4.23% versus Q4 2011 levels. However the biggest problem for CLF was that its cost of goods sold and operating expenses increased by 15.5% year-over-year and this resulted in its sales margin declined by more than 50% year-over-year. CLF's adjusted operating income (excluding a $1.05B charge for asset impairments) declined by 77% due to the perfect storm of negative headwinds the company faced in its business lines. The biggest negative headwind the company faced in Q4 2012 (as well as FY 2012) was sharply declining prices on the sale of its minerals.

Source: Cliffs Natural Resources Q4 2012 Report
Another negative headwind the company faced was that the company's ramp up of Bloom Lake Mine has been slower than originally anticipated, resulting in decreased volumes and increased costs. Despite these challenges, CLF continues to make progress on the mine's production stability, development, and tailings management. We believe this will ensure a smooth transition for Bloom Lake's Phase II production startup next year. Bloom Lake is on track to achieve an annual production run rate of 14 million tons by 2015, which accounts for more than a quarter of Cliffs' current total iron ore volume. Finally, the company advanced planned maintenance activities originally scheduled for the first quarter of 2013 into Q4 2012. These changes unfavorably impacted fourth-quarter volumes. The bad news for CLF was that it had to slash its quarterly dividend per share by 24% but the good news is that its quarterly dividend per share of $.15 for 2013 is slightly higher than its H1 2011 quarterly dividend per share of $.14.
Analysts are expecting CLF to earn $1.84 in adjusted consensus EPS from continuing operations for 2013, down from $3.20 in 2012 and $11.74 in 2011. One piece of good news for CLF is that it is expecting to incur less SG&A and Exploration Expenses in 2013 versus 2012. Cliffs is increasing its 2013 capital expenditures budget to $800 - $850 million from its previous expectation of $700 - $800 million due to additional investments in its Eastern Canadian Iron Ore business segment. The full-year capital expenditures are comprised of approximately $300 million in sustaining capital with the remainder comprised of growth, productivity improvement, and license to operate capital. At least this is down from the $1.1B that was spent in 2012. However, this is sharply higher than the $267M in 2010.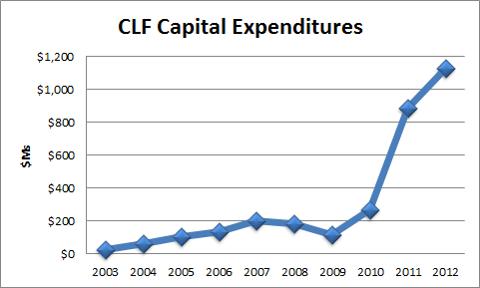 Source: Morningstar Direct
We're not happy that CLF recently gave a $100K/year salary raise to its CFO Terrance Paradie. According to CLF's board, it was "in order to bring his base salary closer to the median of salaries for CLF's peer companies' chief financial officers". CLF also announced that one of its directors, Richard Ross, notified the company that he would not be able to stand for reelection to the Board of Directors and that he was resigning immediately because his new job would not enable him to meet his responsibilities on CLF's board.
When analyzing CLF's balance sheet, we can see that 82.6% of its assets are in its stock of property, plant and equipment. Even though it executed a blockbuster $4.4B acquisition of Consolidated Thompson back in 2011, the percentage of acquisition related intangible assets to total assets in 2011 was only 8.9% and 2.2% in 2012 thanks to the big $1.05B write-off. We can't help but notice that CLF's market capitalization of $2.9B is less than the $4.4B it paid to acquire Consolidated Thompson in 2011 and that its $4.6B of book value was marginally higher than the $4.4B paid for the Consolidated Thompson acquisition. Although CLF's balance sheet is much less liquid than other companies that we follow due to the nature of the company's business operations, we like that its shareholder's equity balance is at least higher than its outstanding debt and its Minority Interest liabilities. If CLF didn't have to write off $1.05B from its poorly timed acquisition of Consolidated Thompson, its shareholder's equity balance would have been higher than the combined balances of its outstanding debt and its Minority Interest liabilities.
Noteable Holders Of Cliffs Natural Resources
Equity Holders: Capital World Investors (an affiliate of The Capital Group and its American Funds mutual fund family affiliate) is the largest shareholder in Cliffs Natural. Capital World Investors has 17.5M shares of Cliffs Natural resources as of Q4 2012 and this represented 12.25% of CLF's outstanding shares. Steven A Cohen's SAC Capital Advisors has 3M shares (2.10%), Van Eck has 2.6M shares (1.82%) and Herndon Capital Management has 2.5M shares (1.74%).
Debt Holders: The Five Star Rated Thompson Bond Fund has $37M worth of CLF's debt (face value) and owns more of CLF's debt than any other mutual fund. Other notable lenders include the Five Star Silver Rated Western Asset Core Plus Bond Fund ($20.6M), the Five Star Rated PIMCO Long-Term Credit Institutional Fund ($18.5M) and the Four Star Silver Rated American Funds Income Fund of America Fund ($33.7M).
CONCLUSION
In conclusion, we are neutral on CLF. We like that it is trading at a 37.5% discount to its book value and we like that three notable investment boutiques have taken a position in the company's shares. However, we remain cautious because the company has no tangible economic moat plus it has a high level of uncertainty with regards to its revenues, profits and cash flows due to the commodity-like nature of its business. We are also concerned that the market is reaching a top and believe that investors would be better served by waiting for CLF to retest its recent lows of $17.95/share. We were surprised that the company's share price snapped back so fast recently on April 9th especially when we consider that the analyst community has reduced its 2013 EPS estimates from $2.81 in January to $1.84 recently and its 2014 EPS estimates from $4.23 in January to $2.19 recently.
Disclosure: I have no positions in any stocks mentioned, and no plans to initiate any positions within the next 72 hours. I wrote this article myself, and it expresses my own opinions. I am not receiving compensation for it (other than from Seeking Alpha). I have no business relationship with any company whose stock is mentioned in this article.
Additional disclosure: This article was written by an analyst at Saibus Research. Saibus Research has not received compensation directly or indirectly for expressing the recommendation in this article. We have no business relationship with any company whose stock is mentioned in this article. Under no circumstances must this report be considered an offer to buy, sell, subscribe for or trade securities or other instruments.