Shares of high-yielding, oil and gas producing MLP BreitBurn Energy (BBEP) sold off hard on the company's quarterly results reported on Friday. The stock is now trading close to book value and offers a distribution yield of over 10%. Investors in this $1.9 billion company were concerned by the following things:
A decrease in quarterly EBITDA to $64.1 million from $78 million in the previous year.
This was due to lower realized prices on West Texas Intermediate (WTI), Brent crude and natural gas hedges.
For example, oil sold for WTI was realized at $98.80 per barrel last year. In this quarter hedge floor prices were knocked down to $89.21.
Brent Crude was realized at $105.46 per barrel last year and has been knocked down to $97.57
Natural Gas hedges went from $7.12 per Mcf in 2012 to $5.87 this quarter.
Natural Gas Liquids fell from 53% to 30% of WTI prices in Q1 2013.
Perhaps most freighting was the EBITDA/Distribution coverage ratio. It dropped to 0.67 times.
While these facts on their own may seem to be a red flag, and indeed none of them are encouraging, BreitBurn's distribution will be safe if

management executes the plan they currently have in place. Winter weather traditionally makes their first quarter the weakest.
In addition, much of their operational drilling programs are going very well and recent acquisitions are being integrated according to plan. Considering that the stock has sold off to just about book value and that it now yields over 10%, BreitBurn represents both an opportunity and a calculated risk worth taking.
BreitBurn Energy is an independent oil and gas MLP that acquires, exploits and develops properties in the lower 48 states. Their production assets, ordered from most to least, are located in the Antrim Shale in Michigan, several basins in Wyoming, the Los Angeles Basin in California, the Sunniland Trend in Florida, and the New Albany Shale in Indiana and Kentucky. In addition, they have recently acquired land in the Permian Basin of west Texas.
Oil Focused Capex Will Improve Margins
The company's realized prices have dropped across the board in dry gas, liquid natural gas and oil alike. Margins have been hurt. One way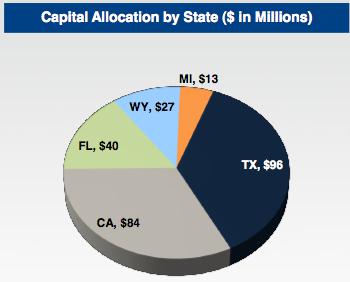 BreitBurn is compensating for this is to focus nearly all of this year's Capital Expenditure (capex) program on higher margin oil. Crude oil, whether Brent or WTI, fetches a much higher price and provides higher rates of return than dry or liquid natural gas. Note also that a good chunk of this capex is in California, where oil will be priced in Brent.
Production Growth Will Increase Revenue
Production in this quarter was bolstered by better than expected drilling results in newly acquired California and Texas properties. Net production increased 6% over the prior quarter. Together, the increase in production and shift to a more oily production mix are designed to offset the hedged price decline in 2013. Management expects the coverage ratio to increase to just below 1 time in the second quarter and then to 1.1 to 1.2 in the fourth quarter of 2013. If they can execute on this, and I believe they will, BreitBurn's 10% distribution yield will be secure assuming no major commodity fallout.
Low Leverage
BreitBurn is conservatively leveraged, with Debt/EBITDA levels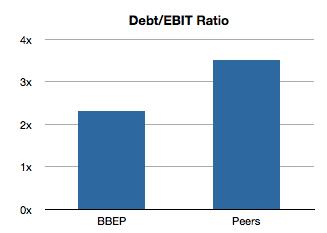 significantly lower than its MLP Exploration and Production peers. It is important that the company have plenty of dry powder to make acquisitions when the right time arises.
Management Intends to Increase Hedging As A Percentage of Production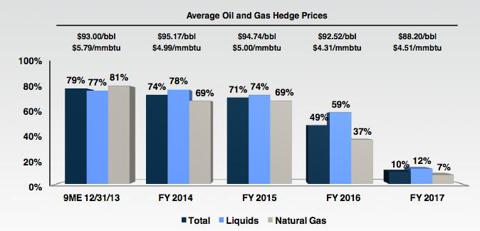 Click to enlarge
Chart from IPAA OGIS New York Conference.
Cash flow stability is very important to most MLP investors. As a response to shareholder concerns, management is building a more conservative hedge book: increasing the proportion of production that is hedged and doing so further into the future. While their hedge program still may not be as extensive as a Linn Energy (LINE), it is improving. For example, BreitBurn intends to increase hedging targets to 80% in the first year, 75% in the second, 70% in the third, 60% in year four and finally 50% in year five. Contrast that with the current hedge book where under half of production is hedged four years out and very little is hedged out five years.
Valuation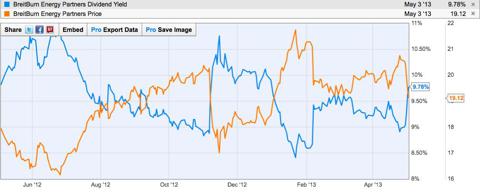 Click to enlarge
This above chart considers BreitBurn's stock price (in gold) versus the dividend yield (in dark blue). They are a very interesting mirror image of one another, and I believe this chart best represents the times when BreitBurn is of good value. The worst times to buy were when the dividend yield chasmed relative to the price. The best time is when the yield was well above it. Right now the yield and price have just crossed one another. This happened in February and the stock priced bounced. Will it bounce again this time, or will the trend continue and the price drop? That has happened twice last year and it can happen again. If it does, that would be quite a buying opportunity.
Conclusion
Personally, I believe this is the best opportunity we are going to get on BreitBurn and I'm willing to take the 10% yield right now. Management should be able to execute and keep the dividend secure in the short run. In the long run, we will be looking at a company more conservatively hedged. If oil and gas prices recover, unit holders of BreitBurn will be rewarded with increased distributions and possibly a nice capital gain. Today BreitBurn represents a calculated risk and a way to build income meaningfully.
Stay Tuned
BreitBurn is a company I have written about in the past and will continue to follow going forward. I will provide update articles when material and relevant.
Additional Sources:
"Capital Allocation By State" pie chart from IPAA OGIS New York Conference.
"Debt/EBIT Ratio" Chart by author, based on research from Wells Fargo High Yield Research dated March 8th, 2013. Peers include: EVEP, LGCY, LINE, VNR, QRE.
Disclosure: I am long BBEP, LINE. I wrote this article myself, and it expresses my own opinions. I am not receiving compensation for it (other than from Seeking Alpha). I have no business relationship with any company whose stock is mentioned in this article.