As equity markets trade at a record high, there are enough reasons to remain cautious and avoid fresh exposure at current levels. I had discussed some critical reasons to avoid equities in my recent article. In this article, I will focus on the relatively defensive sectors and investigate if valuations in these sectors are too rich. If this is true, the defensive stocks might witness a steep decline on meaningful market correction. Investors would therefore be better-off in avoiding the defensive sectors for the remainder of 2013.
The PE ratio for the defensive sectors might be a good valuation metric. However, a better valuation metric is the PEG ratio as it incorporates future expected growth. The charts below give the PEG ratio for defensive stocks in the S&P 500 index (NYSEARCA:SPY) as well as in the midcap and small cap space.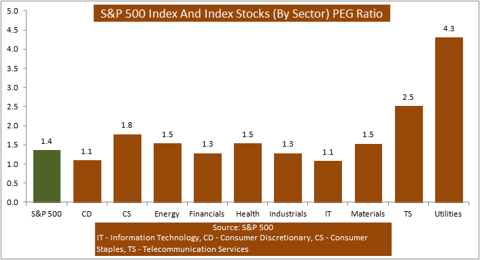 Click to enlarge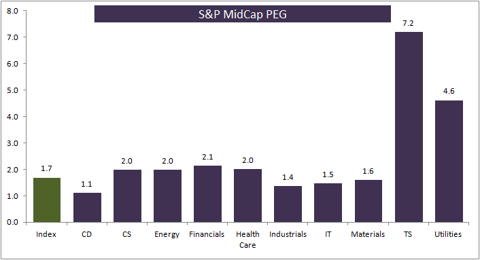 Click to enlarge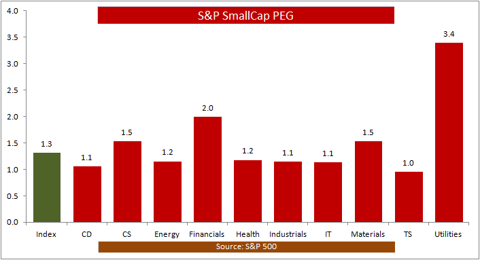 Click to enlarge
Across the index, midcap and small cap space, the telecommunications services and the utilities sector seem to be most overvalued compared to 2013 expected earnings growth. It is understandable that investors would flock to these sectors seeking earnings and dividend stability. However, on the flipside, the defensive sector trade might be overcrowded. Investors especially need to be cautious at a time when markets are trading at record highs. A broad based sell-off in equities can result in a meaningful correction in these overvalued sectors.
The healthcare sector PEG is also relatively high as compared to the index PEG and this is largely driven by the demographic trend in the United States. Spending on the healthcare sector has contributed to GDP growth meaningfully after the crisis. I had discussed this in detail in one of my earlier articles. The sector has also been one of the largest recruiters after the financial crisis of 2007-08. Healthcare stocks like Johnson & Johnson (NYSE:JNJ) might look interesting on market correction for the long-term portfolio.
The consumer discretionary sector seems to be relatively attractive when compared to its expected 2013 earnings growth potential. I am certainly not suggesting that investors should buy consumer discretionary stocks at this point of time. However, if markets do correct over the next 3-6 months, there will be some attractive buying opportunities in this sector. Stocks that might look attractive on market correction in the sector include Comcast Corporation (NASDAQ:CMCSA), The Home Depot, Inc. (NYSE:HD), McDonald's Corp. (NYSE:MCD) and The Walt Disney Company (NYSE:DIS).
It would also be interesting to see how the defensive sectors have performed in the last five years. At the same time, some important investment conclusions can be drawn from the defensive sector returns in over the last few years. The chart below gives the returns for different sectors and the S&P 500 index for a 1-year, 3-year and 5-year period.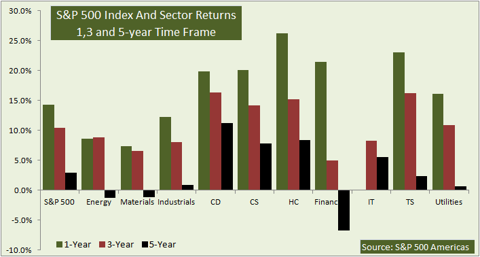 Click to enlarge
One of the most important points to note is the returns generated from the telecommunication services and utility sector in the last one year, which stands at 23% and 16% respectively. For the same sectors, the five year return is 2.3% and 0.7% respectively. The point I want to make here is that these two sectors have witnessed a significant interest in the last year as the S&P 500 has trended higher. Investors have gradually parked their money in relatively defensive sectors. Amidst this, these two sectors look expensive with respect to their future growth potential. Therefore, at this point of time, these two sectors are a clear avoid. Investors and readers might argue that several other sectors have given robust returns in the last year and it might be unfair to pick these two sectors to avoid in the medium-term. Things will be clearer if the returns chart is viewed in sync with the PEG valuation chart.
Another important factor to consider in judging the current valuation of the defensive sector is how the individual entities have been performing as compared to earnings estimates. In general, if a relatively high percentage of companies miss estimates, the sector stock movement on the upside can be depressed. The chart below gives the S&P 500 earnings performance for the first quarter of 2013 (307 entities reported).

Click to enlarge
Across sectors, 21% companies have missed earnings estimates. However, 24% of healthcare companies and 33% of utility companies have missed earnings estimates. The telecommunications services sector is not far behind with 20% companies missing earnings estimates. Considering this factor standalone, consumer discretionary and consumer staples looks better with 10% and 14% companies having missed earnings estimates.
Considering all the factors discussed, investors would be better off avoiding certain defensive sectors for the remainder of 2013. During this period, cash can generate higher returns than the defensive sectors discussed. As mentioned above, a steep market correction would be a good opportunity to consider exposure to defensive stocks.
Disclosure: I have no positions in any stocks mentioned, and no plans to initiate any positions within the next 72 hours. I wrote this article myself, and it expresses my own opinions. I am not receiving compensation for it (other than from Seeking Alpha). I have no business relationship with any company whose stock is mentioned in this article.