Green Dot Corporation (NYSE:GDOT) is a prepaid debit card issuer that sells its cards in many major retailers and other stores. There are a variety of things that attract me to it, including its business model, relatively cheap valuation, and low debt, but the primary factor is its strong cash position.
In my last column, I noted that one of the reasons I liked Apple (NASDAQ:AAPL) (back near $415) was because they refused to use their cash hoard as part of some mini-Black Swan survival plan. That is an exaggeration, but I quoted Steve Jobs as saying it is always good to have that cash cushion in case something goes wrong. I believe that having a large cash position with small debt is a great way for a company to weather a financial storm. Companies with those attributes are in position to withstand market turbulence. That brings me to a stock that I love: Green Dot Corporation.
To understand why I like the strong cash position, it is important to understand my market feelings. If company revenues and earnings were the only factor, the market would not be above $1600, because revenues have been lackluster and earnings only slightly better than that. The biggest reason for the continued rally is due to confidence of continued Fed easing. The correlation can be seen in the chart below, and the Fed is not likely to end anytime soon.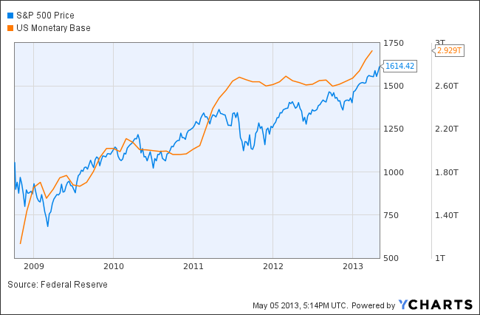 Click to enlarge
I've been contemplating what would happen if it came down to a standoff between economic data and increased QE. What I mean by that is, what happens if economic data gets worse -- I mean significantly worse -- and the Fed signals increased easing. Then it would be a real "Mexican standoff," with clear deflationary data versus clear inflationary stimulus. That doesn't appear to be happening yet (see NFP data) but what if? Which way does the market go?
On Twitter, Bill Gross recently stated:
"In the investing business, risk is guaranteed, return is not. Central banks can only dampen volatility & raise asset prices if policies eventually produce real growth. So far, no good."
That seems to be an indication of what he thinks about the standoff. He believes that easing can only REALLY raise prices further if real economic growth continues. I do not know the answer, but I do hold the belief that investing should be looked at from a standpoint of probabilities and risk versus reward. The probabilities favor a drawdown over the course of a year, and the risk versus the reward is slowly becoming poorer as we continue higher without a market "breather."
The odds of not seeing a significant drawdown over the course of any given year are pretty low, in fact, my favorite "unknown" commentator (at least not mainstream) states that over the past 30 years there has been an 80% chance of getting an 8% correction in a year. 8% of the current S&P level is 129 pts. Additionally, Goldman just announced that using a variety of its models, it sees a full year S&P price of 1625, or basically where we are right now.
So the risk has increased, while the reward has been decreasing. That is why investments must have high cash, high cash flow, low debt, and strong business models. Luckily Green Dot does.
Business Plan
First, Green Dot's business plan is appealing in a time where the "wealth gap" continues to get larger and larger. More and more low income people are finding it hard to open new bank accounts because their old accounts have been charged off. Charge-offs and excessive non-sufficient funds fees get reported and make it more difficult to get new checking accounts. Those people are drawn to the fact that past charge-offs don't affect the ability to get a Green Dot card.
Green Dot cards also draw people that still have accounts at major banks because they cannot charge more than is on the card and avoid overdraft fees. At last check, the overdraft fee at Bank of America (NYSE:BAC) was $35. For a person earning minimum wage (currently $8.25/hr in Illinois) and working 40 hours a week, the fee amounts to about 13% of a the person's weekly paycheck. It makes sense for a bank customer to use these prepaid debit cards if they frequently receive overdraft fees.
In a sense Green Dot is forming a bank of its own; one that sells itself through retail outlets offering its debit cards. It's as if Citibank (NYSE:C) sold debit cards connected to savings accounts, at Walmart. Green Dot actually did buy a bank at the end of 2011, and that allows it to cut out third party banks that it used to use. It also allows direct deposit.
The cards are also bought by parents for their children to use since they cannot be overcharged or accrue overdraft fees. These cards are also good for traveling because you can put in a set amount of money and be limited to that amount. How useful would that be on your next trip to Las Vegas?!
The downside is the fees, but that is how Green Dot makes money, and they pale in comparison to overdraft fees at many other banks. They also don't build credit, as prepaid credit cards do, and that may be a goal of a low income purchaser.
Finally, Green Dot purchased a mobile application developer so that it can leverage its existing business and extend into mobile wallet payments. This should add another attraction to Green Dot's products, especially if it builds the application better than its competitors.
Finances
Green Dot's business model is appealing, and so are its financials. Despite new competitors, its sales continue to remain strong. At Walmart (NYSE:WMT), they saw 11% annualized growth in the first quarter despite increased competition. Not including one-time items, the company increased revenue this quarter by 9% to $154 million, and increased earnings to .42 per share. Those numbers beat analyst estimates, but without the one-time items they missed slightly. They expect full year earnings of between .95 and $1.20.
Green Dot raised 2013 revenue estimates, which is always a nice sign. I personally like the idea on holding off until the actual quarterly report because I think it is valuable to beat analyst numbers, but that is a quirk of mine.
Metrics
Green Dot has strong metrics. The real beauty is the cash position of the company. As I mentioned at the start of the article, I am specifically looking for companies with large cash hoards to guard against any corrections or major deflationary risks to the economy, so the fact that Green Dot has a stock price-to-cash ratio of 1.56 is very attractive. They have about $11.40 in cash per share. The company will probably continue to add to that cash hoard because it has a high free cash flow ratio as well -- the stock price-to-free cash flow ratio is 10.44.
With a forward P/E ratio of 14.26, they are valued reasonably. They also have a PEG of .90 due to the 5 year annual EPS growth expectation of 21.8%.
The company has zero long term debt, which gives it flexibility and poses no risk should interest rates rise.
The company also has a high short interest, which means that it could see a short squeeze if the price continues over $20 and shorts are forced to cover.
Chart
The chart looks great. Green Dot has a nice uptrending channel. It is currently above the top of the channel, so it may pull back a bit, or tread sideways for a while, but it looks strong overall. There will likely be some resistance at about $20, where the stock gapped down from last Summer, but I expect it to break through that eventually.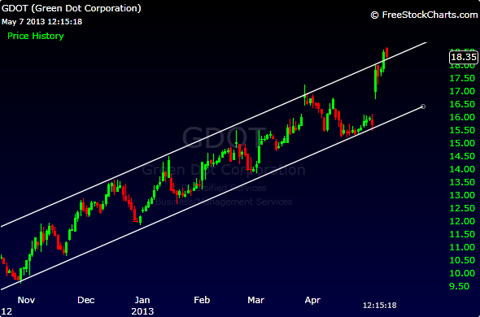 Click to enlarge
The Play
I think that because the company has such strong finances, it should fair better than many other stocks if we do have a market correction. It would be my inclination to wait for a pullback to enter the stock, or purchase half now and half during a pullback.
Regardless, you could go with a straight-up stock purchase, or you could put up less money and try a bull call spread with a September expiration. You could purchase a Sept $17.5 call and sell the Sept $22.5 call for about $1.40, or $140 ($1.40 x 100 = $140). That $140 per spread would be your maximum risk per spread. The most it could be worth is $5.00, or $500 ($5 x 100 = $500) per spread. You could also look to roll it forward at the end of August if you saw continued strength in the stock.
Disclaimer: We do not know your personal financial situation, so the information contained in this article represents an opinion, and should not be construed as personalized investment advice. Past performance is no guarantee of future results. Do your own research on individual issues.
Disclosure: I have no positions in any stocks mentioned, and no plans to initiate any positions within the next 72 hours. I wrote this article myself, and it expresses my own opinions. I am not receiving compensation for it (other than from Seeking Alpha). I have no business relationship with any company whose stock is mentioned in this article.