Activision Blizzard (NASDAQ:ATVI) has been a stock market darling in 2013. In the year-to-date, the stock has risen by a spectacular 43% - more than trebling the gains of the S&P and S&P 500 North America Tech Software Index. The chart below illustrates this dramatic gap: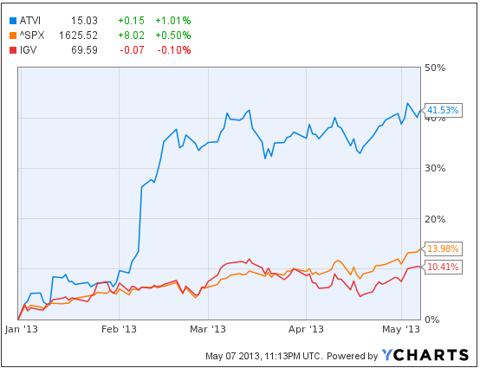 There's no sorcery behind Activision's success, unlike that seen by its popular World of Warcraft franchise: Activision has simply been buoyed by its ability to beat estimates, specifically in the Christmas quarter when it surpassed the consensus by 6 cents a share.
Indeed, as the chart above shows (green circle), after seeing its stock decline by 12.6% in 2012, Activision's robust earnings report on February 7 single-handedly widened the gap between Activision and its reference indices.
Activision reports its first quarter earnings at the close of the bell on May 8 and analysts predict that it will post earnings of 11 cents per share - 83% more than it did in the same period a year. The January quarter is typically a soft one for Activision as most games releases are targeted primarily at year-end Christmas spending (which is why its fourth quarters account for a disproportionate share of its yearly revenues) so a strong performance in this quarter will be perceived as auguring well for future quarters.
A 43% rise over four months is nothing to scoff at and it makes further returns more difficult to envision. That said, we believe that Activision could see its shares rise further for the balance of 2013 - particularly as it is looking at some milestone games releases in the coming quarters.
Earnings Outlook
As noted, Activision is expected to see its earnings nearly double in its March quarter - one of the reasons for this was its relatively active release calendar, highlighted by Blizzard's release of Heart of the Swarm, the expansion to Starcraft II, which it released in 2010. Reports indicate that the expansion shifted 1.1 million units the first 48 hours of its release (a crucial period for games). This is a solid number for an expansion even though its first 2 days' sales figures were 27% lower than its predecessor: the rule of thumb is that expansions typically sell between 33 to 66% of the units sold by its predecessor, unlike major releases in a series, which usually shift more units if the game has a wide following.
Meanwhile, Activision Publishing released an anthology pack of Rovio's popular Angry Birds franchise in March, which sold 1 million units on consoles and also continued to see strong continuing sales from its Skylander franchise, which reached total sales of $1 billion in February.
Unfortunately, the success of these two games may not have been reflected across all units: Activision recently announced a few layoffs at its licensed games coinciding with a pullback in the number of licensed properties, suggesting that profits from that unit have not met expectations.
Regardless, the overall success of these games, among others, is what has prompted analysts to estimate a 20% rise in revenues to underpin the 83% rise in earnings.
Looking ahead at its release calendar for the year, Activision's most anticipated release in 2013 is Call of Duty: Ghosts, which is the follow-up to the gaming industry's top selling game for 2012, Call of Duty Black Ops 2, which brought in $500 million on its first day. The game is set to be released on November 5th, which would, if successful, allow Activision to post a December 2013 quarter that compares favorably to 2012's.
The middle quarters of 2013 are expected to be a mixed picture for Activision, with analysts anticipating second quarter 2013 revenues to drop by a steep 42.6%, leading to earnings of just 5-cents a share - 75% lower than the same period a year earlier. That's to be expected: the second quarter of 2012 saw the release of Diablo 3, which shattered the single-day sales record for PC games on the way to generating sales of $401 million for the company - a number comparable to its larger franchises such as Call of Duty. Activision has no comparable releases slated for this period.
Meanwhile, the third quarter is expected to be little better for the gaming giant: forecasted revenues of $4.26 billion will be 14.5% lower than they were a year ago, leading to EPS of 85 cents - 28% lower than the same period in 2012. Again, unfavorable comparisons will hurt the company as it is not expected to release titles as popular as the Spider-Man and Transformers titles it released in 2013.
Indeed, the likely releases for Activision for this period will simply be Blizzard's PS3 console-port of Diablo III, Hearthstone, a digital card strategy game set in the World of Warcraft universe, a licensed Teenage Mutant Ninja Turtles property to coincide with the new movie and more Skylander games.
Beyond 2013, analysts expect Activision to see earnings growth of 21.2% in 2014. However, because the success of gaming titles is difficult to predict, growth is front-loaded (in 2014) for the next five years: on average, earnings are only expected rise by an average of 7.7% for the period - little more than half the expected earnings growth rate of its competitor, Electronics Arts, which recently signed a deal with Disney (NYSE:DIS) to develop games for its recently-acquired Star Wars franchise.
Activision's 7.7% is also quite a bit lower than its software industry peer group's, which is expected to see earnings rise by 19.3% a year over the next five years. However, we believe that this understates the potential for Activision's earnings. Specifically, Microsoft (NASDAQ:MSFT) is set to unveil its next generation console on May 21st. This will presumably be the opening salvo in the next phase of the console wars, with Sony (NYSE:SNE) and Nintendo (OTCPK:NTDOF) (OTCPK:NTDOY) following soon, together with newer entrants such as Nvidia (NASDAQ:NVDA).
A new generation of consoles will bring with it better hardware capable of increased gaming realism, allowing Activision to release a new generation of games along the lines of its successful (and graphically realistic) Call of Duty franchise. Moreover, the much-maligned online functionality of the next-gen consoles will give game makers such as Activision the ability to sell new game content (including expansion packs) more readily through a micro-transaction model similar to what has made mobile platforms such as iOS, with its in-game purchases, so successful.
Valuation And Fundamentals
On top of understated earnings potential, we believe that Activision remains attractive on a valuation basis. Specifically, Activision is currently trading at a price-earnings ratio of 14.8x trailing earnings, which compares favorably with the 29.2x earnings of its software peer group and the 17.7x of the S&P 500. The same is true in terms of forward P/E - Activision is cheap at just 14.5x earnings compared with 22.7 for its peer group.
Other measures such as price-to-book value and price-to-free cash flow are similarly in Activision's favor. To wit, Activision's price-to-book ratio is at just 1.46x compared with 1.73x for its peer group and 2.4x for the S&P 500. In terms of price-to-free cash flow, Activision trades at 15.5x - a 23% discount to its peer group and 11% less than the S&P 500.
On the fundamental side, Activision has high levels of cash, which is important in its industry as sales tend to go through a feast-famine cycle. Indeed, its quick and current ratios of 1.9 and 2.4, respectively, are superior to the 1.6 and 2.0 ratios of its industry group, and also far better than the S&P 500's 1.1 and 1.5. In short, Activision has the cash runway with which to bridge the time between the development of its product to the marketing and release. Interestingly, Activision's ratios are not dissimilar to that of healthcare companies, which also need health cash runways to finance their drug development.
At the same time, Activision has no debt, which means that its cash can go revolved in operations or used to pay dividends. Indeed, Activision's dividend yield of 1.3% is 30% higher than its industry group's.
Finally, Activision impresses in terms of its profitability measures: its gross margins of 66% over the past five years are 10% better than its peer group's 59% and actually rose to 72.5% over the past 12 months. At the same time, whereas many of the company's industry peers are operating at essentially break-even levels with net income margins of 0.08%, Activision has a very healthy one of 23.7%. That has enabled it to register returns on assets and investments that are significantly higher than its industry group's.
Conclusion
Activision will more than likely attain its consensus $16.1 price target and could actually reach $18 per share if it is able to meet - or beat - expectations as it has been doing for the past year. That represents a 20% upside for investors buying the stock even at its current levels.
Disclosure: I have no positions in any stocks mentioned, but may initiate a long position in ATVI over the next 72 hours.
Business relationship disclosure: Black Coral Research, Inc. is a team of writers who provide unique perspective to help inspire investors. This article was written Jonathan Lara, one of our Senior Analysts. We did not receive compensation for this article (other than from Seeking Alpha), and we have no business relationship with any company whose stock is mentioned in this article. Black Coral Research, Inc. is not a registered investment advisor or broker/dealer. Readers are advised that the material contained herein should be used solely for informational purposes. Investing involves risk, including the loss of principal. Readers are solely responsible for their own investment decisions.