After the market's close last Thursday, Weatherford International (NYSE:WFT) reported adjusted Q1 2013 earnings per share of $0.15, in line with consensus estimates. Over the course of the following day, the stock rose 7.1% as investors seemed relieved by the absence of additional shoes dropping. The fact that this kind of rise in stock price occurred on a report of no unexpected bad news says a lot about where the company is currently positioned.
In a strictly objective sense, Weatherford's quarterly results appear mediocre. In a more subjective sense, however, they indicate the company's beginning to "walk the walk" in terms of making constructive changes to its strategy, operations and culture.
Importantly, management continues to say the kinds of things that suggest an understanding that its way of doing things needs to change. In the past, the company has had a tendency to focus on an issue, declare victory, and then move on. However, we believe leadership now understands the company's culture can't be "fixed" by simple decree, revision of the employee handbook, or instituting other superficial measures.
It takes years to build a winning culture and organization, and it will take years to fully turn around Weatherford's. But, if successful, it will be current management's most enduring legacy.
We were particularly encouraged to hear CEO Bernard Duroc-Danner articulate a more focused, returns-oriented strategy - one centered around what the company sees as Weatherford's core competencies in well construction, artificial lift, and formation and well evaluation.
EnergyPoint Research's data have long indicated customers are more inclined to reward a supplier financially when it provides a consistently superior customer experience in a handful of products and/or services. In other words, bigger is not better.
The areas of focus identified by management also jibe well with results from EnergyPoint's most recent annual customer satisfaction survey. The survey shows Weatherford rating well in such areas as sand control, casing and tubing handling and installation, and logging-while-drilling services.
And given the pending purchase of Lufkin Industries (NASDAQ:LUFK) by GE Oil & Gas (NYSE:GE), we also believe Weatherford will be well positioned to potentially add to its already strong market position in artificial lift should GE pursue a more heavy-handed integration of Lufkin.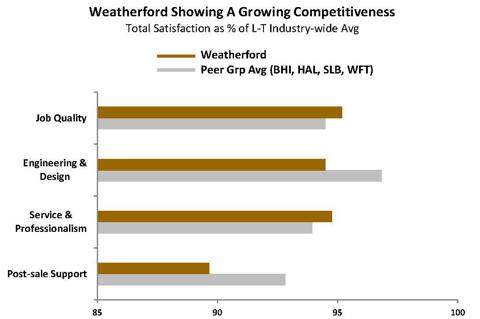 Click to enlarge
Also, in addition to freeing up a projected $1.5 billion in cash via new capital-efficiency efforts, the company intends to further reduce financial leverage through the sale of non-core assets. Taken at face value, "non-core" assets should mean any operation or asset falling outside its well-construction, artificial lift or formation and well evaluation segments, suggesting significant deleveraging over time.
Once accomplished, lower leverage should benefit operational performance as the company gains greater capability and flexibility to invest in its people, processes and businesses across the cycle, rather than having to ineffectually hire and fire as demand ebbs and flows.
In summary, EnergyPoint's data suggest Weatherford is steadily writing a "new chapter" for itself. In the process, it appears to be emerging from the depths a better and stronger competitor. While the company remains far from enjoying elite status in the eyes of many customers, we believe the strategic and tactical changes underway at the company will almost certainly allow it to more effectively differentiate itself in the market place.
Disclosure: I have no positions in any stocks mentioned, and no plans to initiate any positions within the next 72 hours.
Business relationship disclosure: My firm, EnergyPoint Research, does and/or seeks to provide for-fee data subscriptions to oil and gas industry participants and stakeholders, including companies covered in its posts, reports, articles and surveys.