With Google (NASD: GOOG) hitting a new all-time high of $863.87 on May 7, and hitting record highs seemingly every other day, many investors fear it's possible that share value has peaked.
This should all sound very familiar, because it is. It's exactly what happened to Apple back in September of 2012. Google could very well be setting itself up to take the same fall as Apple (NASD: AAPL). The real question then becomes whether or not Google share value is rising on fundamentals, or if it's just another momentum play?
The rise and fall of Apple share value
To get an accurate assessment of current Google share value, first we must revisit the rise and fall of Apple back in 2012. On May 3, 2012, shares in Apple were trading at $449.98, a far cry from their high of $705.07 on Sept. 21, but still off their low of $385.10 on April 19, 2013.
Yes, Apple was once the most valuable company in the world when it came to market capitalization, and yes, the company still makes some of the best and most innovative products in the world. But Apple got caught up in a momentum play, meaning that investors were buying into the stock for the sole purpose of driving up share value, not based on fundamentals.
What investors fear now is that Google may get caught in the same trap. The rise of Google share value in the last six months is eerily similar to that of Apple back in 2012. At the beginning of 2012 Apple was trading right at the $400 per share mark, closing at $399.11 on Dec. 30, 2011.
By Sept. 21 it hit a high of $705.07, a net gain of 63 percent in share value. Then the bottom fell out, causing Apple to lose nearly a half trillion in market capitalization in the months that followed. The similarities between Apple's rise and Google's right now has investors spooked to say the least.
The rise of Google
The biggest fear among investors right now is that the rise in Google share value, just like Apple, is based solely on momentum. That is to say, when investors feel the time is right for profit taking, they'll start selling off. Once that happens, the whole house of cards comes tumbling down.
But the Google rise has been over a longer period of time, 55 percent in the last two years. And most believe it is based on fundamentals, not momentum. In fact, the rise in Apple share value hits its peak on the exact same day as the launch of its biggest product to date, the iPhone 5 on September 21.
From then on the stock began its slide. It's not that iPhone sales came in below expectations, it's more that Apple had no big release to follow. For Google, the story couldn't be more different.
Shares in Google in the last 9 ½ months (the same time span in which Apple soared 63 percent) are up just 20 percent. By share value alone, one can see that Google gains do not represent a mere momentum play. On top of that, Google is a virtual conveyer belt of new products and ideas.
On the horizon for the company: Google Fiber, the new 100GB fiber-optic line that will change how we watch TV and operate in the Cloud; Google Glass, the latest approach to how we all see and hear the internet.
The constant stream of new and groundbreaking products from Google are focused on gaining an even stronger footing for the company in the online world, all this as Apple invests more money in television sets and automobiles. If anything, investors see Apple losing its way while Google remains focused.
Quarterly reporting, revenue and earnings
Google traded at an all-time high of $845.72 on May 3, 2013. For 1Q 2013, the company says it had consolidated revenue of $13.97 billion, up 31 percent over the same period last year. Net income for 1Q was $3.90 billion, or $11.58 per share, compared to $2.89 billion for the first quarter 2012. For 1Q, Google came in ahead of Wall Street estimates.
Annual revenue for 2012 was $50.2 billion, or $39.88 per share.
Fundamentals vs. share value, overbought or not
Even if Google is trading up solely on fundamentals, still the rise in share value can bring on the sharks, and an inevitable sell-off and drop in share value. As Apple learned, once key hedge-fund players decide to cash in their chips, all the walls come tumbling down.
Even with strong fundamentals and future product lines, there is still the chance that the stock has been overbought. As Jon Friedman of the Daily Finance writes, "Without question, Google has now reached a point in its maturation where its shareholders might need to worry about what I call The Icarus Effect." That is to say, could Google share value now be flying too high for its own good.
But there is no crystal ball to say whether it is indeed peaked or not. While some investors base their forecast on fear, and say get out now, objective computer systems like proprietary algorithms said Google was a Strong Buy even at $719, and they were right.
While Greg Troccoli of Marketwatch.com says such equities as Goldman Sachs (NYSE: GS), Tyson Foods (NYSE: TSN), even Marathon Oil (NYSE: MPS) are all overbought, he does not put Google on that list.
Back in February, Charley Blaine of MSN Money reported he thought Google would be considered overbought when it crossed the $800 threshold. As a momentum play, Blaine suggested that Google, at an RSI of 78, was too top heavy. He was wrong.
No one can know for sure whether or not Google has peaked and is heading for a fall, like Apple, but many investors are exercising caution. Still, share price is rising and there are those who think it could even break the $1000-mark. Warren Buffett believes the markets will continue to show strong growth for the next few years.
Personally, I am always hesitant to buy into markets or even individual stocks when they hit their all-time highs. My philosophy is, find another stock that's much more undervalued, get in at the bottom and take it to the top. After all, Brian White at Topeka Capital markets set a price target of $1,111 for Apple last April, and the stock nosedived soon after. For those forecasting $1000 a share for Google, I say it's never wise to ignore history, especially recent history.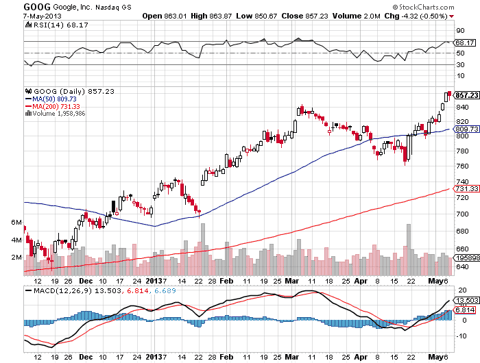 Disclosure: I have no positions in any stocks mentioned, and no plans to initiate any positions within the next 72 hours. I wrote this article myself, and it expresses my own opinions. I am not receiving compensation for it (other than from Seeking Alpha). I have no business relationship with any company whose stock is mentioned in this article.