Everyone out there knows the company founded in 1989 that used to be named Network Associates that is now named McAfee Inc. (MFE) is a wonderful growth company. MFE is a Santa Clara, CA based company that provides security software to enterprises, governments, small and medium-sized businesses and individual consumers protecting them from known and unknown threats world-wide.
The company's system security offerings include endpoint protection that encompasses security solutions for consumer and corporate computer systems, data protection solutions to safeguard vital info residing on various devices, and mobile security solutions to protect mobile operators and their users by safeguarding mobile terminals, applications, and content. The network security offerings are made up of firewalls, intrusion detection and prevention, web, email, and data loss protection security appliances.
It also has a MFE SiteAdvisor to protect Internet users from a range of security threats, including spyware and other malicious downloads, spam, and ID theft scams, as well as provide customers a search tool bar that gets rid of red-rated sites on search engine results. MFE's vulnerability and risk management offering enable companies to meet security compliance objectives across entire organization, including ID of security risks, enforcement of security risks, enforcement of security policies, and compliance audits for industry and government security regulations.
As you can clearly see MFE is involved with a lot of protection business and it continues to grow as MFE just acquired Solidcore Systems, an IT security provider for $33mil plus another $14 mil if certain targets are met.
I might not know what those targets are but those targets are not the targets I am interested in. The targets I am interested in is the bulls eye on the fundamentals and technical analysis. As most that have a long term career in the stock market know, the big money is not made by playing the story. The big money comes from the stocks that have the highest fundamentals growth. So let's dive into MFE and see if all the exciting data on this adds up.
EPS has been quite incredible, with EPS growing 37%, 22%, 24%, -2%, 27%, 20%, 15%, and 26% the past eight quarters. Sales, during that time, have been 13%, 12%, 17%, 17%, 26%, 27%, 19%, and 21%. Not only is the current growth impressive but estimates are strong to with YOY EPS estimates for 2009 and 2010 coming in at 17% and 11% respectively.
Other key fundamental data that tells us how strong the stock is include the stock possessing 0% debt, a Return on Equity of 17%, an EPS growth rate of 30%, and a strong cash flow of $2.35 compared to $.54 EPS the latest quarter.
That growth must be the reason behind the recent mutual fund growth in MFE. The stock went from 262 to 261 to 331 to 353! funds in it the past four quarters. This makes up 42% of the total ownership of the stock. The strong recent growth in the fundamentals must be the biggest driver of it for growth mutual funds. But could value funds be investing in MFE? Of course they could be. If you look at the P/E ratio of this stock you can see it sports an 18 P/E ratio that is in the lower end of the five-year P/E range it has been in between 12-56. As you can see, despite the Wednesday "starter" breakout this stock is pretty cheap.
Investor's Business Daily confirms these numbers. I can see that the strength of the stock is putting it as one of the best stocks out there right now. The EPS rating is a strong 95, the RS rating is a good 76, the group RS is an 80, the SMR rating is an A, the Acc/Dis rating is an A, the Composite rating is 99, the Timeliness rating is an A, the Earnings Stability is 13 (1 is the best on this rating), and the Sponsorship rating is a D. Looking at these ratings it is obvious MFE is the best in its class of Computer Software-Security stocks. Other stocks in the group doing well include ARST, FIRE, MVSN, BCSI, and DMRC.
While the fundamentals are the most important thing for me to use when picking which stock I want to go long, the technicals are what the greatest traders of all-time use to time their buy.
MFE is breaking out of a symmetrical triangle pennant formation on strong volume and positive yellow BOP. While this is happening the TSV is above the zero line indicating the uptrend is intact on the price bar, the moneystream is hitting a new high slightly before price, and the RS is lagging a bit. Overall, technicals look strong and MFE appears poised to higher highs.
If you do not go long this stock on today's breakout and the stock manages to move sideways and then bounce and breakout off the 50 day moving average, you may use that as a place to enter a position in MFE or you can wait for another basing area that is followed by a breakout on very strong volume and green BOP. The breakout on Wednesday was strong but the volume wasn't huge, the RS line was lagging, and BOP wasn't green to max-green.
If MFE would not happen to work out and would actually reverse here you know exactly what you need to do. Cut your loss with a close below the 50 day moving average, if your long position does not move up and show gains immediately.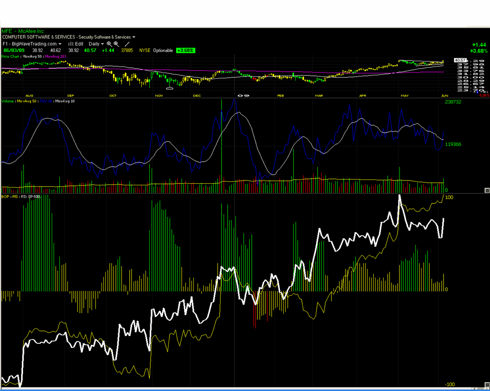 Disclosure: At the time of publication, Joshua was long ARST, FIRE, MVSN and did not have any positions in BCSI DMRC or MFE.