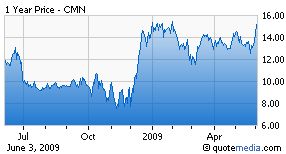 Cantel Medical (CMN) came across my screen early this morning when I noticed the company will be reporting earnings today. Cantel provides infection prevention and control products for the healthcare market, including water purification, sterilization products, face masks, and more. Cantel is the type of well positioned small cap in a growing niche market that I like to invest in, and it recently promoted a new CEO, so this could be a nice turnaround story.
Cantel shares are up around 50% this year, but still trade at half the price of Summer 2005 levels. The shares are exhibiting a bullish flag breakout pattern that implies a move to $24, and possibly further. Shares formed this flag and broke out above its 200 week moving average, and also trades above its 200 day EMA.
Valuation is fair at 16.3X forward earnings, 0.99X sales, 10.4X free cash flow, and a PEG of 1.08. Insiders own 23.47% of shares and institutions own 66.48% (Dimensional Funds at 8.34% the largest holder), so there is a large float for investors to jump on board.
Infections at medical facilities are an increasingly concerning problem and the global infection prevention and control market is a $33 billion market. More than $20 billion in healthcare costs and $5.5 billion in insurance costs are added each year due to physicians being infected at medical facilities. At a time when we are looking for savings in the healthcare sector, preventing infections from happening seems like a great area to invest to save costs.
Cantel has a presence in almost every orientation of infection prevention and control with products in a variety of groups such as disinfectants and cleaners, disposables, masks, water purifiers, sterilizers, hand hygience, specimen transport bags, and even training.
Cantel has $255 million in net revenues and 70% of that is recurring, with 82% from the United States, a stable earnings firm. The company also is in some high growth industries such as renal dialysis products, with kidney failure a major problem in the US.
The recent Swine Flu crisis has put a perspective on how important prevention and control is becoming in the medical field, and Cantel is a leading provider that trades at a fair valuation, and is displaying indications that money is flowing into the name.
Cantel Medical is a small cap with a bright future, and a stable earnings grower with an experienced management team. There is no reason that Cantel shares can't double in the next couple of years.
Disclosure: Looking to purchase shares post-earnings.