Business development companies or "BDCs" are a great way for investors to reap high yields. The companies in this sector typically invest in a wide range of industries and BDCs are set up to pay shareholders most of what is earned and that is why these companies can offer such great yields. Many stocks have been trending higher as investors continue to seek high yields, however, there have been occasional pullbacks on the way up which have (in many cases) been solid buying opportunities. A new buying opportunity appears to be at hand now:
Golub Capital BDC, Inc., (NASDAQ:GBDC) is set up as a business development company that is focused on making debt and equity investments in mid-sized companies. These firms frequently use the capital for growth, acquisitions, recapitalizations, refinancings, and leveraged buyouts. Golub Capital was founded in 1994, and it has $8 billion of capital under management, as of February 22, 2013.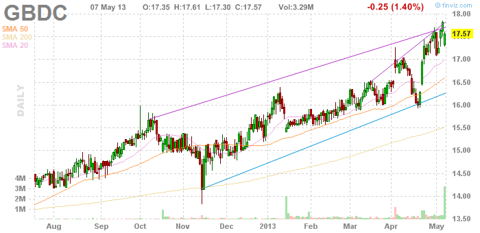 Click to enlarge
Golub Capital shares have been trending higher as shown in the chart above. However, after the market closed on May 6, 2013, the company announced a secondary offering of about 5.5 million shares. That day, the stock closed at $17.82, but the shares declined in after hours trading. Golub Capital intends to use the net proceeds from the offering to invest in various companies and expand its investment portfolio. Secondary offerings frequently cause stocks to drop in the short-term, and capital raises are not uncommon in this sector which is a downside risk to consider. However, it is also not uncommon for the pullbacks to be temporary in nature and that is why buying the dip in Golub Capital could make sense. It can take a few days for the market to soak up the extra shares and for investors to "forgive" the stock for the offering. Because of that, it makes sense to buy in stages since the stock could be weak for several days.
Aside from the downside risks that a secondary offering presents, investors should also consider downside risks which include that fact that business development companies have portfolio risks. This is another factor because if a company begins to have financial problems, it could impact the value of the investment held by Golub Capital. However, this risk is mitigated because Golub Capital has a diversified portfolio. A recession is another risk that could cause a more general decline in the portfolio it holds and in the shares of Golub Capital.
However, recession risks appear limited now as the U.S. economy is showing improvement in housing and jobs. Like many business development companies, Golub Capital uses leverage to increase returns to shareholders. By borrowing money at low interest rates and then investing at higher rates, it is able to generate returns that result in high yields for shareholders. Leverage is a risk factor to consider, however, this is reduced as it uses disciplined underwriting standards in order to reduce credit risk and maintain asset quality.
Golub Capital has a history of raising dividends. For example, in 2010, the quarterly dividend was 24 cents per share. However, it now pays a 32 cent per share dividend which yields nearly 8%. Analysts expect this company to earn about $1.29 per share in 2013 and even more next year. Because of this, the dividend payout seems secure for now and that is one more reason why investors should view this pullback as a buying opportunity.
Here are some key points for GBDC:
Current share price: $17.82
The 52 week range is $14.20 to $17.86
Earnings estimates for 2013: $1.29 per share
Earnings estimates for 2014: $1.38 per share
Annual dividend: $1.28 per share which yields about 8%
Data is sourced from Yahoo Finance. No guarantees or representations are made. Hawkinvest is not a registered investment advisor and does not provide specific investment advice. The information is for informational purposes only. You should always consult a financial advisor.
Disclosure: I have no positions in any stocks mentioned, and no plans to initiate any positions within the next 72 hours. I wrote this article myself, and it expresses my own opinions. I am not receiving compensation for it (other than from Seeking Alpha). I have no business relationship with any company whose stock is mentioned in this article.