The "tortoise and the hare" seems to be the story for a lot of successful dividend growth stocks over the long term, but it is especially true in Exxon's (NYSE:XOM) case. The stock's price usually lumbers around in the $80s, and even with the recent 10.5% dividend hike, the starting dividend yield is still only 2.76%. This is why the company is so easy to ignore: the initial dividend yield is unimpressive, and the stock price movements usually do not meet anyone's definition of "big mover."
But once you become a shareholder of Exxon, take a look at what you get your hands on:
A company that is earning a return on capital employed of 25%, which Exxon points out is higher than its peer group of Conoco (NYSE:COP), Chevron (NYSE:CVX), BP, Total (NYSE:TOT), and Royal Dutch Shell (NYSE:RDS.B).
A company that is buying back roughly $5 billion worth of stock each quarter. Right now, Exxon is worth slightly over $400 billion. This means that, every three months, Exxon is buying back 1.25% of total shares outstanding. Exxon is in a constant duel with IBM for the largest buyback program in the nation, in terms of total dollars spent (although Apple's (NASDAQ:AAPL) recently announced buyback should turn this into a three-way race).
This exhaustive buyback has a very real effect on creating shareholder wealth: in 1999, Exxon had 6.9 billion shares outstanding. Today, the total is down to 4.5 billion shares (the true results of the buyback program are even more impressive than that, considering that Exxon had to issue shares in 2010 to cover the XTO acquisition).
In 2012, Exxon made $37.3 billion in net profits. If the company had to spread those profits across 6.9 billion shares, each share would have earned $5.40 in net profits. But because the company managed to reduce the share count to 4.5 billion, each share represented $8.28 in net profits. That's why a successful buyback that actually reduces share count over the long term looks like (of course, we cannot definitively say that buybacks were the "best" use of shareholder capital over that time period because that money spent on buybacks could have instead been spent on dividends, acquisitions, or capital expenditure projects, but we can demonstrate the ways in which the buyback program has increased the earnings per share for shareholders over time).
Here is an interesting side fact about Exxon's buyback that some investors may not be aware of: Exxon does not truly "destroy" shares when they buy back their stock. Rather, they retire the stock to the treasury. Here is how it works: assuming Exxon continues to execute its buyback program at its current pace, the company will have 4.35 billion shares outstanding at the end of 2013.
Some people assume that Exxon has "destroyed" the 4+ billion shares of stock that the company has bought back over the past 15-20 years. But what the company actually does is this: Exxon keeps the shares in its treasury, and pulls them out when they want to make an acquisition. The company hasn't "brought back" retired shares in a meaningful way since the XTO acquisition. When Exxon bought XTO, they issued 412 million shares to complete the transaction. But here's the fun part for Exxon shareholders: even though the company was trading at just shy of $70 at the time, the company "unretired" shares that they had paid $50 per share to acquire, allowing Exxon to "essentially resell its stock for around $20 a share more than it paid." It is maneuvers like these that give the Exxon management team a reputation for skilled capital allocation policies.
Even though stock buybacks compete for the same dollars of profits that could be allocated towards dividends, a well-executed buyback program can complement a company's dividend growth by shrinking the share count so that fewer total dollars are necessary to realize a dividend increase. Exxon is a perfect case study of what happens when you give an excellent company a bit of time to do three things: pay you current dividends today, pay you more dividends in the future, and experience the turbo-charging effects that occur when you passively reinvest your dividends back into the company, allowing you to augment your wealth at a faster clip.
Most people think of Exxon as this "stingy" oil behometh, but check out this chart from one of Chuck Carnevale's F.A.S.T. Graphs that demonstrates what happens when you combine a 2-3% initial yield with 7-11% dividend growth while reinvesting your dividends over that time frame: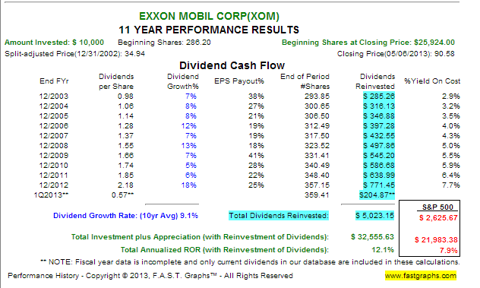 Click to enlarge
In 2003, a lot of investors probably looked at that puny 2.9% starting yield with Exxon, and declined to invest in the company out of a desire to realize greater immediate income elsewhere. But if you reinvested your dividends over the past ten years, an investment in Exxon would have given you 50% of your total initial investment back in the form of dividends over the past decade. This is why people do the whole "dividend growth investing" thing.
In many ways, Exxon's allocation of excess capital creates an enviable triple threat. The company takes $5 billion each quarter, and removes about 1.25% of the company's shares from circulation. This allows investors to immediately realize an earnings per share increase of 1.25% every ninety days, even if profits remain static. Additionally, the reduced share count grants Exxon the flexibility to have a higher dividend growth rate, because the company is growing operations organically by 4-6% (which get amplified by the 5% annual reduction in share count).
And lastly, the company keeps the retired shares in the treasury, and does not hesitate to bring them out of retirement when an attractive acquisition opportunity presents itself. This is how Exxon effectively combats the "law of large numbers" and continues to offer investors 8-12% long-term earnings per share and dividend growth.
Disclosure: I am long XOM, COP, BP, IBM. I wrote this article myself, and it expresses my own opinions. I am not receiving compensation for it (other than from Seeking Alpha). I have no business relationship with any company whose stock is mentioned in this article.