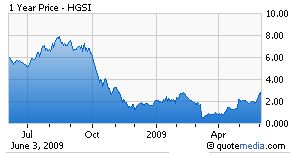 What ever happened to Human Genome Sciences (HGSI), the commercially focused biopharmaceutical company whose shares once traded in the $80 to $100 price per share range? Well, despite having been beaten badly since then, it's still here and bidding actively to make a strong comeback. This week, the company has begun to attract interest from various stock related media outlets and investors as a good play in the biomedical sector. Yesterday, shares of the company shot up over 15%, closing forty cents higher than its previous close. This morning's price? A whopping $3.03 per share.
HGSI has three products in late-stage clinical development: Albuferon for chronic hepatitis C, LymphoStat-B for systemic lupus erythematosus and ABthraxtm for inhalation anthrax. Both Albuferon and LymphoStat-B are progressing toward commercialization.
As listed in BiomedReports' FDA Decisions Calendar, and tracked via our FDA Calendar Updates, HGSI announced (on 5/21/09) that it submitted a Biologics License Application (BLA) to the FDA for its human monoclonal antibody drug ABthrax (raxibacumab). Raxibacumab is a first-in-class treatment for anthrax, and is being developed under a contract entered into in 2006 with the Biomedical Advanced Research and Development Authority of the Office of the Assistant Secretary for Preparedness and Response, U.S. Department of Health and Human Services (HHS).
The stock price was no doubt helped by yesterday's awful news that al Qaeda terrorists are planning a biological weapons attack against the United States.
In a video first aired by the Arabic news network Al Jazeera and later posted to several Web sites, Kuwaiti dissident Abdullah al-Nafisi tells a room full of supporters in Bahrain that al Qaeda has been casing the U.S. border with Mexico to assess how to send terrorists and weapons into the U.S.
"Four pounds of anthrax -- in a suitcase this big -- carried by a fighter through tunnels from Mexico into the U.S. are guaranteed to kill 330,000 Americans within a single hour if it is properly spread in population centers there," al-Nafisi said. "What a horrifying idea; 9/11 will be small change in comparison. Am I right? There is no need for airplanes, conspiracies, timings and so on. One person, with the courage to carry 4 pounds of anthrax, will go to the White House lawn, and will spread this 'confetti' all over them, and then we'll do these cries of joy. It will turn into a real celebration."
The company's balance sheet, which looks good, might be helped by these dark developments, but that isn't the only thing that has investors buzzing.
The company believes that LymphoStat-B could become a breakthrough treatment for Systemic Lupus Erythematosus, or SLE, if the positive results of the phase II trials are confirmed in Phase III trials which were designed directly with input and consultation from the FDA and in partnership with GlaxoSmithKline plc (GSK) under a co-development and commercialization agreement. The trials have enrolled 810 patients and results of the studies are expected in July and November of this year.
An estimated 1.5 million Americans and nearly five million people worldwide suffer from lupus. The federal government, the pharmaceutical and biotechnology industries are the largest sources of funding for lupus research, but the search for a cure has not yielded very good results in the past. As a matter of fact, 50 years have passed since the FDA approved a drug for lupus - a disease in which the body's immune system attacks its own cells and tissues, damaging the organs and affecting various body parts, including joints, skin, blood, and kidneys.
RTT News reports that one drawback in developing a drug for lupus is that the drug may prove beneficial for one organ but may turn out to damage another.
Genelabs Technologies' Prestara, Aspreva's CellCept, La Jolla Pharmaceutical Co's (LJPC) Riquent and Biogen Idec Inc.'s (BIIB) cancer drug Rituxan have all met with disappointment in lupus studies. This leaves HGSI at the forefront of gaining approval to market a lupus drug if trial results pan out the way they are expected.
Human Genome Sciences also has substantial financial rights to two drugs that GlaxoSmithKline has advanced to late-stage development. In December 2008, GSK initiated the first Phase III clinical trial of Darapladib for chronic coronary heart disease. Darapladib was discovered by GSK based on Human Genome Sciences technology. A second large Phase III trial of Darapladib is expected to begin in late 2009. In February 2009, GSK initiated a Phase III clinical trial of Syncria in the long-term treatment of type 2 diabetes mellitus. Syncria was created using Human Genome Sciences' proprietary albumin-fusion technology, and was licensed to GSK in 2004.
The company has seen shares trading in the range of $0.45 - $8 for the past twelve months and is definitely worth keeping an eye on.
Disclosure: No Positions.