The news that Google (NASDAQ:GOOG) is close to offering a subscription service via its YouTube business has generated a lot of buzz on news outlets and the Internet. There are a number of interesting factors to consider when looking at a service like this, which we'll look at in this article.
Before we get into details though, there is one important element to consider, and that is the way the announcement keeps investors and company fans interested in the pipeline of the company. This is mentioned because it has been something Apple (NASDAQ:AAPL) has lost and, as a result, interest in the company has plummeted, along with its stock price.
When Apple in the past made an announcement about its pipeline, even if it wasn't received enthusiastically, it did generate a lot of interest and reporting and writing about it pro or con. For Google, that has now become its reality, as it has released info on projects like Google Glass, fiber, and self-driving cars. That positions the firm as an innovative and leading tech company, even if none of those projects pan out. It makes the ears of investors and the general public lean towards Google for its latest news release.
It's not that Apple isn't part of some growth sectors, such as tablets, App Store, and retail, it's that it isn't part of the pipeline announcements enjoyed and anticipated in the past because there have been few, if any, from the company recently. You can see the reverse in fortunes in the two companies in the yearly charts below.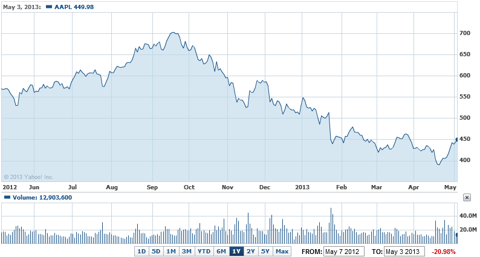 Click to enlarge
(Click to enlarge)
Apple is increasingly viewed as a mature company, while Google continues to be perceived as a leading and innovative tech company. You know that when you take into consideration dividends for Apple as part of an investing decision.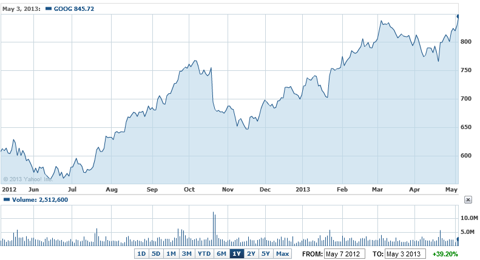 Click to enlarge
(Click to enlarge)
The point is the supposition surrounding an apparent soon-to-be-released YouTube subscription service is part of the importance of pipeline announcements and expectations that are valued by tech investors. Google is doing this better than any other tech company at this time, part of the reason its shares have been soaring. Pipeline announcements are engagement.
Google's flat organizational structure is a big part of this.
YouTube's Subscription Service
So what exactly is YouTube's subscription service announcement going to entail? According to insiders, it's the introduction of up to 50 specialty YouTube channels, which can be subscribed to for as little as $1.99 a month.
Specialist films and shows will be produced which will provide revenue for those operating the channels, and of course Google. That loop will hopefully increase interest from other video producers to generate more content for the video site. YouTube already incorporates a pay-per-view element to the business, as it streams videos and TV shows from networks and studios.
Along with unique content, some think a portion of the channels may be old content from networks. The official announcement is expected to come very soon. How that will affect existing pay TV providers to YouTube will have to be watched closely.
One Analyst Gets Overly Excited
Last Friday, Sanford Bernstein senior analyst Carlos Kirjner got overly stimulated by this upcoming YouTube service, saying this in a research note to clients last Friday:
"We think the odds are extremely high that YouTube will be a large, profitable and highly consequential business. It is becoming an attractive and important medium for brand advertisers, and we think it will increasingly compete (with traditional media companies) for the incremental video-delivered brand advertising dollars."
Kirjner added he believes this could be a game-changer, which may generate up to $15 billion or more in annual revenue for the video site within a period of five years. According to the analyst, that would make YouTube rival in size to Viacom (NYSE:VIA) (VIAB) or CBS (NYSE:CBS).
He's not saying all of this would be attributable to this new service, but the gravitation towards more and more professional and premium content is the major catalyst he's referring to.
Even so, it's difficult to believe those types of numbers at this time, as net revenue in 2012 is estimated to have come in at $2.4 billion, according to former Citigroup and current RBC Capital Markets analyst Mark Mahaney. Brian Wieser at Pivotal Research says that YouTube's ad revenue for 2013 was $1.3 billion.
The problem is Google doesn't break down YouTube numbers in earnings reports, and so there is no idea what the costs and earnings are for the service. Revenue is one thing, while earnings are another. Yet even a revenue report generated from the service would be welcome from the tech giant.
Even so, it is a good growth market for Google, and if its proven earnings are strong, it has the potential to reach the $15 billion in revenue annually suggested by Kirjner. Whether or not it could happen in 5 years is only a guess, if it ever reaches those numbers at all.
YouTube Viewer Numbers
Nielsen analysts say YouTube generates over 1 billion unique users each month around the world, streaming over 6 billion hours of video during that time.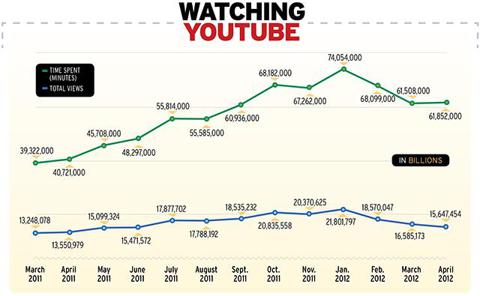 Click to enlarge
(Click to enlarge)
Just as importantly, the video streamer has the largest audience in the video business in the 18-34 range, as measured against other individual TV networks.
That's a lot of viewers, but what does that mean to advertisers? Where is the viewer growth coming from, and are those regions of the world desirable to advertisers?
The chart below is for the latter part of 2012.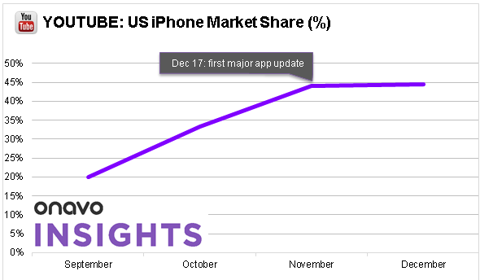 Click to enlarge
(Click to enlarge)
Facebook (NASDAQ:FB) has a similar challenge, as by the time it offered its IPO, the vast majority of people using it in parts of the world that are profitable to advertisers were already part of the network. That means the majority of new users aren't those with a lot of disposable income. Those types of concerns and data will have to be addressed by YouTube to see the overall value of the service to advertisers.
In other words, has YouTube reached critical mass in that same regard, or are there growth possibilities in parts of the world that would be advantageous to marketers and the companies they represent?
Digital Video Outlook
The digital video outlook is a strong one going forward, and for YouTube it depends upon whether or not it can continue to retain and/or grow market share as the sector grows.
Below is a chart showing the actual and projected number of U.S. online video views from 2008 through the next couple of years. Advertising revenue for digital is projected to reach $4.14 billion in 2013 and $5.5 billion by 2014.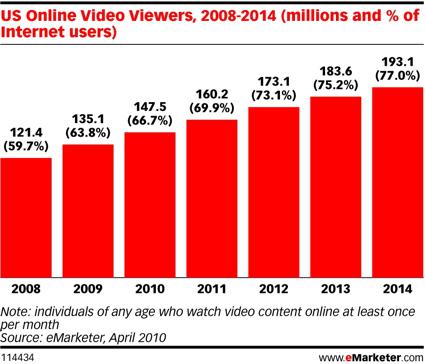 While this sounds impressive in general, it only accounts for about 2.4 percent of all ad spend. Nonetheless, it will remain a growth industry for some time.
That suggests there is a lot of growth in demographics that would be appealing to reach. It's not just a matter of growing users, but digging deeper into existing users. Financially, that appears to be the real value to extract from YouTube by Google in the years ahead.
YouTube's Strategy
Since the early days of YouTube there was little the service had to offer in regard to content which advertisers would feel comfortable placing their ads against.
Once the costs associated with the service grew, with little revenue coming in to offset those costs, Google started looking for ways to offer more professional content, and continues to work on that to this day.
The difference is the model of ad placement is limited, and adding a second stream of revenue should help it boost revenue significantly, assuming the content matches expectations.
For over a year Google has paid out over $200 million in to numerous start-up channels on the site. A second stream of income should attract more professional video producers. Rental is also a revenue stream, but that appears to be somewhat anemic.
Other video revenue streams for YouTube may be "entire libraries of videos, live events, and even self-help or financial advice shows."
Video Content "A La Carte"
Even though media companies such as Comcast (CMCSA) (CMCSK) and Charter Communications, Inc. (NASDAQ:CHTR) have resisted a la carte services, it is in high demand from consumers, and those that can and will provide that service will generate some significant revenue and profits.
This is essentially what a subscription service is, and I know I would pay for a channel that caters to my interests. To me, the sooner I can cut the cable cord the better. Quality digital content would do it for me, as it will for many consumers. That's the video future in my view, as I may really want to watch and follow about 8 to 10 series on TV. Everything else I could do without.
While there is no guarantee premium content will do well - just like new TV shows can flounder - it does provide an opportunity for users to have options, and it takes far fewer viewers to create a hit and generate a profit for the Internet and smartphones than it does for network or cable TV shows.
Low costs also provide for nimble responses to video content that fails, allowing for producers to quickly create new offerings.
Large, traditional media companies are also looking at YouTube as a potential new revenue stream. That will benefit Google if they provide content consumers want.
Eric Schmidt: "The Future is Now for YouTube"
Google Executive Chairman Eric Schmidt recently said in a presentation to advertisers that "the future is now" for YouTube. He was even bold enough to say he wouldn't forecast that Internet video was going to displace watching television, because "That's already happened," according to the former CEO of the company.
"It's not a replacement for something that we know," explained Schmidt. "It's a new thing that we have to think about, to program, to curate and build new platforms."
What was especially important about the event is Schmidt and Google are seemingly moving away from the TV relationships it was attempting to build just a short year ago, positioning the company as reinventing video. Google had been working on branded channels in the past, developing deals with a variety of celebrities.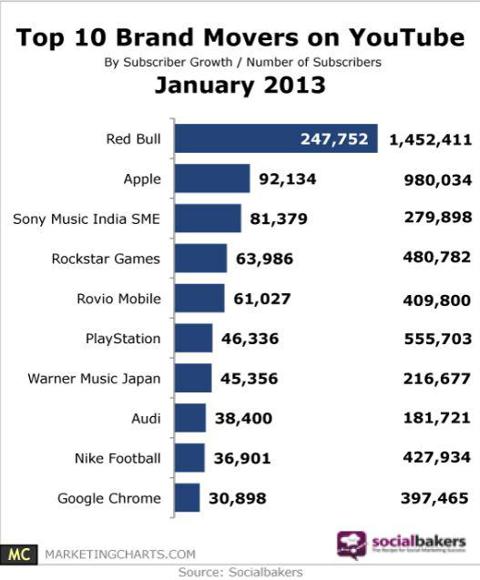 Click to enlarge
(Click to enlarge)
It remains to be seen if this is an attempt to change the narrative without really changing what YouTube is doing. Will we see branded channels with Hollywood personalities continually added to video offerings from YouTube? If we do, than what has really changed that Schmidt has asserted to be so disruptive?
According to YouTube's global head of content, Robert Kyncl, a big part of the differentiation is "TV is one-way. YouTube talks back."
"TV means reach," added Kyncl. "YouTube means engagement."
For investors we need to ask what this means for revenue and earnings. Apparently Schmidt believes it's the growth to 1 billion monthly visitors for the website, enthusiastically exclaiming, "wait until you get to 6 or 7 billion."
Like all social networking sites, it's the quality of the visitor as it relates to generating advertising dollars that makes the difference, but the addition of a robust subscription model could overcome that by appealing to a audience motivated by content that appeals to them to the level they're willing to pay for it.
So even if YouTube does reach visitor levels Schmidt is looking for, if they aren't able or willing to subscribe, we're back to the advertising model, which when engaging low-income people, isn't the audience most advertisers are looking for.
Competitors
There are a number of competitors already in this segment of the market, with the most formidable being Hulu, HBO, and Netflix (NASDAQ:NFLX). Hulu is owned by media giants News Corp. (NASDAQ:NWS), Walt Disney (NYSE:DIS) and Comcast.
NetFlix has 30 million subscribers, HBO just under 30 million, and Hulu has over 4 million.
What is it that YouTube will offer for subscribers that would result in them leaving those services, or developing an entirely new subscriber market? Numbers alone won't do it, no matter how many visitors visit YouTube a month. That's based upon the already mentioned income level of those new visitors.
Developed nations have already had a lot of exposure to YouTube, and while the video site may eventually have quality, premium content developed that will draw in subscribers, at this time it seems it will be far from an easy task to pry away customers happy with HBO, Hulu and NetFlix, as well as smaller operators.
Engagement sounds more interesting, but depending on the type of content, it's puzzling as to what would be different about watching video on YouTube versus any of its competitors.
A la carte for premium, proprietary content would help, especially if it is priced low enough to get a significant number of Third World subscribers of modest means to subscribe to a channel or two.
Interestingly, one report says the first place the subscription-video channels will be offered are U.S., Canada, U.K., Australia, Japan, Korea, France, Spain, Russia and Brazil.
I say it's interesting because most of them have a significant number of citizens with decent disposable income. That means it will be directly confronting it competitors, rather than looking at volume from people living in lower income countries.
Nonetheless, those countries still represent about a billion people, many of which could afford a channel of some sort.
Conclusion
The strength of YouTube is its weakness with a subscription-based strategy, as people have been trained to "engage" in free video for a long time on the site. Unless some extraordinary content is offered, I don't see at this time how that will translate into huge revenue growth for the video site, and nowhere near the exuberant $15 billion a year mentioned by the analyst.
What I really hear in this announcement is Google is having trouble generating profits with YouTube, with the advertising model not generating near enough money to impress management.
The announcement could be a trial balloon and training exercise to get users to start thinking in terms of subscribing to some YouTube content, preparing for future years when it's more accepted by the masses using the site.
Also important is the move towards video content producers in general, and not necessarily Hollywood celebrity types who may be too costly to make any money on.
Is it possible for a subscription model to work for YouTube? It's possible, but I believe if it is successful, it'll take a lot longer to be accepted than is being suggested by financial media.
A lot of the charm of YouTube is the unique amateur and semi-professional videos offered on the site. Since YouTube is growing in viewers so strongly, it's hard to see how it could cannibalize amateur content for more professional offerings. After all, we've seen all this before.
Disclosure: I have no positions in any stocks mentioned, and no plans to initiate any positions within the next 72 hours. I wrote this article myself, and it expresses my own opinions. I am not receiving compensation for it (other than from Seeking Alpha). I have no business relationship with any company whose stock is mentioned in this article.