It's good to have options, so the saying goes. For insiders, whose definition of "options" includes tangible instruments of remuneration, not just intangible choices, it's even better.
Insiders usually exercise their incentive options so they can immediately sell the shares for a risk-free profit. Most execs even have programs set up at brokerage firms that make it effortless to "flip" their options. These "cashless" exercise programs allow insiders to simply call their brokers, and see the profit between their exercise price and the market price show up in their accounts.
Talk about easy money. This flipping of options is some of the most common insider activity I see on a daily basis, and it is usually just "noise" that has no major value as investment intelligence.
But usually is not always. And when insiders choose not to sell all their options right away, it often relays meaningfully bullish executive sentiment.
Think about it. With risk-free money sitting there, waiting to be collected, what would make an insider not take it? Sure, the executive may have paid (much) lower than market price for the options-related shares they just received from their company. But once acquired, they are as open to the vagaries of market fluctuations as any other shares. And if an insider doesn't at least sell enough options to pay his/her exercise costs and subsequent taxes, they end up committing real cash to their stock. So for insiders not to sell their options, they must expect the price movement to be beneficial.
Stealth accumulations
I've noted a pickup in insiders showing this "opting in" behavior, as we call it at InsiderInsights, during the many equity waterfalls caused by the recent financial crisis. Executives who seemed happy to sell shares at $50 would become very motivated to buy when their stock suddenly cratered by a third or half in price.
Due to the "short swing" provision of Section 16 of the Securities Exchange Act of 1934, however, insiders aren't allowed to sell, then buy (or buy, then sell) their shares in the open market within a six-month time period. This laudable 80-year-old language was formulated to stop company executives from manipulating their shares for a quick, ill-gotten profit. But it also keeps recently selling executives from pouncing on what they may see as sudden bargains in their shares.
Fortunately for insiders, exercising options is not an open-market transaction. Shares are acquired from the company, not another person on an exchange. The subsequent sales of options are open-market transactions (except if expressly sold for taxes), but the exercise itself is not.
So it is that many execs who sell near highs just before their stock falls hard, opt into their shares after they were brought low by market or other events they believe will pass in short order. Some insiders sell enough of their option grants to pay for the exercise price and taxes. Others keep the whole grant.
Either way, when insiders don't sell all their just-acquired options, it's a good sign that they think their shares are headed higher.
If execs hold onto their grants over a year's time, they can even get long-term capital gains treatment on their profits, rather than their normal income tax rate when they flip the options outright. But, again, it only makes sense for insiders to take taxes into consideration if they think their stock is likely to appreciate over the coming year.
Reviewing your own options
Insiders opting into their shares doesn't just happen in crises, though. Some percentage of options grants (roughly 5%) are retained in whole or in part on a daily basis. To make these interesting accumulations easier to identify and screen for, InsiderInsights.com makes a point of demarcating options trades in its database that were sold only partially (transaction type OE*), or not at all (an OB transaction type). We also have a special screening tool for these stealth acquisitions by insiders, and include a screen of the largest of these transactions in our newsletter.
Below is a screen of recent "opting in" activity from insider filings that hit the SEC in the past two months. I further enhanced the quality of this screen's results, by overlaying an advanced filter to only include stocks that also have significantly bullish activity according to InsiderInsights Company Ratings.
Like most insider screens, this one is producing investment ideas across investment styles and risk profiles. Like any screen, however, it should be used as a way to focus your subsequent research, not as a menu of stocks to blindly buy.
Observations I'll add are that opting in already paid off for Akamai's (NASDAQ:AKAM) General Counsel, Melanie Haratunian. I can also relay that Wells Fargo (NYSE:WFC) first showed up on our opting in screens last November, and that the opting in at Bank of America (NYSE:BAC) has some open-market insider buying to go with it. Lastly, we were happy to see the meaningful opting in at long-time microcap holding Derma Sciences (NASDAQ:DSCI), even though it has appreciated over 40% since insiders first directed us to their shares.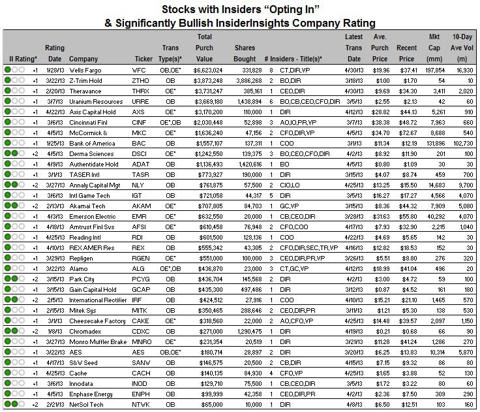 Click to enlarge
Source: www.InsiderInsights.com
Key to II Company Ratings
Key to Transaction Types
Disclosure: I am long DSCI. I wrote this article myself, and it expresses my own opinions. I am not receiving compensation for it (other than from Seeking Alpha). I have no business relationship with any company whose stock is mentioned in this article.