While looking across the spectrum of stocks we follow Monday and Tuesday we noticed that many are exceeding profit expectations and either in line or slightly above the analysts' estimates. It looks like the good times again even though we have a sluggish economy and a growth rate which leaves a lot to be desired. The continued cost cutting at firms is pushing the bottom line growth but at some point we shall see the focus shift to organic revenue growth as the driver rather than cost controls/cutting. At that time we will see a true bump up in the GDP numbers.
Chart of the Day:
This is from a story we ran across on both Bloomberg and a blog for The Wall Street Journal. It highlights the rise of margin debt and its effects upon the S&P 500. The correlation is uncanny.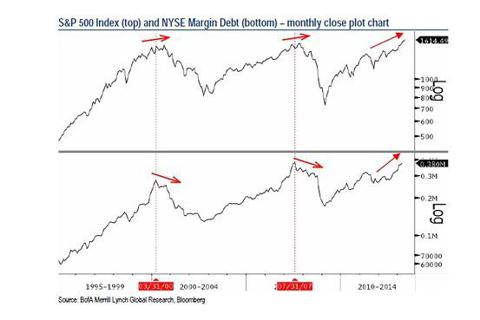 Click to enlarge
Chart courtesy of WSJ.com via Bank of America Merrill Lynch & Bloomberg.
We have economic news due out today, and it is as follows:
MBA Mortgage Index (7:00 a.m. ET): N/A
Crude Inventories (10:30 p.m. ET): N/A
Asian markets finished higher today:
All Ordinaries -- up 1.08%
Shanghai Composite -- up 0.48%
Nikkei 225 -- up 0.74%
NZSE 50 -- up 0.40%
Seoul Composite -- up 0.11%
In Europe, markets are higher this morning:
CAC 40 -- up 0.77%
DAX -- up 0.71%
FTSE 100 -- up 0.23%
OSE -- up 0.49%
Financials
With Regions Financial (NYSE:RF) having hit $8.80/share yesterday for the high of the day we are officially out of this trade. The shares backed off of those levels and finished at $8.73/share and if readers did not take our advice to sell yesterday based on our comments or due to the price target being hit we would recommend doing so now. We still like the financials, but this was merely a trade and if one wants to hold a regional bank long-term, then we would highly recommend making it one of the much stronger names. This was a trade which thus far has worked out exactly as planned, take what the market is giving you and book the profits.
Consumer Goods
Yesterday shares of Whirlpool (NYSE:WHR) set a new 52-week high as investors pushed shares higher by $3.65 (3.07%) to close at $122.65/share, which as our long-term readers are aware is over our $120/share price target. We have previously mentioned our intention to revisit this once that level was taken out and we have been scouting names with exposure to the housing market attempting to find a name with a comparable dividend and strong outlook, to no avail. Thus we are going to keep long here and recommend readers use some tight stops in order to protect gains.
We honestly have no better place to move the capital to and with the shares finally breaking through the $120/share level in a solid way we are content to let the trade play out so long as tight stops are implemented.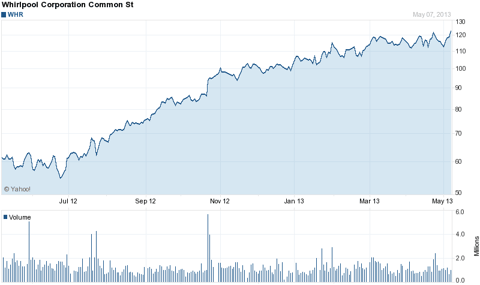 Click to enlarge
Chart courtesy of Yahoo Finance.
Technology
As it pertains to Yahoo (NASDAQ:YHOO), it is fair to say that people are starting to take notice. Shares continue to march higher and set new 52-week highs and we are hearing and reading more and more what great work Mayer is doing in her role as CEO. This is a name we have recommended being long of for quite some time now due to it being a turnaround story and the new kicker of innovator (either internally or via bolt-on acquisition). This is a name we continue to like and would recommend being long and believe that with their new deals signed on the content side and Google (NASDAQ:GOOG) looking elsewhere for growth these days that Yahoo may now have enough wiggle room to break free and regain market share in search while also building upon their lead versus the other content providers. Yes, the company has backed off of search a bit, but it is something that they will absolutely need moving forward so do not be surprised to see an added emphasis on this area in the near future.
This is one of those beautiful charts we admire. One that rises from the lower left to the upper right has very few rivals.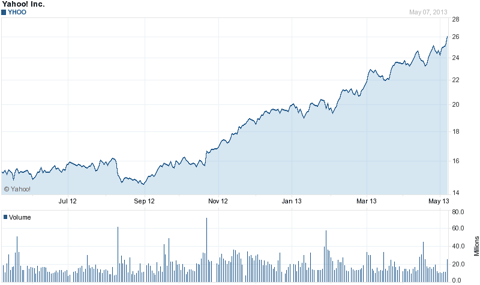 Click to enlarge
Chart courtesy of Yahoo Finance.
Investors were given an earnings surprise yesterday when Aruba Networks (NASDAQ:ARUN) came out and reported their results a week early and said earnings would be half of what they previously estimated and revenues would also be lower. This is a surprise not just because of how bad the miss is, but because it sure appeared that the company had turned a corner and was improving. Investors did not like the surprise and sent shares tumbling $5.03 (22.81%) to close the session at $17.02/share on volume of 23.1 million. The blow was somewhat muted due to analysts coming out and reiterating their guidance, but this was bad news and there really is no way of sugar coating it.
Biotechnology
The long awaited DEA ruling is over and Arena Pharmaceuticals (NASDAQ:ARNA) is now cleared to roll out Belviq across the US. The company announced the news yesterday, see press release here, while also announcing that they were due another $65 million in milestone payments which will boost the treasury as they crank up this roll out. With this approval we now feel much better about the entire situation and shall be watching closely how the company's initial sales compare to those of Vivus which industry followers will remember had an awfully slow roll out initially and picked up steam later on.
Disclosure: I have no positions in any stocks mentioned, and no plans to initiate any positions within the next 72 hours. I wrote this article myself, and it expresses my own opinions. I am not receiving compensation for it (other than from Seeking Alpha). I have no business relationship with any company whose stock is mentioned in this article.