Packaged food rarely yields an epicurean delight, but Crown Holdings Inc. (NYSE:CCK), the number one producer of food cans in the world might get some investors salivating. The company is the best opportunity in the undervalued and defensive Containers and Packaging industry according to a recent research report by Baird & Co.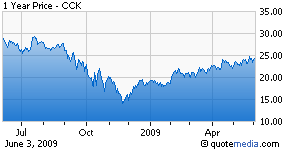 Defensive holdings may seem less interesting in the current market where everything is going up; economic issues will eventually return to the forefront and companies like Crown Holdings will look appealing.
The company has a "bullet-proof" end market says Baird in light of its exposure to food and beverage can packaging, Overall revenues were admittedly down by 10% in the first quarter of 2009, but Crown saw 20% earnings growth on weak volumes and substantial pricing power. Consolidation is working in its favour whereby 7% of North American beverage can capacity has been reduced over the past year.
Moreover the company is benefiting from a higher than average share of white label product offerings that benefit Crown in a weak economy that leads consumers to trade down.
Crown is generating prodigious amount of free cash -- roughly US$400-million annually -- and sports a very attractive free cash flow yield of 11%. Capital expenditure needs are modest, representing just 75% of depreciation and amortization despite a 7% addition to total capacity over the past five years, according to Baird. Therefore, the free cash will be used to work off long term debt valued at roughly US$2.5-billion.
As the U.S. dollar continues to weaken, Crown gets a boost to earnings since 70% of revenues come from overseas markets. Moreover, Crown will continue to see long term growth from its sizable exposure to emerging markets. Investors might just get a kick out of the world's largest makers of food cans.