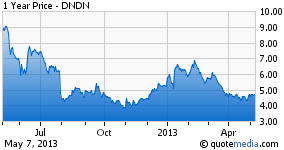 Today, Dendreon (DNDN) shareholders will brace for the company's Q1 2013 earnings, which will be discussed in a conference call on Thursday at 9:00 AM EDT. Dendreon, which has been operating at steep losses years after the market launch of its flagship product Provenge (sipuleucel-T), is still attempting to reduce manufacturing costs of their prostate cancer therapy while boosting sales.
More recently, the company has been attempting an unconventional TV advertisement campaign which may (or may not) have an effect on Provenge sales in the United States. This is likely to be addressed in the earnings call conference that will be held tomorrow morning, or at least in the Q&A session.
We are also expecting Provenge to see a positive regulatory decision in Europe within the next few months, which opens up the European prostate cancer treatment market. Although exciting, this would not be a slam-dunk victory for the bulls as Dendreon has yet to secure a partner that will manufacture and distribute the therapy in the EU. As we saw in the United States, the high cost of Provenge (~$93,000 per therapy) is offset by extremely high manufacturing expenses. These expenses are largely responsible for Dendreon's operating losses of $38.7 M in Q4 2012 despite $85.5 M in reported sales revenue.
Short interest in DNDN has climbed consistently throughout the first five months of the year, reaching about 54 million shares (or 35.2% of float) as the bears become more confident in additional downside in the company's valuation.
Also worth noting is that Dendreon has $27.7 M in convertible senior notes that will expire in 2014 and $532.7 M in convertible senior notes that will expire in 2016. Without any income from Dendreon's operations, shareholders are likely to see massive dilution in one form or another. It's because of this sensitive debt situation that the market will pay very close to attention to Provenge sales. If there is no growth, the company has little hope of going earnings-positive.
Again, note that the earnings conference call is scheduled for Thursday, May 9th, 2013 at 9:00 AM EDT
Disclosure: I have no positions in any stocks mentioned, and no plans to initiate any positions within the next 72 hours. I wrote this article myself, and it expresses my own opinions. I am not receiving compensation for it. I have no business relationship with any company whose stock is mentioned in this article.