This article will focus on mid-cap dividend-paying stocks that were obtained using a stock screener on May 7, 2013. In articles I wrote earlier in the year, I used similar stock screeners to identify opportunities and some of those worked out really well and outperformed the S&P 500. Hopefully we can produce some more winners here, but as always, please conduct your own research and due diligence before investing in any of these stocks.
The stock screener I ran had the following criteria:
A mid-cap stock
A current dividend yield of 6% or greater
A payout ratio of below the industry average
A price change in the last four weeks of greater than 0% but less than 10%
The stock screen was meant to identify companies that are paying out dividends at a sustainable rate, at least at first glance. A payout ratio of below the industry average would give a preliminary indication that the dividends are manageable when compared with other companies with high yields. I also looked for companies whose price has not changed that much in the past four weeks. This way, we may identify companies that have missed some of the recent run and uncover potentially underpriced stocks. Prospect Capital Corporation was found but I have recently highlighted the stock so I will not duplicate that here.
That leaves us with four stocks that we will look at here. Those companies include The Carlyle Group LP (NASDAQ:CG), Ares Capital Corporation (NASDAQ:ARCC), Alliance Resource Partners LP (NASDAQ:ARLP), and Hospitality Properties Trust (NYSE:HPT). The following is a one-year stock price chart for these companies.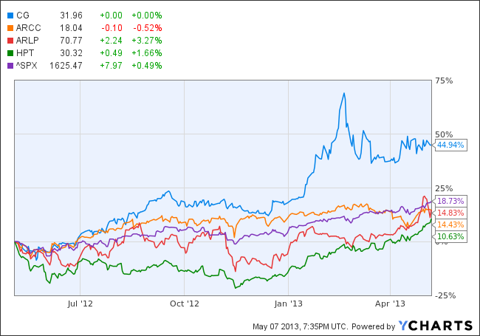 CG data by YCharts
As the chart shows, all but one of these stocks has underperformed the S&P 500 in price change alone. With all of these stocks paying a higher dividend than the average S&P 500 stock, that does increase the total return however. I view this chart as showing a possible opportunity because strong earnings and improved results could lead to out performance in the years to come if that were to happen.
The first stock we will look at is The Carlyle Group LP. This is a partnership, so it technically is not a dividend that it gives its owners, but rather a distribution that requires them to issue a K-1 to all owners at the end of the year. This produces different tax treatment. Currently, the annual distribution yield for this company is a whopping 10.50%. Its next earnings report is due out tomorrow, May 8, 2013. Meeting and/or exceeding guidance along with optimism about the future are factors that could lead to further share price increases right away. Recently, it was announced that the company sold off its ownership stake in Hertz. Also recently in March and April of this year, large investors of the company sold their shares, likely to cash in on the gains that the shares accumulated. So far it has had no effect on the share price, though it gives the indication that those large investors felt there was limited upside from that point at the current time.
Next, let's visit Ares Capital Corporation. Yesterday on May 7, 2013, the company reaffirmed its .38 per share quarterly dividend, which at the time, provided a dividend yield of 8.4%. This morning it beat earnings estimates by a penny, but the share price is largely unchanged today. Its earnings results exceeded analyst expectations in the previous three quarters as well. On April 24th, the company was upgraded to outperform from neutral at JP Morgan. Maintaining this large dividend, growing earnings, and continuing to beat analyst expectations are keys to this company's long-term success and will determine whether or not it can outperform the S&P 500.
Alliance Resource Partners LP is another partnership that pays a distribution rather than a dividend. Its current distribution yield is 6.1%. In the first quarter, the company had record earnings and grew them by 31% year over year. Its earnings have obliterated analyst estimates in the last four quarters. Growing its presence in the coal industry, continuing to deliver record and analyst-beating earnings, and increasing its distributions are all keys to its continued success.
Hospitality Properties Trust is the final stock we will look at in this article. It currently has a dividend yield of 6.3%. As some investors look for dividend yield, this may be a great choice. It is expected to earn $3.03 per share this year, although its recent earnings missed analyst forecasts by a penny. Thestreet.com recently gave the stock a buy rating. Strong earnings and great dividends are definitely keys to making this stock popular among investors, and to increased share prices. On April 4th, it was noted that the company's market cap surpassed that of J.C. Penney.
Disclosure: I have no positions in any stocks mentioned, and no plans to initiate any positions within the next 72 hours. I wrote this article myself, and it expresses my own opinions. I am not receiving compensation for it (other than from Seeking Alpha). I have no business relationship with any company whose stock is mentioned in this article.