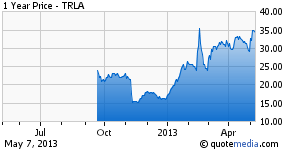 Shares of Trulia (TRLA) have already more than doubled in 2013 as the real estate search engine company is benefiting from the recovery in the U.S. housing market.
On Wednesday before the market open, the company announced the acquisition of Market Leader (NASDAQ:LEDR) a provider of software-as-a-service customer relationship management software for the sector.
The Deal
Trulia announced that it has agreed to acquire Market Leader, a software provider for the real estate agency, for $355 million. Shareholders in Market Leader stand to receive $6.00 per share in cash and 0.1553 shares of Trulia for every share the currently own. All in all the offer values Market Leader at $11.33 per share.
Based on the closing prices on Monday, the deal represents an 18% premium for the company which already has seen its share price five-fold since 2010.
Market Leader has been a leading company in the real estate industry helping agents to built personal reputations which should boost closings. By integrating with Market Leader, Trulia hopes to cross promote the offerings of both companies while leveraging complementary sales teams and processes.
CEO Pete Flint commented on the deal, "Our acquisition of Market Leader will create unprecedented value for our customer base while also accelerating our growth. Marrying our 31 million - and increasing - monthly unique visitors with Market Leader's robust offerings and extensive partnerships with leading real estate franchises and brokerages creates a company that will play an even more integral role driving value to the real estate industry."
For the full year of 2012, Market Leader generated annual revenues of $45.0 million, up 32.3% on the year, thereby marking the second consecutive year in which annual revenues grew by more than 30%. The company reported net losses of $7.8 million, significantly down from the $14.2 million loss in the year before.
The company holds $22.2 million in cash and equivalents and operates without the assumption of debt, for a solid net cash position. Operating assets are valued around $333 million, valuing Market Leader at 7.4 times 2012's annual revenues.
The deal has already been unanimously approved by the board of directors of both companies. The transaction is furthermore subject to approval of a majority of Market Leader's shareholders as well as normal closing conditions, including regulatory approval. If all goes well, the deal is expected to close in the third quarter of this year.
Valuation
Trulia ended its first quarter of 2013 with $214.3 million in cash and equivalents. The company operates with merely $9.9 million in short and long term debt, for a net cash position of roughly $204 million. The cash component of the deal stands at roughly $161 million. As such Trulia has sufficient liquidity to finance the deal.
Trulia generated full year revenues of $68.1 million, up 77% on the year before. The company reported a net loss of $10.9 million compared to $6.2 million the year before. In the first quarter, Trulia actually experienced an acceleration of already high growth rates. Revenues rose some 97% to $24.0 million while net losses narrowed to $2.0 million.
Based on Tuesday's closing price of $34.34 the market values Trulia at $950 million, valuing its operating assets around $750 million. This values the company at 11.0 times annual revenues.
Trulia does not pay a dividend at the moment.
Some Historical Perspective
Shares of Trulia went public as recent as September of 2012. The offer price of $17 was set above the preliminary offering range of $14-$16 per share. Shares have seen decent opening day action ending the day around $24 per share.
Shares have seen some weakness falling towards $15 per share in November before commencing on an impressive rally. Shares peaked around $35 in February, and after witnessing a bit of volatility, are settling around these levels.
Investors are applauding the company's accelerating growth. Between 2009 and 2012 revenues almost seven-folded to $68.1 million as the company reported single million losses in each of those years. As growth rates are accelerating into the first quarter, the company is managing to reduce its operating losses.
Investment Thesis
It will be interesting to see how investors will react to the proposed deal. The nature of the deal is of a highly strategic nature as the combination hopes to deliver superior services to prospective house buyers, sellers and real estate agents. Undoubtedly the deal will result in sales and organizational synergies, although the size of these have not been specified yet.
Both companies are reporting modest losses, so best is to compare the valuations on revenue multiples. The deal values Market Leader at 7.4 times 2012's annual revenues, a sizable discount to Trulia's valuation at 11.0 times annual revenues. Yet Trulia has superior growth rates, as 2012's revenues grew 77% on the year compared to 32% for Market Leader.
With an expected 31.7 million shares outstanding following completion of the deal, Trulia will have a market capitalization of $1.09 billion as the company operates with a net cash position of around $60 million. Operating assets are valued around $1.03 billion, valuing operations at 9.1 times 2012's annual revenues of $113 million.
With some 46,000 premium subscribers the company hopes to outperform Zillow (NASDAQ:Z) in creating a premier nationwide home search engine with related services. By creating a market leader, the pair hopes to be optimally positioned to benefit from the housing recovery. The company will be able to offer superior desktop and mobile solutions.
Back in September of last year, following the public offering of Trulia, I took a look at the company's prospects. At the time I concluded that shares are anything but cheap on a traditional valuation standpoint, yet the total valuation was only half a billion. Given the massive audience, prospects of good mobile user subscription growth, and strong overall visitor growth, shares might be rather cheap.
Shares have risen some 50% from that point in time. Giving this nice strategic deal and the continued recovery in the housing market I reiterate my standpoint.
Disclosure: I have no positions in any stocks mentioned, and no plans to initiate any positions within the next 72 hours. I wrote this article myself, and it expresses my own opinions. I am not receiving compensation for it (other than from Seeking Alpha). I have no business relationship with any company whose stock is mentioned in this article.