The recent conference call from Atlas Pipeline Partners (NYSE:APL) gave estimates of distributable cash flow of between $1.90 and $3.65 for the next 4 quarters. Further remarks indicated that pending board approval, distributions could restart in early 2010.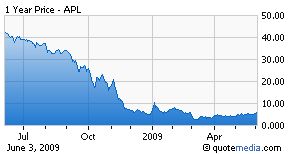 These numbers are based on historic NGL prices in relation to $65 oil. APL has been working to deleverage their balance sheet and it is anticipated that much of the cash flow for the next several quarters will go to pay down debt.
APL stock was up 13% yesterday in a down market (ATN was down 10%). As I wrote months ago, APL will continue to be a good leveraged option on rising oil prices.