We are going to be heavy on the oil and natural gas names today as there was a lot of news yesterday before the open and afterwards. We also want to point out the economic data from China last night (the imports and exports) both coming in above estimates and proving once again the country's ability to defy not only logic but the estimators. If China's factories are ramping up then that is only good news for the world's economy.
Commodity prices this morning are as follows:
Gold: $1454.70/ounce, up by $5.90/ounce
Silver: $23.835/ounce, up by $0.029/ounce
Oil: $95.57/barrel, down by $0.05/barrel
RBOB Gas: $2.8192/gallon, down by $0.0142/gallon
Natural Gas: $3.929/MMbtu, down by $0.009/MMbtu
Chart of the Day
We have pointed out this chart before, but with the news from China last night, this chart becomes even more important. If China is buying and Australia is supplying, that means that commodities are being used and thus bullish for the entire commodities complex. Pay attention here.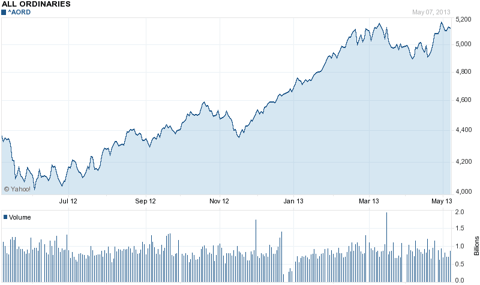 Chart courtesy of Yahoo Finance.
Oil & Natural Gas
Rosetta Resources (NASDAQ:ROSE) saw shares rise $2.81 (6.48%) to close at $46.16/share on volume of 2.03 million shares, or about two times normal volume. As readers know we put on a trade in this name, using our own money, to play a move back into the $45-48/share range and possibly even as high as $50/share. With the latest earnings release, see here, and an upbeat conference call, see transcript located here, the company has essentially turned the tide on the negative perception which was building after announcing the secondary and bond sale in order to fund their new acquisition in the Permian. We want to ride this out a little bit more, but will probably use $45/share as an area for a stop.
Hopefully this week's announcement and subsequent conference call have turned the tide and we can ride this uptrend a bit higher.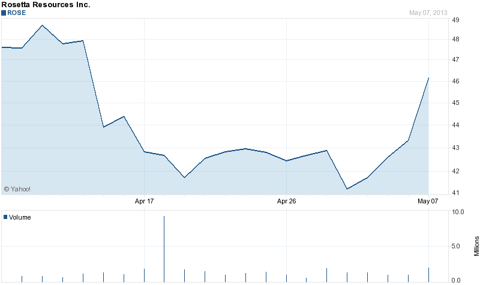 Chart courtesy of Yahoo Finance.
Another one of the names we have recommended for trading purposes to readers is EOG Resources (NYSE:EOG) which reported a very strong quarter, press release located here and conference call transcript can be found here, based on their operations with the Eagle Ford leading the way this time. Looking at the actual numbers one could easily be disappointed, however it is not about the EPS these days with the E&P plays but rather the ability to find and extract oil, liquids and natural gas. Keep this blue chip in the portfolio with the roughly 8% gain thus far to benefit from a less volatile Eagle Ford and Bakken play while also investing in the riskier names in those plays.
After the bell yesterday shares in Gulfport Energy (NASDAQ:GPOR) traded down over $1/share after the company released their quarterly results with an operational update and this morning we see that shares are lower by $3/share. Readers can find that release here, and we would remind everyone that the company will be holding a conference call this morning to discuss the results and give their outlook for the rest of the year. We have seen a conference call turn the tide before here, so we anxiously await that call. We are still long all of our shares.
We noticed shares in Magnum Hunter Resources (MHR) going parabolic as the close of the trading session drew nearer yesterday and were quite impressed with the past few days it has put together. The stock is bouncing back from the beating it took over firing its previous auditor and yesterday announced (see release here) that one of its subsidiaries took possession of a drill rig to be used in the Utica, a play we are extremely bullish on. Currently the company is in our dog house, but if we were to sell a few of our holdings in the next few months and they were able to clear up their accounting issues we could very well be interested once again.
Solar
Just as it looked like the solar bulls had the wind at their backs First Solar (NASDAQ:FSLR) came out and disappointed with their results. It is all about growth at this point and where it is going to come from and how much of it you can get in this cut-throat industry. Those were some of the questions investors felt that the company was unable to satisfactorily answer and thus pushed shares lower by $4.26 (8.93%) to close the session at $43.43/share on above average volume of 12.8 million shares. We are not bulls of solar but we are a bit surprised that the growth outlook would be this cloudy this early into what appeared a new uptrend.
What happens when you disappoint those looking for answers and growth? Well it looks something like this...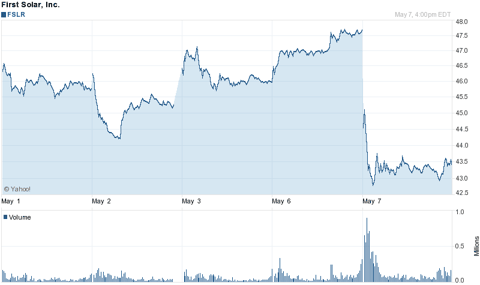 Chart courtesy of Yahoo Finance.
Disclosure: I am long GPOR, ROSE. I wrote this article myself, and it expresses my own opinions. I am not receiving compensation for it (other than from Seeking Alpha). I have no business relationship with any company whose stock is mentioned in this article.