Yahoo (NASDAQ:YHOO) has been making headlines recently, though with mixed results. If CEO Marissa Mayer can have her way, though, Yahoo will be better known for its stock's performance than its telecommuting and maternity leave policies.
In that regard, Yahoo appears headed in the right direction. Over the past six months, Yahoo's stock has risen by 56% -- more than quadrupling the return of the S&P 500 in that span. Moreover, since Mayer took over the company's reins on July 17th of last year, its stock has climbed by 58% - a remarkable turnaround for a company that, at one point, was a buyout target for Redmond's Giant and, subsequently, rumored to be in Google's (NASDAQ:GOOG) crosshairs.
Six-Month Performance Of Yahoo Vs. S&P 500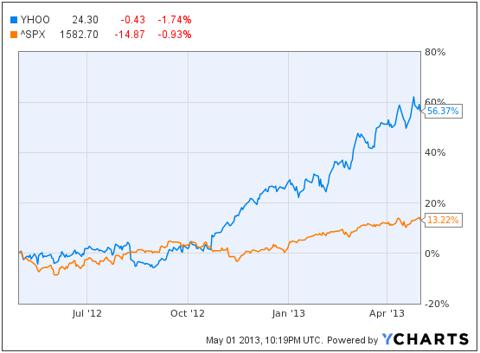 Click to enlarge
Source: YCharts
What's more, it is Yahoo doing the acquiring these days, recently purchasing British start-up Summly and putting in a bid for Dailymotion before it was scuppered by French demands.
Meanwhile, Yahoo has also been busy improving its product offerings, releasing overhauled mobile applications for its popular mail, news and weather services. Indeed, its recent news app revision boasts the integration of Summly's technology - a speedy turnaround considering that the company had only been acquired in late March.
Clearly, Yahoo is a company intent on recapturing its former glory - together with Amazon (NASDAQ:AMZN), Yahoo was one of the darlings of the dotcom era - but the rise of Google, the advent of the Post-PC era and management missteps had rendered it a shadow of its former self.
Indeed, lest Mayer and her management team take confidence in their company's recent fortunes, it behooves them to note that, at its current market capitalization, Yahoo is trading at less than a fifth of its peak value of $140 billion. In fact, notwithstanding its recent star turn, Yahoo's shares remain 9.4% below their level five years earlier.
There is clearly still a long road ahead for Yahoo but the pertinent question for investors is whether this represents an opportunity to add the online information provider to their portfolios.
Revenue Outlook
Yahoo's recent moves, meant to bolster worker productivity and increase its relevance in the post-PC era, are meant to combat earnings attrition. Consider the following: while Yahoo beat earnings estimates by 14-cents a share in the first quarter, it actually saw revenues decline by 7% from their level of a year earlier. What's more, after factoring-in online advertising commissions paid to partner sites, Yahoo's display advertising actually shrank by 11%.
In this light, it's easy to see why Yahoo has taken great pains to improve its various product offerings, with Mayer herself penning a recent blog post discussing the revamped design of its display ads. What's more, the recent revisions to its various mobile apps are presumably the first of many, with future revisions meant to better integrate newer advertising designs.
Yahoo's ultimate goal with these moves is, of course, to arrest the decline in display revenue and compete more effectively with the likes of Google and Facebook (NASDAQ:FB) - which themselves have been redesigning their mobile apps to make them more attractive to users.
In fact, these Yahoo rivals have gone as far as releasing more mobile devices, or in the case of Facebook, announcing its first device, with the intent of leveraging these platforms to draw more eyeballs to their advertisements. Given this, it seems to make sense that, at some point in the next five years (and probably sooner), Yahoo will either seek to release its own Yahoo-centric mobile device or partner with an existing platform - perhaps with struggling BlackBerry (NASDAQ:BBRY) or Microsoft (NASDAQ:MSFT).
Yahoo is expected to see its earnings rise by 7% in the current quarter and nearly 19% by the time the year is out. That dwarfs the forecasted annual earnings growth of its industry by 7.5 percentage points - including Google's, which is expected to see EPS growth of 15.8% this year. Going forward, however, it's a different story: Yahoo is anticipated to see annual earnings growth of 13.8% a year over the next five years - 3 percentage points lower than its industry's.
Again, the typical caveats apply: forward earnings estimates are subject to ongoing revisions and analysts take some time to factor in recent developments into their forecasts. Indeed, Yahoo has beaten EPS estimates by an average of 8-cents in each of the past four quarters, surpassing overall estimates by 33% over its trailing 12 months. Given such a wide forecasting error and assuming this trend persists, Yahoo's EPS growth over the next five years might actually surpass its industry's by 1.6 percentage points.
Fundamentals And Valuation
In contrast to its frothy dotcom years, Yahoo is actually trading very cheaply at the moment, at 18.4x its trailing twelve months' earnings. That's a considerable discount to the 25.5x earnings of its peer group - and far lower than the peak P/E of 104x it registered the last five years. That also puts it roughly in-line with the S&P 500, which trades at 17.7x trailing earnings.
Going forward, with higher expected earnings, Yahoo is expected to trade at 17.5x earnings - by then, assuming forecasts hold, the S&P 500 will be trading at 16.3x earnings and its industry at 22.9x earnings. Everything else being equal, and using current EPS estimates, the five-year forward P/E picture is thus: Yahoo at 9.6x earnings, S&P 500 at 11.3x and its Industry at 11.8x.
What this means is that, even factoring slower-than-industry growth, Yahoo is trading cheaply relative to future expectations on its profitability.
That Yahoo will still be around in the next five years to enjoy such a discount is supported by the fact that it has strong cash flow - its current price-to-free cash flow is just 5x - less than a third of that of the S&P 500 and 1/11th that of its industry peers. Indeed, this is evident in other measures - Yahoo's quick ratio of 4.0 is high for any company and is 10% better than the 3.6x of its peer industry. It is also quadruple that of the average S&P 500 company. Moreover, Yahoo is essentially debt-free whereas its peers typically have 10 cents of debt for every dollar of equity, and the typical S&P 500 company has 74 cents of debt for every dollar of equity.
This implies that Yahoo has the cash flow with which to pursue aggressive strategies and will not be distracted by having to meet debt covenants and the like.
Yahoo also scores well in other key areas such as gross revenue and net income margin. At 80%, its gross margins are far better than those of Google (64%) or its industry (69%). Meanwhile, demonstrating that it has little froth, Yahoo's net income margins are even higher at 89% - far better than Google's 26.3% or its industry's near-break-even 0.22%. Yahoo also has higher returns on assets than its peers and, in an ironic twist given the recent debate stirred by her telecommuting policy, actually earns $371,000 per employee - 42% more than her former employer, Google, does from its employees.
Conclusion
Given Yahoo's recent moves to solidify its display revenues and capture mobile audience market share, its solid fundamentals, track record of beating estimates and relatively cheap valuation, we believe that Yahoo can further extend its 22% year-to-date climb. In our view, investors can expect to see its shares at $29 by year-end, for an upside of 19%. It should be noted that this price would simply bring its five-year forward valuation in-line with that of its industry peer group, so Yahoo could surpass that figure if its earnings announcements continue to come in above estimates.
Disclosure: I have no positions in any stocks mentioned, but may initiate a long position in YHOO over the next 72 hours.
Business relationship disclosure: Black Coral Research, Inc. is a team of writers who provide a unique perspective to help inspire investors. This article was written by Jonathan Lara, one of our Senior Analysts. We did not receive compensation for this article (other than from Seeking Alpha), and we have no business relationship with any company whose stock is mentioned in this article.
Additional disclosure: Black Coral Research, Inc. is not a registered investment advisor or broker/dealer. Readers are advised that the material contained herein should be used solely for informational purposes. Investing involves risk, including the loss of principal. Readers are solely responsible for their own investment decisions.