Apple (NASDAQ:AAPL) has quietly recouped $70 from its April 19th lows, mainly on the wake of its major announcements, which include the biggest stock-buyback authorization in history. But is this move sustainable? Is the company really in better shape now than before the earnings announcement? In this article, I'm going to analyze how much the announced buyback can influence the stock, take a look at the technicals, and try to assess where the share can go from these levels.
A buyback-driven rally
For those who wanted Apple to employ its ginormous amount of cash (quite a few I have to say), the company responded by announcing that it will return $100 billion - roughly four times Cyprus' GDP - to shareholders by 2015.
Some applauded the move - just yesterday David Einhorn, Chairman of Greenlight Capital and the man who sued Apple in February for not sufficiently deploying its cash, praised the company and disclosed that his fund has recently added to his long Apple position. Some cried out that Tim Cook is killing Apple, and - for what it matters - sure the "fire Tim Cook bandwagon" has never had more passengers than now.
Probably neither of these stands is correct. As Horace Dediu bluntly said in an interview with TNW, "Anyone suggesting Tim Cook should be fired is a neophyte. The process of hiring and firing CEOs is complex, political and varies widely by company and reason." I'd add that fact is that Tim Cook had to do something: in the face of a stock falling like a knife, and hundreds of thousands of retail investors paying for the nimble inflows - and mainly outflows - of the smart money, he had at least to try and put a floor on the stock.
On the other side though, you can be sure that this is something that SJ would have never done: a buyback has no other purpose than inflating the stock price, to the detriment of the company's cash reserves (hell, Apple is even taking on debit to finance the stock-repurchase). He would have probably employed the $100 billion by buying the whole Disney (NYSE:DIS) instead of giving it back to shareholders.
However, the massive buyback, paired with a modest bump to the dividend, isn't the only major breakthrough that emerged from Q2 earnings release: EPS, compared to 2012, actually decreased to $10.09 from $12.30. This means that, from a P/E standpoint, Apple is trading at valuations not seen since January, before Q1 2013 was even announced, even though the stock price is much lower.
Moreover, the company also guided for a pretty weak quarter, below analyst's expectations. For those who didn't get the memo yet, Apple has changed the way it provides guidance since Q1 2013, by giving an estimate of what "it believes is likely to achieve," instead of the old fashion of providing an estimate of what the company "is reasonably confident to achieve." Indeed the actual revenue numbers differed by less than 4% from what was guided, and finally analysts' estimates were quite accurate too. This means that the days of sandbagging estimates are officially over, and that Apple's guidance has now to be taken pretty seriously.
So, reassuming, why a lower EPS and a weak guidance spurred a 15% rally - something that hadn't happened since before the September 2012 peak - again? But of course, because of the biggest buyback authorization in history. But how high can the stock go based on a $50 billion buyback?
How much can this buyback influence the stock price?
This rally happened so suddenly that, while just after the earnings announcement Apple sported a shiny dividend yield of 3% - higher than Microsoft's (NASDAQ:MSFT), to put it in perspective - due to the recent gains now the yield stands barely over 2.60%. In fact, all this talk about how Apple could save a ton on money by buying back shares on which otherwise it would have to pay the dividend (which has a higher yield than the bonds Apple has just issued), could quickly become bunk if the stock keeps rising.
Moreover, let's remember that even though the buyback approved by Apple is the biggest ever in Corporate America history, this derives from the fact that Apple is the most valuable company on Earth - and the most flush with cash. Therefore, how much can this buyback stimulate the stock? Well, let's do a little experiment that, even if purely theoretical, gives a nice perspective on how much it could affect Apple's metrics, and especially the stock price. For the experiment to work, we need to impose that the stock will keep the same P/E post-buyback as before, and therefore (since the buyback does not affect Net Income) the same market cap.
So, in our experiment, Apple completes the buyback shortly after the announcement at a median price of $405 (we know that didn't happen, but it shows how the real rally compares with the hypothetical buyback), and therefore:
outstanding shares will stand around 817 million, compared to the current 940 million (roughly 13% less)
EPS will rise to $48.2 from $41.9
consequentially, to maintain the same P/E, the stock price will have rise to $466.
However, there's also a downside:
cash (net of debt) will plunge to $95 billion from $145 billion
P/E ex-cash will rise to 6.80 from 5.70
So, as we can see, in this hypothetical scenario the $50 billion buyback spurs a - you guessed it - roughly $50 billion rally. So what happens here is that the company buys back roughly 120 million shares, inflating the EPS by 15%. This allows the stock to rally roughly 15% while keeping the same market cap and the same P/E as before. The downside of the coin is that the company has now $50 billion less than before in its bank account: this means that while the stock price goes higher (albeit not affecting the P/E), the company is actually worth less. I mean, would you rather pay $400 billion for the company "A" with $40 billion of net income and $150 billion in cash, or $400 billion for the company "B" with $40 billion of net income and "only" $100 billion of cash? Against the very basic principles of logic, Wall Street seems to be much happier to buy the company "B" (which represents Apple post-buyback) than the company "A" (which represents Apple pre-buyback), even though the latter has $50 billion more in its reserves.
The technical view
Finally, Apple's technicals have been on a tear for the whole rally that we just saw. As you can see from the charts below, the stock managed to break through its weekly 10-days, 20-days and 150-days Simple Moving Averages (yellow circles), which had proven quite tough resistances (black arrows), as well as through its daily 10-days, 20-days and 50-days SMAs (yellow circles) which had proven themselves even tougher resistances (black arrows).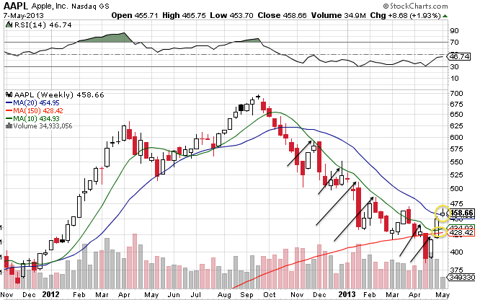 Click to enlarge
(Click to enlarge)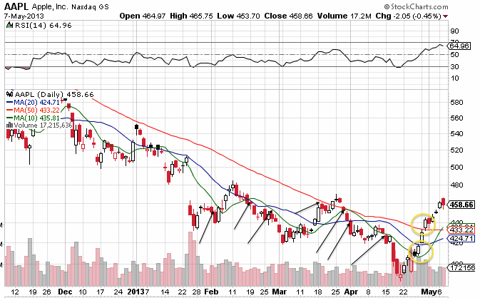 Click to enlarge
(Click to enlarge)
Unfortunately, the stock has now come to a stop both bumping against its daily 100-days SMA (green line in the chart below) and against the upper end of the canal in which shares have been trading since February (upper yellow line). Both these resistances, if broken, would provide an extremely bullish signal, giving the stock a neat opportunity to reach $500. On the other side, if the stock can't manage to break above, we could be in front of another top (the last was made in March) and could signal further downside towards the low $400s.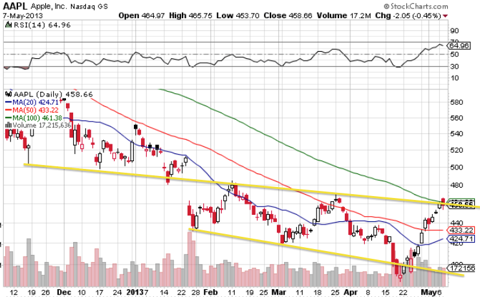 Click to enlarge
(Click to enlarge)
The next trading days will be fundamental to understand which of these two routes the stock will move towards.
Closing thoughts
Even though Apple announced the first YoY contraction in EPS in over a decade and guided below consensus for the current quarter, Wall Street has pushed the stock upward in a 15% rally (something not seen since before the September 2012 peak) on the wake of Apple's plead to return $100 billion by 2015, mainly through the biggest buyback ever announced. As highlighted previously in the article though, as big as the buyback may seem, at $460 the stock has already added $50 billion in market cap since the earnings announcement, roughly consuming in a matter of two weeks the positive effect the buyback is supposed to give the stock. But again, it shouldn't sound strange given how Wall Street seems to love buybacks-driven EPS growth [IBM (NYSE:IBM) anyone?].
Moreover, the technicals show that while the stock has been breaking resistances during the whole rally, it has now come to a halt bumping against its daily 100-days SMA and the upper end of the canal in which it has been stuck for three months. A break to the upside could signal another strong rally is in the making, but a failed attempt of breaking these resistances could mark another top and prelude a retracement. For those looking to enter the name now, you definitely want to see the stock break above these resistances before committing new capital. Otherwise, given the sudden rally and these strong resistances looming, the stock seems ripe for a pullback.
The long-term story for Apple remains strong as before, but as David Einhorn said yesterday, "We've added to our Apple position. Now, we just wait for the release of Apple's next blockbuster product." Buying Apple is now more than ever (especially after this new buyback-fueled rally) an act of faith in the ability of the company to churn out another blockbuster product. Failing to do so, could cause more pain to shareholders.
Disclosure: I am long AAPL. I wrote this article myself, and it expresses my own opinions. I am not receiving compensation for it (other than from Seeking Alpha). I have no business relationship with any company whose stock is mentioned in this article.