In my last article about how I manage my IRA using what I call My Mad Method [MyMM], I talked about how I had selected where to put the dividends that had accumulated over about a month's time based on which stock had the lowest percentage allocation of my IRA's total balance, combined with the MyMM indicators and rankings. In that case, my goal was to try to bring a particular stock, Harris Corporation (NYSE:HRS), closer to what I like to call "parity", which is the target percentage that represents any one position out of the 30 positions currently in my IRA, having just enough value to equal 1/30th of the total value of my portfolio (less cash). That target parity number turns out to be 3.33%.
For this month, I considered a similar approach, and concentrated on those positions that had the lowest percent allocation and were, therefore, the furthest away from achieving parity. However, being the furthest below parity may not be enough to justify making a purchase of a given stock; I still want to take into consideration the candidates' MyMM Ranking, and I want to weight those Rankings based on the criteria that are most important to me at this point in time.
To begin this month's selection process, I started with 12 stocks that I currently hold that are all below parity. Here is that list, along with their percent allocation levels prior to this month's purchase(s), and the offset of those percentages to the 3.33% parity target:
| | | | |
| --- | --- | --- | --- |
| Company | Ticker | % Alloc | Offset |
| BHP Billiton plc | (NYSE:BBL) | 2.95% | -0.38% |
| Harris Corporation | HRS | 2.93% | -0.40% |
| Kimberly Clark Corp | (NYSE:KMB) | 3.28% | -0.06% |
| Lockheed Martin Corporation | (NYSE:LMT) | 2.81% | -0.52% |
| National Grid, plc | (NYSE:NGG) | 3.24% | -0.09% |
| National Presto Industries | (NYSE:NPK) | 3.12% | -0.22% |
| Philip Morris International | (NYSE:PM) | 1.83% | -1.50% |
| Prospect Capital Corporation | (NASDAQ:PSEC) | 3.25% | -0.08% |
| AT&T | (NYSE:T) | 3.07% | -0.27% |
| Two Harbors Investment Corporation | (NYSE:TWO) | 3.06% | -0.27% |
| Universal Insurance Holdings, Inc. | (NYSEMKT:UVE) | 1.79% | -1.55% |
| Vodafone Group, plc | (NASDAQ:VOD) | 2.73% | -0.61% |
Next, I had to decide whether it would be better to try to bring one or more positions up to and/or over the 3.33% parity level of allocation, or whether I should concentrate on the position(s) that were the furthest away from parity and try to bring one or more of them up closer to their brethren that have already achieved or exceeded parity. To do this I weighted the candidate 12 positions by setting the following MyMM metrics to a 30% weighting, which resulted in a 5.10 weighting factor (compared to a "balanced" weighting of 5.88% which yields a weighting factor of 1.00):
Yield
5 Year Dividend CAGR
Percent Allocation
I also set the "BMW Return Factor" metric to zero, as I feel that it has become redundant to the other BMW metric, Root Mean Square, or RMS.
Here are the results of this weighting, with the Top 6 highlighted as possible options: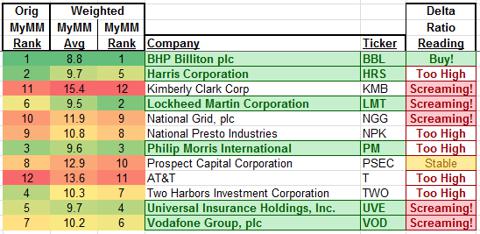 At first glance, Number 1 Ranked BHP Billiton (BBL) seemed like the best candidate, given that it had a Delta Ratio Reading of "Buy!" and, with the dividends I'd accumulated since my last purchases, I could bring it up well above parity to a 3.45% allocation by buying an additional 16.9% more shares.
However, first impressions can be misleading. I put the idea of buying more BBL on the back burner for a while, and considered my options, which included:
Would it be more prudent to bring one position up to parity?; or
Would it be more prudent to bring two or three positions closer to parity so that it would be easier for them to pop over the parity line through either future small acquisitions or organically via share price growth?; or
Would it be more prudent to take one (or 2) of the positions that were furthest away from parity and bring them up as close as possible to the 3.33% parity target with the cash available to me?
So I pondered these options for a few days, while watching the market, and decided that my best course of action at this time would be to bring one of my current positions with the lowest percent allocation closer to parity, even though I couldn't get any of those positions all the way up to parity. Slow and steady wins the race, right? Also, with 16 to 17 positions out of 30 at or above parity (the number varies depending on Mr. Market's behavior), having a position that was lagging far behind the pack play catch-up seemed like the better option than squeaking one more position to be just over the parity line.
Looking at my first table above, you can see that the two positions with the lowest percent allocation were UVE (at 1.79%) and PM (at 1.83%). Pretty close, and looking at the second table we see that PM ended up Ranking 3rd and UVE Ranked 4th, which made the decision even harder.
Looking at the Delta Ratio Reading for both PM and UVE, it seemed that PM might be the better choice, since it "only" had a Reading of "Too High", compared to UVE's "Screaming!" Reading. Looking at UVE's 6 month chart, I could see why.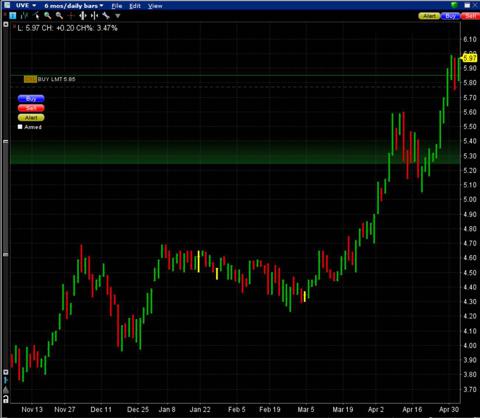 However, I've established a target price of around $91.00 or so to purchase more shares of PM, while UVE shows a great deal of promise in terms of potential growth in share price, and has a nice dividend, too. Decisions, decisions.
In the end, I selected the stock that has the higher yield, in this case, Universal Insurance Holdings (UVE) with a yield of 4.85%, compared to Philip Morris' (PM) yield of 3.64%, in order to maximize the future revenues that I would be realizing from this purchase. By selecting UVE over PM this time around, I should realize 34.45% more in annual dividends for the money spent than I would if I had chosen to buy more PM.
So I took my little pile of accumulated dividends and added 29% more shares to my existing holding of UVE, increasing its percent allocation of my IRA's total to 2.31%.
Looking Ahead
May is actually one of those "light" months for me in terms of dividends, and the funds I used to purchase 29% more of UVE were accumulated during the latter portion of April. There's one other (small) purchase that I am considering executing a little past the middle of this month in order to catch an approaching ex-dividend date, but otherwise, it looks like I'm going to have to wait until the latter third of June before I have enough dividends built up to make my next significant move. If anything happens between now and then, I'll be sure to let you know.
Disclosure: I am long BBL, HRS, KMB, LMT, NGG, NPK, PM, PSEC, T, TWO, UVE, VOD. I wrote this article myself, and it expresses my own opinions. I am not receiving compensation for it (other than from Seeking Alpha). I have no business relationship with any company whose stock is mentioned in this article.
Disclaimer: I am not a professional investment advisor or financial analyst; I'm just a guy who likes to crunch numbers and can make an Excel spreadsheet do pretty much whatever I want it to do, and I'm doing my best to manage my own portfolio. This article is in no way an endorsement of any of the stocks discussed in it, and as always, you need to do your own research and due diligence before you decide to trade any securities or other products.