The Bombay Stock Exchange's benchmark Sensex index rose 28.3% in May, the largest monthly percentage gain since March 1992, drawing attention to one of the most populous regions on the planet. Both the PowerShares India (NYSEARCA:PIN) and the iPath India ETN (NYSEARCA:INP) have jumped significantly in our ETF International Momentum table in recent weeks. INP moved from the No. 46 spot on March 3 to the No. 4 spot on May 26, while PIN moved from the No. 26 position on March 3 to the No. 8 position on May 26, reflecting the recent gains that India's blue chips have made and sparking headlines across the globe. While both INP and PIN offer investors broad exposure to India's equity market, the funds differ in key areas such as methodology.
click to enlarge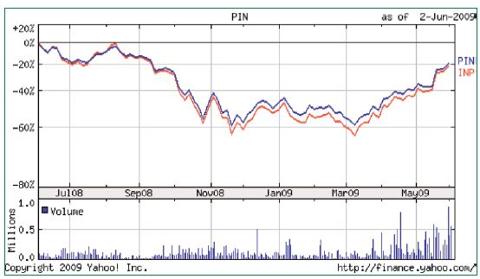 Click to enlarge
India's economic news, while mixed, has had a positive effect on investors looking to capitalize on areas of the global economy that are leading or catching up to the economic rally. While India's exports continued to drop in April, according to government reports released June 1, increased manufacturing has helped to buoy India as global exports sink. Recent measures by the federal government have helped India internally, as sales of automobiles and cement have increased. Funds have helped to boost tech stocks like Infosys (NASDAQ:INFY), which is the No. 4 and No. 2 holding in PIN and INP, respectively, as shares were eagerly snatched up in the first June trading session. India's central bank has cut the repurchase rate by 2.35% since October, as well as the cash reserve ratio. The federal government has doubled the foreign investment limits on corporate bonds and invested 200 billion rupees in the country's infrastructure.
Both INP and PIN have reacted to the rally, helping investors participate in India's thriving sectors. INP is a capitalization-based ETN that tracks the MSCI India Total Return Index. INP's index takes into account market performance, including price performance and dividends, in its ranking of Indian equity securities. The notes that make up INP are designed to help investors gain exposure to the approximately 59 components included in the index. INP's fee is currently 0.89%. INP's top two sector weightings are energy and financials, with 23.50% and 19.88% concentrations, respectively.
PIN tracks the Indus India Index, designed to be representative of the India equity market as a whole. PIN's index comprises 50 of the largest companies on India's two indices. Instead of employing a capitalization-weighted index as INP does, PIN's index is supervised by members of academia who specialize in emerging markets. The two heaviest-weighted sectors in the fund are energy and financials, with 30.59% and 14.44% weightings, respectively. PIN has a lower expense ratio than INP, currently 0.78%.
The most obvious and important difference between INP and PIN is that INP is an ETN while PIN is an ETF. PIN comprises a basket of securities, so the investor "owns" the collection of companies in the index. Shares of INP represent debt—unsubordinated, unsecured debt notes. The most practical difference between the two is that INP's investors are exposed to credit risk. When it comes to this type of issuer risk, however, the Barclay's iPath notes—kin to the popular iShares ETFs—feel about as secure as you can get in an uncertain market.
INP and PIN currently share 6 of their top 10 components, and it is important for prospective investors to be aware of other similarities and differences between the two funds. While both funds are large and liquid, INP's three-month average daily trading volume is higher than that of PIN—742,418 and 394,379 shares, respectively, as of June 1. PIN's top 10 components constitute 53.28% of the overall portfolio, while INP's top 10 constitute a slightly larger 58.9% stake. Of the top 10 components, INP and PIN share Reliance Industries Ltd., Oil & Natural Gas Corp. Ltd., Infosys Technologies Ltd., Hindustan Unilever Ltd., HDFC Bank Ltd. (NYSE:HDB) and NTPC Ltd.
INP and PIN share their top component, Reliance Industries Ltd., with 16.91% and 10.02% stakes, respectively. Reliance Industries is India's largest petrochemical company, specializing in oil refining and polyolefins, used in a broad range of applications such as automotive manufacturing and film. Reliance Industries also has relatively smaller textile and oil and gas exploration divisions. Hardy Oil and Gas recently announced that Reliance Industries areas could contain up to 20 trillion cubic feet of natural gas reserves.
In a recent report, Suraj Saraogi, managing director, at Keynote Capital, noted that the Sensex's increase is due to "rotational calls," as retail and high-net-worth individuals seek out "frontline stocks" that have yet to participate in the rally. If Saraogi's call is right, INP and PIN might be used best as short-term plays to take advantage of the broader economic upswing. When choosing between INP and PIN, investors should consider the relevant risks involved in each investment. While INP may have had more of a short-term pop in momentum, the structure of PIN might be more appealing to investors with a longer-term outlook.