By Jonathan Lara
A rising tide lifts all ships, and Comcast (NASDAQ:CMCSA) is one of them. To wit, the S&P 500 has risen by 13.2% in the year-to-date, while Comcast has seen its stock climb by 14.4% -- around 1.2% more than the index.
On an absolute basis, this counts as "outperformance," with a beta of 1.28 vis-à-vis the S&P 500, Comcast actually trails its expected risk-adjusted return by 2.5%. What's more, on a six-month basis, Comcast has actually trailed the return of the S&P 500. This is illustrated in the chart below, which shows the price-performance of Comcast relative to the S&P 500 and its broad peer group, as represented by the Dow Jones Broadcast and Entertainment Index: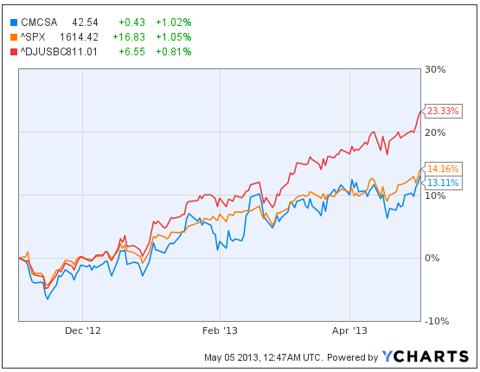 Given this picture, the cable giant can hardly be considered a stock market darling. In fact, despite the completion of its high-profile acquisition of NBCUniversal in March, Comcast still trails its peers' performance (indicated by the red line in the chart) by over 10% over the last six months. This is not particularly surprising, given that, in the trailing six months, its earnings have come in essentially flat against expectations, having missed analysts' December quarter estimates by a penny, only to claw that penny back in March.
In short, nothing Comcast has done in the last six months has excited investors enough for them to bid its stock up in the manner of competitors such as Time Warner (NYSE:TWX), which is up by over 27% in 2013.
With the markets setting record after record, it seems likely that Comcast will continue to benefit from the rising tide and finish the year with returns broadly in line with that of the S&P 500. For some investors, this might represent an opportunity; after all, Comcast's stock has not risen much compared to its peers and could catch-up, implying a greater upside. The question for investors is whether there is a reason to think that this is the case.
We don't think there is; in our view, Comcast will perform roughly in-line with the S&P 500 in 2013. Here's why:
Tepid Earnings
We've established that Comcast's earnings have essentially been flat against consensus estimates over the past six months. That trend is unlikely to change and could actually break on the low side. Specifically, analysts expect its revenues to rise by 5.1% in the next quarter over the same period a year earlier, only to contract by an annualized 2.1% the following quarter.
Earnings-wise, Comcast is expected to earn 24.9% more this year than it did in 2012; that is more than double what its industry peers' earnings are expected to grow by (9.4%). The following year, however, its earnings are expected to expand by only 14.5%, less than half the 32.9% its industry's earnings are expected to grow by. Meanwhile, over the next five years, the company's revenues are expected to grow by 17.5% - a little faster than its industry's 16.6% - but lower than its own prior years' 19.2%.
The pattern evident for Comcast is one of the "on the one hand, on the other hand" variety. There is no clear-cut indication that Comcast is a company that deserves a premium valuation. For every positive on its earnings front there is a negative. Consider for example, how the company did in its last quarter; its customers are now paying $155 a month for its cable service - 8% more than a year ago - but it has 60,000 fewer subscribers in March than it did in December. Overall, Comcast has lost nearly 360,000 subscribers in the past year, representing a 2% erosion of the subscriber base it had in March 2012.
While it's commendable that the company is "doing more with less," its need to add more subscribers is evident in other new ventures it has announced, such as bringing its XFinity service to the fast-growing Asia-Pacific region. Tapping into this market should bolster revenues, but it remains to be seen whether Comcast can compete with companies with entrenched interests in the region, such as News Corp. (NASDAQ:NWS), which has an established presence by way of its STAR TV network.
Fundamentals & Valuation
Comcast is currently trading at a price-to-earnings ratio of 17.9x, roughly in line with the 17.7x P/E of the S&P 500 but higher than its industry's P/E of 14.4x. Comcast is the United States' largest cable provider and is also one of its largest media entities, so a premium valuation on the basis of its size is to be expected. Moreover, as one of the S&P 500's components, index-tracking funds are required to carry its shares, so being valued roughly in-line with the S&P 500 supports our market-perform assessment of the stock.
Whether such a P/E is warranted by its actual earnings as opposed to relative value is another matter. As we've pointed out, Comcast's forward earnings picture is mixed. On a forward five-year basis, it is only a bit higher than its peer group's, but it is nearly double that of the S&P 500. In that sense, a bit of a premium is warranted, and the fact that it isn't trading at 20x or 22x suggests that it isn't particularly overvalued. So again, its 17.7x P/E appears just about right.
On a price-to-book basis, Comcast is cheap relative to its peer group at 2.3x book compared to 4.7x - but it is actually trading in-line with the S&P500's 2.4x, which is consistent with our assertion that Comcast is a market-perform stock.
One of the positives bandied about regarding Comcast is its strong absolute cash flow. However, most of its peers have the same relative position, as evidenced by their roughly equivalent price-to-cash flow: 15.3x to 15.7x. In short, while the nominal values might be impressive, the market is not exactly rewarding a premium for it, since it is one of the conditions at play in the industry. What's more, this strong cash flow generation isn't exactly seen in the company's cash levels; Comcast has quick and current ratios of 0.5 and 0.7, respectively. Both are lower than that of its peer group and the S&P 500 overall.
That said, its relatively lower cash levels should not be a cause for alarm as these are more related to the size of its trade-related payables than the size of its debt payments. In fact, Comcast has much lower levels of debt than its peers, with a total debt-to-equity ratio of 0.98, which compares very favorably to that of its peers which are considerably more leveraged with $2.50 of debt for every $1 of equity. Consequently, despite Comcast's relatively lower levels of cash, its interest coverage ratio is at 5.7x - 42% healthier than its peers' but still quite a bit lower than the S&P 500's aggregate ratio of 7.5.
Conclusion
On balance, Comcast's fundamentals and valuation tell us the same story as its earnings. There is no clear-cut picture, nothing to signal to investors that it's especially over or under-valued. In short, there is nothing to tell us that Comcast deserves anything more than a market-perform rating.
Disclosure: I have no positions in any stocks mentioned, and no plans to initiate any positions within the next 72 hours.
Disclaimer: Black Coral Research, Inc. is a team of writers who provide unique perspective to help inspire investors. This article was written Jonathan Lara, one of our Senior Analysts. We did not receive compensation for this article (other than from Seeking Alpha), and we have no business relationship with any company whose stock is mentioned in this article. Black Coral Research, Inc. is not a registered investment advisor or broker/dealer. Readers are advised that the material contained herein should be used solely for informational purposes. Investing involves risk, including the loss of principal. Readers are solely responsible for their own investment decisions.