Gold spent the last 2.5 years in an undeniably obvious uptrend, supported by the white trend line shown below. This of course changed quickly this year as gold prices broke below the trend line ... then the 100-day moving average (red) ... then the horizontal support at $1,550 (red line).
Gold sentiment has changed dramatically ... more on this below. My technical take is simple: until gold futures retake the horizontal red line at $1550, which I view as the key pivot point, I remain in the bearish camp.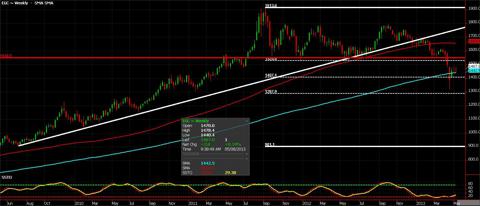 Click to enlarge
What Changed?
A confluence of factors has worked to take the shine out of gold:
· China's economy is growing slower than previously anticipated.
· Concerns have grown over the possibility that Cyprus, and other eurozone members, may need to sell their gold holdings to cover a bailout.
· Margin pressure likely caused investors to throw the baby out with bath water as a trade south induced an exaggerated short term move. Beware - this could happen again.
· Goldman Sachs listed a bearish call on gold just prior to the sell-off.
· Gold no longer seems the safe haven play it used to.
· Bulls likely got exhausted by the 16 months of agonizing sideways price consolidation.
· Deflation, not inflation, looks to be possible ahead.
· Investor sentiment has weakened across the board for metals as many investors drink the equity market Kool-Aid.
Turning back to the technicals, the line in the sand is now the 200-day MA (light blue line). At this juncture, I cannot rule out a lower trade dragging prices back under $1,400. It's even feasible we'll see a 61.8% retracement in the coming weeks, putting futures under $1,300/ounce. Clients who agree with this bearish view have lightly bought back ratio spreads in August with the aim of capitalizing on a potential 10% further depreciation.
Ending on an interesting historical note: there have been 13 bear markets in gold since 1975. The average bear market in gold has retraced 14%.
If the current selloff continues, a 14% pullback would put prices under $1300/ounce. Trade accordingly.
Risk Disclaimer: The opinions contained herein are for general information only and not tailored to any specific investor's needs or investment goals. Any opinions expressed in this article are as of the date indicated. Trading futures, options, and Forex involves substantial risk of loss and is not suitable for all investors. Past performance is not necessarily indicative of future results.
Disclosure: I have no positions in any stocks mentioned, and no plans to initiate any positions within the next 72 hours. I wrote this article myself, and it expresses my own opinions. I am not receiving compensation for it. I have no business relationship with any company whose stock is mentioned in this article.