Ross Stores (NASDAQ:ROST) began operating as a low-cost home fashion business in 1982 and has recently passed two significant landmarks; over 30 years operating and the opening of the 1,000th store. Having passed these landmarks the company continues to go from strength to strength and is an excellent buy in my opinion.
Excellent Business Model
Today Ross Stores aim to provide designer and brand name apparel, footwear and home fashions for all ages at significant discounts to regular high street and designer stores. In order to deliver this to customers Ross Stores has adopted many processes to minimize costs, which allows it to pass these savings on to consumers. Ross Stores does not invest heavily on expensive shop premises in prime town locations. As such the basic stores are cheaper to purchase/rent and the on-going management and upkeep costs are lower than for prime real estate. These stores do not contain huge amounts of stock, which has associated storage costs and can quickly become obsolete. Instead Ross Stores relies on excellent distribution channels and strong relationships with suppliers to ensure efficient purchase and delivery of inventory to stores in a costly and timely manner.
This business model allows Ross Stores to minimize costs, which in turn are passed on to the customers through lower-priced goods.
Resilient Sales
Lower-cost goods sold by Ross Stores are less sensitive to economic downturns. Over the last five years many U.S. consumers have looked to de-leverage and curb spending but this has not stalled Ross Stores' ability to grow revenue.
Ross Stores Revenue Growth
| | | | | | |
| --- | --- | --- | --- | --- | --- |
| | 2008 | 2009 | 2010 | 2011 | 2012 |
| Revenue ($bn) | $6.5 | $7.2 | $7.9 | $8.6 | $9.7 |
| YoY Revenue Growth | | 10.70% | 9.70% | 8.90% | 12.80% |
It is likely these lower-cost goods have actually become more popular with consumers as they shift away from more expensive high street shopping and focus on value for money.
Good Market Penetration
Ross Stores currently operates 1,091 stores in 33 U.S. states. Management is actively looking to increase its presence on a national scale and this was highlighted by 1/3 of all new store openings in 2011 occurring in new markets (states). The business model is easily scalable, which should aid the expansion into new states. This should help ensure the long-term growth prospects of the business.
Store Diversification
2004 saw Ross Stores roll out its first dd's DISCOUNT stores. These stores are focused on middle-income customers and offer a different range than the regular Ross Dress for Less stores. This diversification has allowed Ross Stores to grow its customer base.
Infrastructure Investing
the Ross Stores business model is reliant on state-of-the-art infrastructure. Aware of this Ross Stores has carried out significant capex in new distribution centers, warehouses, transport, financial and merchandising systems.
In 2012 Ross Stores invested $424 million of capital; $205 million on store upgrades and openings and $219 million on distribution infrastructure and information technology projects. It is estimated apex spending will increase to $670 million in 2013. This increase of nearly 60% may be alarming to some investors, however, this investment will further improve and grow the distribution network as well as cover new store openings. The excellent operational cash flows of the business covered all of the required capex in 2012 and it is anticipated 2013 operational cash flows will cover all capex in 2013. The major benefit of this is that Ross Stores is not reliant on the debt markets in order to finance growth and this is reflected in its low long-term debt of only $150million.
A History of returning cash to investors
Ross Stores has a history of returning cash to investors having paid a dividend every year since 1994. The dividend has also been growing recently; Q1 2013 increased by 21% YoY, and Q1 2012 had increased by 27% YoY.
Even with the Capex investment taking place there is still available free cash flow, which should mean that dividend payments continue and contribute to the total return performance of the stock.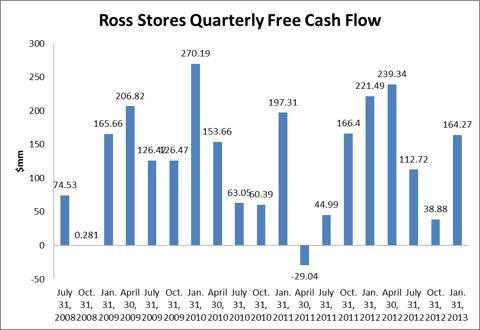 Ability to Grow Earnings
Increasing revenues is important, but what is more important is that this drives bottom-line profitability. Ross Stores has successfully grown earnings per share over the last five years.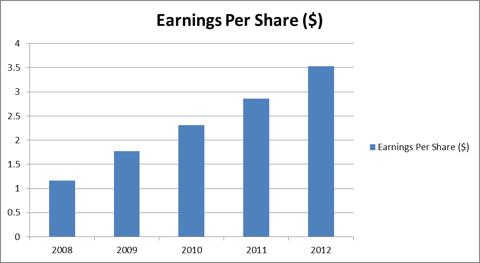 Earnings are one of the biggest drivers of share price and if this trend of increasing earnings continues, share price is likely to increase.
Current Share Price
Ross Stores' share price closed on $66.50 (May 7, 2013). This price equates to a trailing P/E of 18.84 and a one-year forward P/E of 15.32 (source: Yahoo Finance). TJX Companies (NYSE:TJX) which is probably the main competitor, currently trades on a P/E of 19.62 and a has a forward P/E of 15.78. In terms of peer comparison Ross Stores does not seem expensive. As discussed above, there is also a great opportunity for Ross Stores to expand and continue to drive earnings growth in the future.
Summary
Ross Stores' business of providing discounted brand name goods and accessories to the U.S. consumer has been successful for 30 years and I see no reason for this stopping. The business has invested heavily in infrastructure in order to be able to manage its low inventory levels and excellent distribution networks. There are growth opportunities within the U.S. and over the long term it could expand into other international markets (which has already been done by TJX).
Demand for low-cost goods should remain high as the U.S. consumer continues to deleverage and Ross Stores is perfectly placed to supply this demand. With fantastic cash flows, extremely low levels of debt and a history of returning cash to investors this stock is an excellent buy at a fair price.
Disclosure: I have no positions in any stocks mentioned, and no plans to initiate any positions within the next 72 hours. I wrote this article myself, and it expresses my own opinions. I am not receiving compensation for it (other than from Seeking Alpha). I have no business relationship with any company whose stock is mentioned in this article.