In our first article on LinkedIn (LNKD, "LinkedIn Could Be The Best Monetized Social Network, But It Is Overvalued" (April 14, we labeled LinkedIn as neutral basically because although we recognized the superior competitive advantage that the firm has in the monetization arena, we did not believe that LinkedIn will be able to continue its historical revenue growth rate in the next years.
As expected, the stock price rose in the next two weeks after our article was published, reaching its 52-weeks high ($202 per share) some minutes before the first-quarter results announcement on May 3. Then, shares fell more than 10% in after-hours trading, despite posting relatively robust first-quarter results. The reason? A weak growth forecast. As we predicted, investors are starting to get aware of the challenges the firm faces to support its so-far amazing historical growth rates.
(click to enlarge images)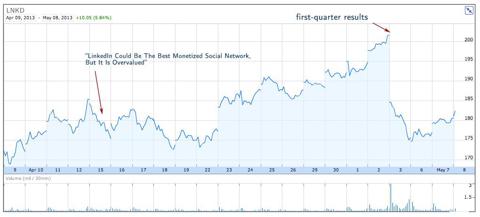 This article updates our view on LinkedIn after the earnings call. We start by providing a brief overview of the first-quarter announcement. Next, we provide the essence of our note, five reasons that support and confirm our original investment thesis: that the firm will not be able to sustain its historical growth rates. We finish this piece with our usual final remarks.
Post-Earnings LinkedIn: The Good, The Bad and The Ugly
The Good
Overall robust results: company revenue grew 72% versus the year-ago quarter.
It beat the street consensus once more: revenue was $324.7M versus analysts' expectations of $317.08M.
EPS was $0.45 versus analyst expectations of $0.31.
Revenue sources continue highly diversified: 57% for talent solutions, 23% for marketing solutions and 20% for premium subscriptions.
Engagement metrics: Unlike revenue, audience growth rates are not decreasing. In the last quarter, 16 new million users joined the social network.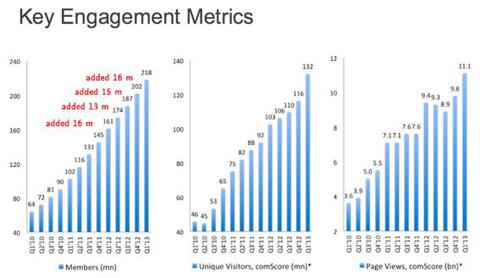 The Bad
2013 Q2 revenue guidance is $342-$347M versus analyst estimates of $359.24M. We interpret this fact as follows: management, which is well aware of long-term challenges to growth, is trying to gradually decrease the high expectations of investors in order to avoid a massive drop in share price after the next earnings announcement.
The Ugly
The growth rate of year/year revenue continues decreasing after reaching a peak in 2011 Q4.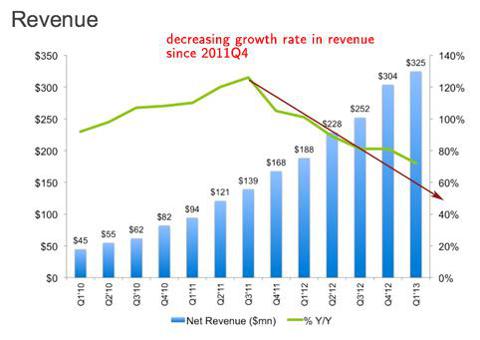 The most strategic business segment, advertising, has the slowest growth rate: the marketing solutions segment, which currently represents 25% of total revenue, grew 25%, the slowest growth rate since the IPO.
See the entire transcript here.
Main Investment Thesis
Despite being the best monetized social network, LinkedIn will not be able to sustain its amazing historical revenue growth rates. A fierce competition in the professional social network arena will cause, in the long run, a decrease in the growth rates of user engagement and audience metrics.
The 5 Reasons
1. Our strongest reason is related to the way users carry on their online professional activity. Users see LinkedIn as the place where they should put their CV, but they do not engage there. They prefer smaller, more elitist and serious networks for engaging. For example: Software engineers use Github and StackOverFlow. Investors use Seeking Alpha, Fool or SumZero. You could use LinkedIn for showing good investment insight or coding scripts, but the experience and feedback will not be as pleasant as doing it in a closer network of connoisseurs. Have you ever seen a software engineer publishing some code on LinkedIn?
There are hundreds of small networks that only address a specific niche. They may be small in DAU if compared with LinkedIn but together they are a huge competitor.
2. The "Groups" feature is not the solution to the "engagement" problem. It is a well known fact that most groups are monitored by HR personnel and therefore constitute an uncomfortable and artificial (spam is frequent) environment for carrying out your online professional activity.
3. Historical revenue is simply too high to be sustainable. 102.37% in 2010! 114.81% in 2011! It is a well-known empirical fact that most processes in life, including the revenue growth process of a given firm, follow a normal distribution in the long run. Why would LinkedIn be an exception to the rule?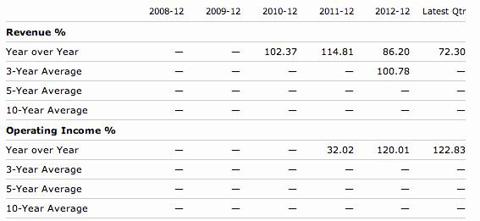 4. It's official. According to the WSJ, in the latest conference call, CFO Steve Sordello recognized that LinkedIn is showing signs of slow growth. He acknowledged that LinkedIn's ad business may show "moderate growth" in the second quarter, "as it faces a tough comparison with the year-ago period when it was able to sign large, one-time deals":
For Marketing Solutions, we expect a more moderate growth based in part by lapping large one time deals signed during the second quarter of last year. As we evolve our strategy to include content marketing, we're working towards building a more scalable and sustainable Marketing Solutions business model.
5. Viadeo is a strong competitor in emerging economies. Considering that professionals outside the United States now make up more than 64% of LinkedIn itself, the growth of Viadeo is to be taken seriously: from 1 million users in 2007, to 50 million users in 2013. It has different brands for different markets. For example, its brand Tianji is the number 1 professional social network in China, with over 14 million members.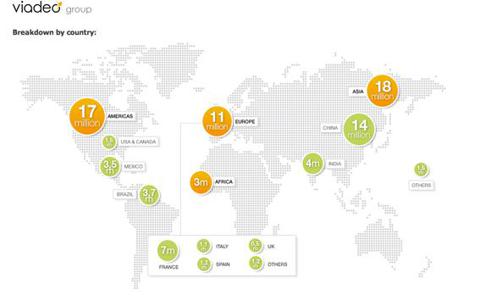 Final Remarks
Price target: $150 / from $150
Rating: Neutral / from Neutral
Uncertainty: Medium

Investment Strategy
The current stock price is not suitable for opening a bullish position.
Event-driven: Open bear positions hours before each earnings announcement in order to take advantage from sudden drops in price.
It is also attractive to buy bear derivatives with long-term maturities in order to take advantage of the overvaluation issue.
Disclosure: I am long QCOM. I wrote this article myself, and it expresses my own opinions. I am not receiving compensation for it (other than from Seeking Alpha). I have no business relationship with any company whose stock is mentioned in this article.