Tongjitang Chinese Medicines Company (NYSE: TCM) reported that its Q1 revenues fell 15% to 90.2 million RMB ($13.2 million). The decline paralleled the 21% decline in sales of the company's lead product, the TCM osteoporosis treatment Xianling Gubao (XLGB), whose revenues dropped to 56 million RMB ($8.1 million). Because of the revenue decline, the company reported a net loss of $1.7 million, or 4 cents per ADS. Tongjitang pointed out it almost broke even on an EBITDA basis.

In the past, Tongjitang blamed its revenue problems on counterfeit versions of XLGB. The company won its patent infringement suits, but the courtroom victories have not produced any increase in sales.

In its conference call, Tongjitang now says the company is in transition, because it is turning its attention away from the low-price hospital market to direct-to-consumer pharmacy sales. It expects its new stand-alone countertop displays to generate higher-margin sales over time, and it thinks investors will see positive results from its strategy before 2009 is over. The company said its plan would cause disappointments in the near term, but provide a long-term gain.

Also, the company said it is working to incorporate its recent acquisitions. Revenues from Guizhou Long-Life Pharmaceutical Company Limited fell slightly to 2.3 million RMB ($335,445), while Qinghai Pulante Pharmaceutical Co. contributed 1.6 million RMB ($239,284) of sales. At the time the acquisitions were announced, Guizhou was reported to have 50 million RMB ($6.6 million) in annual revenue, and Pulante was said to produce 40 million RMB ($5.5 million) each year. There was no explanation of why these acquisitions have not operated at the same level post-merger.

In the conference call, no analysts posed any questions for management, an event that shows the investment community has largely given up on Tongjitang.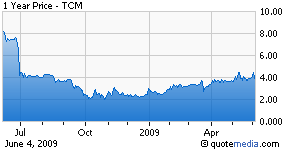 At the end of Q1, Tongjitang retained $71.5 million in cash, much of it from the company's 2007 IPO. The company has a market capitalization of $129 million. Before the Q1 earnings announcement, Tongjitang was trading at $4.50 per ADS. It declined following the earnings release to $3.81, a 15% haircut.

In a statement, Xiaochun Wang, CEO and Chairman of Tongjitang, said Tongjitang's "diversified product portfolio" and new sales initiative would eventually turn things around for the company, though investors were apparently looking for something more concrete.

In early 2008, Mr. Wang offered to buy all the outstanding shares of Tongjitang at a price of $10.20 per ADS, an effort that would have returned Tongjitang to its private company roots. The offer, which was just above the IPO price of $10, was eventually withdrawn, and Tongjitang's share price has fallen since then.

Citing economic conditions and the uncertain outlook for China healthcare, Tongjitang said it would not provide guidance to its financial performance in 2009 at this time.

Disclosure: none.