Since the beginning of the year, Bank of America (NYSE:BAC) has increased around 7.5%. Through this analysis, I will present the case that Bank of America is entering a new stage of growth and price will more than likely continue increasing in the future. In this analysis, I do not rely on my subjective opinion but rather on objective quantitative analysis.
A History of Returns
In order to analyze BAC from a fundamental standpoint, I have relied heavily on return on assets. Return on assets is the net income of the firm divided by its average total assets. The usefulness of return on assets is that it is a metric that embodies the performance of an organization in terms of the assets utilized to generate the performance. Return on assets is helpful for analyzing companies in that it also shows the viewer how well a company used its assets to earn profits. The chart below shows 10 years of return on assets information for BAC.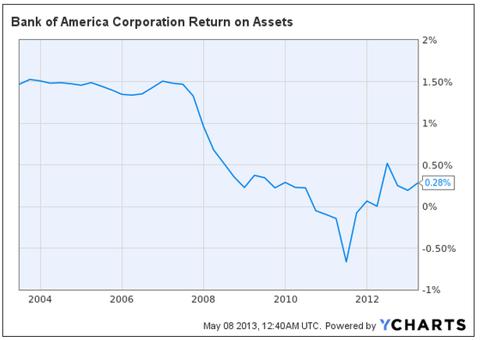 In the chart above, a diverse history of organizational growth and decline can be seen. In the points below, I have summarized each of the main periods of growth and decline for the past five years and included an analysis of stock price. The table beneath the points shows a summary of findings.
The first noteworthy period of analysis is the beginning of 2006, to the third quarter of 2007. During this period, Bank of America experienced economic growth in that its return on assets increased. This tangibly means that Bank of America became progressively better at transcribing its asset base into profits. Bank of America's assets have historically been composed primarily as "Long-Term Investments." Long-Term Investments is essentially a grouping of the various types of loans, which BAC provides to various entities. This period of economic growth was marked by an ability of BAC to increase its return on outstanding loans. The market tends to reward organizations, which succeed at generating a return and BAC is no different in that between 2006 and the third quarter of 2007, shares rose around 14%.
The next noteworthy period is the time period between the fourth quarter of 2007 and the third quarter of 2011. This period was marked by consistent degradation of economic performance within BAC as measured by return on assets. Returns began plummeting at the end of 2007 and by the middle of 2010, BAC ceased to be a profitable entity. Investors do not reward organizations that fail to deliver a return, as can be witnessed by the 77% decline in BAC's stock during this period.
The final noteworthy period for our analysis is from the fourth quarter of 2011 to the third quarter of 2012. During this period of time, Bank of America once again resumed profitable operations and began to generate growing returns. This period of growth was accompanied by an 8% gain in shares.
The table below summarizes these three distinct economic periods.

By studying return on assets, we can glean investment insight into BAC. Historically, changes in return have accompanied stock price movements for the past 10 years. Through an objective analysis of returns, we can position ourselves to profit in the future. I believe that BAC is entering a period of growth, as witnessed by the recent surge in return on assets. The basis of this analysis is not opinion but rather a logical financial relationship - as a firm betters itself economically, the market value of a firm tends to rise. Conversely, as a firm experiences declining returns, shares tend to decline as well. It is on the basis of this relationship that I believe investors should consider purchasing BAC's shares. BAC is entering a period of growth and historically, growth leads to price gains.
Seasonality Favors May
When investing in securities, individuals can better time their purchasing by using seasonality. Seasonality is a simple tool that examines the tendency of a stock to rise or fall in a given month. For example, the "January Effect" is a seasonal relationship in which the S&P 500 has risen 62% of the time in January for the past 50 years. Seasonality is prevalent in Bank of America in that for the past 28 years, the stock has increased in 57% of all May periods. The chart below shows a summary of the seasonal traits of Bank of America for the month of May.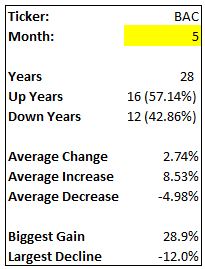 The significance of the chart above is that it shows that investors should consider purchasing shares in May. For example, if an investor had chosen to simply purchase Bank of America during each May for the past 28 years, he or she would have earned an excess 2.74% on average. It is important to note that seasonality is not an investing tool in and of itself. In fact, in my opinion, no statistical tool should be relied on for investment decisions unless relationships have an apparent underlying fundamental drive. In the case of BAC, it makes sense that the company rises during May due to the nature of large institutional holders. Certain classifications of institutions tend to follow investing patterns that seek to profit from certain sectors during particular times of the year. For this reason, I believe that investors should position themselves with the seasonal trading firms and capture profits should BAC rise in the future.
Disclosure: I have no positions in any stocks mentioned, and no plans to initiate any positions within the next 72 hours. I wrote this article myself, and it expresses my own opinions. I am not receiving compensation for it (other than from Seeking Alpha). I have no business relationship with any company whose stock is mentioned in this article.