For much of the past decade, Royal Dutch Shell (RDS.A and RDS.B) management has been saddled with the Wall Street analyst adage, "Show me, don't tell me." Pedestrian business plans produced relatively modest results. A reserve replacement scandal sullied the reputation of the company. Between September 2005, and today the share price has gone nowhere.
Royal Dutch Shell (RDS) -- Price and Volume 2005-to-Date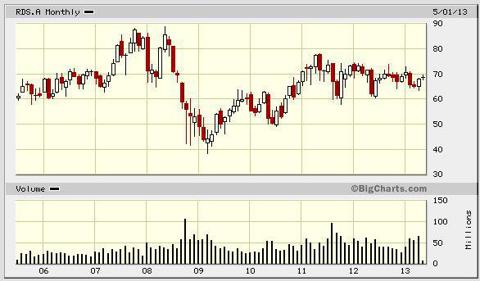 courtesy of bigcharts.com
This may finally be changing; thereby presenting investors with a significant investment opportunity.
Under CEO Peter Voser, corporate leadership has focused upon a strikingly straightforward set of 2012-2015 strategies along with clear metrics to measure results. In my last S.A. article about Shell, I outlined these strategies and tactics, then recounted first-year results and Street reactions.
In this article, I will briefly recap the four-year Plan, update readers on Shell's 2013 current and projected progress against the Plan, and then offer stock valuation and a summary analysis.
The 2012-2015 Plan
Shell management had previously announced an ambitious, 2012-to-2015 financial growth plan. There are four cornerstones:
Improve operating cash flows between 30 and 50 percent versus the previous four-year period; the target is OCF of $175 to $200 billion over the period;
Capital investment of $120 to $130 billion over the period; emphasizing the following three lines of business:
1. Integrated natural gas opportunities
2. Deepwater production
3. "Tight" hydrocarbon and shale resource plays
Maintain a strong balance sheet;
Link the cash dividend to the results
The goals and objectives are premised upon $80 to $100/bbl oil prices. If oil prices stay towards the upper end of the range, Shell management states the spending and results will follow along the upper Plan target ranges, too.
Here's a slide from the 2012 fourth quarter conference call outlining the Plan components: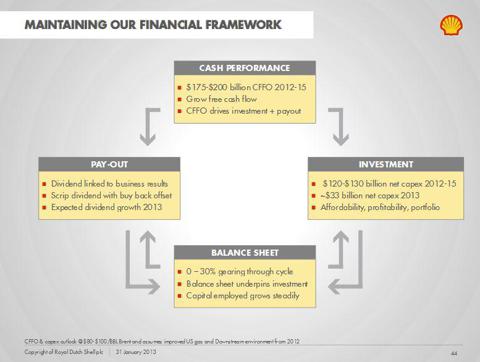 2013 First-Quarter Update
Cash Flow
Operating cash flow remained strong. First-quarter CFFO (Cash Flow From Operations) was $11.6 billion. While down 14% on a year-over-year basis, falling oil prices explain much of the drop. The lower figure is further mitigated by the fact that cash flow per share remained higher than earnings per share: $1.83 versus $1.29. Annualized, such cash flow is also within the Plan target range, though towards the lower end.
Despite the recent dip, current oil prices remain towards the upper end of the four-year Plan premise. If 2013 prices remain stable, I believe it is possible 2013 CFFO may approach $50 billion. Investors should monitor CFFO closely. In order to reach the top-end 2012-15 Plan cash flow objective (a cumulative $200 billion), the table below suggests run rates that will permit the avoidance of a "hockey stick" situation in the final year of the program. Please note the low-end four-year cash flow expectations are $175 billion. The company is well on track to over-achieve versus the lower figure.

CFO Simon Henry re-emphasized this key corporate goal, while acknowledging the difficult macro environmental on the 2013 first quarter conference call:
Cash generation on a 12-month rolling basis was some $49 billion, including $5 billion of disposals proceeds, with an average Brent price of $110 per barrel. Both the Upstream and Downstream segments generated surplus cash flow after investment. Free cash flow was $4 billion on the quarter and $13 billion over the last 12 months. We've paid out $10 billion of cash dividends and buy backs over the last year, leaving us a cash surplus of $3 billion. We're managing this cash cycle very closely, in a rather volatile macro environment.
Later in his conference call remarks, he reiterated this goal; and offered the objective is to generate higher operating cash throughout the business cycle; the ebb and flow of the energy markets notwithstanding:
Our surplus cash comes from operations, not portfolio activity, and our fundamental business strategy is targeted to keep that free cash flow growing to enable; first of all sustainable growth in the dividend; and secondly, enough capital investment to continue growing the cash flow to be in that position through cycle, whatever the macro price.
Capital Spending
First-quarter capex clocked in at $8.8 billion, or a net $8.2 billion, well within the net growth $33 billion target management forecast for all of 2013. Four major projects were approved, including significant new deepwater and integrated gas work. Indeed, deepwater production and integrated gas projects are two identified Plan capital focus priorities.
RDS senior leadership summarized significant new projects and prospects on the most recent conference call presentation. The following slide captures the basics: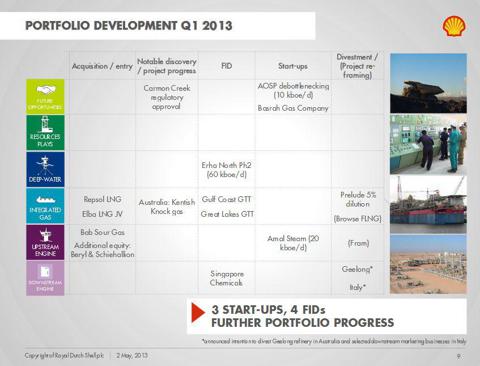 Balance Sheet
Per plan, Shell management continued to maintain its historically strong balance sheet. "Gearing," a measure of debt / leverage, was 9.1%; well toward the low end of the zero to 30 percent Plan target range. Corporate stock buybacks kept number of shares essentially flat. First-quarter annualized Return-on-Capital-Employed (ROCE) was 13 percent versus 12.7 percent for 2012.
Dividend
As telegraphed in the 2012 fourth-quarter earnings conference call, the cash dividend was raised five percent to $0.90 per ADR. The annualized forward yield based upon today's price is about 5.2 percent. This yield is very strong in today's low-interest rate environment. Assuming the Plan continues to generate incremental cash flow, Shell management has made it clear the dividend will increase right along with it.
Stock Valuation
Shell stock appears undervalued, based upon historical multiples of earnings and cash flow. Given the RDS Plan premise to "run for cash," I have provided a FAST Graph that plots a 7-year summary of FFO (Funds from Operations) and Price. A picture can tell a thousand words: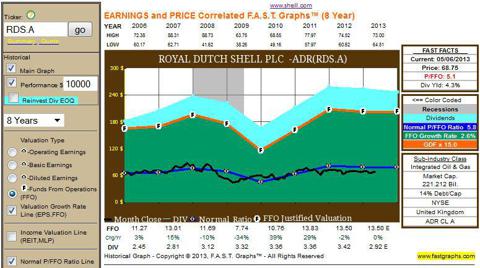 courtesy of fastgraphs.com
One notices how the black line (price) tends to track the blue line (normalized Price/FFO multiple). If the price strays from the blue line, it always returns back to it.
Therefore, we may conclude that RDS.A stock is currently priced somewhat below market based upon historic FFO (Funds From Operations) multiples. If the price line were to reach the blue line, the resulting price would be above $78 a share, or an approximate 13 percent uplift from today's price.
In addition, please note that the F.A.S.T. graph indicates no FFO growth for 2013. An investor possessing a level of confidence in Shell management might reasonably expect at least a modest improvement in FFO this year. If so, an even greater share price is probable.
Projecting cash flow growth a step further, let's premise that indeed, Shell does fulfill the Plan operating cash objectives by 2015. This requires an annual 5 percent increase in Operating Cash Flow between 2013 and 2015. Applying the 5.8x historic Price / FFO multiple (FFO is a close cousin of Operating Cash Flow) suggests a 2015 price target of $91. By definition of the RDS Plan, such cash performance also should produce solid increases in the cash dividend.
Stock Performance vs Peers
Shell is one of the Super Major energy companies. The others are ExxonMobil Corp (NYSE:XOM), BP PLC (NYSE:BP), Total (NYSE:TOT) and Chevron Corp (NYSE:CVX).
Stock price performance over the past five years has seen Shell lagging leaders Exxon and Chevron by a considerable margin. Adding in Shell's generous cash dividend, the gap is narrowed, but RDS investors have still fallen short.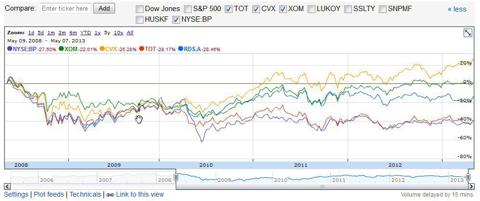 courtesy of google.com/finance
Royal Dutch stock price has trailed XOM and CVX for shorter time periods, too.
Nonetheless, if the investor believes that the current management team has now recognized chronically weak overall shareholder returns, and developed a focused Plan to improve it, the future may finally break with the past. My view is that this is precisely what the Plan is supposed to do: improve operating cash, increase the dividend, keep the balance sheet strong, and thereby create shareholder value.
Meanwhile, of late, Shell has quietly performed well versus peers on a number of general financial and operational measures. Here's a slide from the 2013 1Q presentation that provides a few comparisons:
When the fundamentals improve, from an absolute and competitive level, the share price should ultimately follow.
Bottom Line
Despite the strong dividend, the underlying RDS stock price has languished for some time. Shell management has finally resolved to enact specific and measurable actions to create shareholder value. CEO Peter Voser summed it up well upon the May 2 conference call:
Dividends are Shell's main route for returning cash to shareholders. Our improving cash flow also enables us to accelerate our share buyback programme, this year so far we have repurchased some $1.2 billion of shares by the end of April. In the current environment we would expect to more than offset the scrip dividend issue this year, and we are determined to implement the policy to offset dilution over the business cycle. This underlines our commitment to shareholder returns.
(emphasis is mine)
Shell is focused upon significantly increasing cash from operations and plowing much of it back into the business "engines" to spur forward growth; in turn raising the cash dividend along side the improved cash flows, and buying back at least enough stock to avoid dilution from the script program.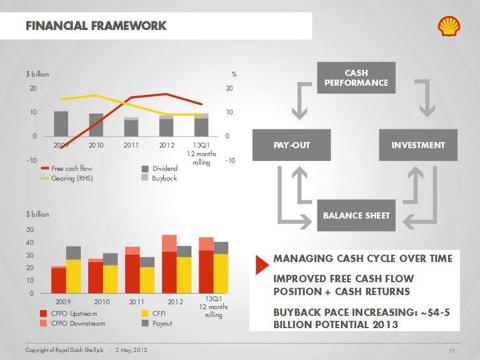 To date, corporate results have aligned with the Plan parameters.
I will continue to monitor progress closely.
My investment thesis includes this Plan being the long-needed catalyst for the creation of long-term shareholder value. If executed, the cash flows and dividends should translate to historic cash flow multiples and correspondingly improved underlying share prices.
I also must emphasize that progress against the Plan should be measured by the year, not the quarter. Shell is a huge enterprise. A ship of this size turns slowly. Recent setbacks as experienced in the Arctic, and Nigeria, take many months to resolve, not weeks. In the grand scheme of things, such events do not sink the operational and financial might of the organization. At any point in time, a company with the breadth of Royal Dutch Shell has multiple success stories and setbacks.
Please do careful due diligence before making any investment. Good luck with all your 2013 investments.
Disclosure: I am long RDS.A. I wrote this article myself, and it expresses my own opinions. I am not receiving compensation for it (other than from Seeking Alpha). I have no business relationship with any company whose stock is mentioned in this article.