The average oil and gas exploration and production company, as represented by the SPDR S&P Oil & Gas Exploration & Production Index (XOP), is up about 10% in the past twelve months, as the price of crude continues to hover in a tight band below $100 a barrel. Although oil prices are still at historically high levels near the $100 per barrel range, a variety of factors related to both supply and demand have helped keep a lid on prices. Demand growth has been tepid given the lack of economic growth in the developed economies and a slowdown in China, while the supply outlook looks favorable given strength in North America, Iraq and Africa. However, we believe that the long-term outlook is promising in the face of a growing global economy, led by the BRIC countries, and the threat of an Iran-led crisis in the oil-rich Middle East.
In this article, via an analysis based on the latest available Q4/2012 institutional 13-F filings, we identify five large-cap oil and gas exploration and production company stocks that are being accumulated by legendary or guru fund managers, such as Warren Buffett, George Soros, Carl Icahn, Steven Cohen and Mario Gabelli, and 74 others that are well-known for their savvy in picking winning stocks year after year. Guru fund managers, taken together or in consensus, are bullish on the energy exploration and production group, adding a net $4.1 billion in Q4 to their $27.9 billion prior quarter holdings in the group. Furthermore, overall they are underweight in the group by a factor of 0.5; that is, taken together, guru funds have invested 4.9% of their assets in the energy exploration and production group compared to the 10.2% weighting of the group in the overall market (for more general information on these guru funds, please look at the end of the article).
Among their top picks in the group is Devon Energy (NYSE:DVN), which is engaged in the exploration and production of oil, gas and natural gas liquids in the U.S. and Canada, in which guru fund managers hold $1.75 billion worth or 7.5% of outstanding shares, adding 9.44 million net new shares in Q4 to their 20.83 million share prior quarter position in the company. DVN also figures as a top pick of the world's largest or mega fund managers, as they added a net 5.48 million shares in Q4 to their 132.92 million share prior quarter position in the company. Also, subsequent to the end-of-quarter, mega funds indicated via 13D/G 5 ownership filings that they added another 2.55 million DVN shares to their holdings.
In its latest Q1 that it reported last week, DVN handily beat analyst earnings estimates, reporting 66c v/s consensus estimates of 56c for the quarter. Its shares have rallied up about 6% in the past week since the report came out, and currently trade at a forward 11-12 P/E, at a discount to the average of 18.6 for its peers in the large-cap oil and gas exploration and production group. The company also has a high dividend yield of 1.6% (22c per quarter) compared to the 1.2% average for the group. Of the 29 analysts that cover the company, 17 rate it at buy/strong buy and the remaining 12 rate it at hold, with a mean price target of $71, well above current prices in the $58 range.
We believe the company looks attractive at current prices on a relative basis compared to its peers in the group. Besides a discount valuation, it has an attractive dividend that the company has been increasing consistently. It also has a strong balance sheet with about $7 billion in cash and cash equivalents, and short-term investments, at the end of the last fiscal year. Also, to add to that, both guru and mega fund managers are bullish on the stock, and have been adding to their positions. The stock also sports a high GuruRank of 4.5. GuruRank is a proprietary and relative ranking system that numerically represents on a scale of 1 to 5 the attractiveness of the stock to guru fund managers based on their holdings, change in holdings, percent of outstanding shares and number of gurus in the stock, as compared to the rest of the 5,200+ stocks in our database.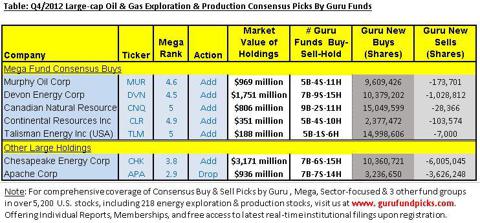 Beside DVN, guru funds are bullish also on the following energy exploration and production companies (see table above):
Also, the following are additional energy exploration and production companies in which guru funds hold a significant position:
Chesapeake Energy (NYSE:CHK), an independent oil and gas company, with its primary operating assets in mid-continent region of Oklahoma, western Arkansas, southwestern Kansas and the Texas panhandle, in which guru funds together hold 166.6 million or 25.0% of outstanding shares of the company, adding 4.36 million shares in Q4.
Apache Corp. (NYSE:APA): APA is an independent energy company engaged globally in the exploration, development and production of natural gas, crude oil and natural gas liquids or NGLs, in which guru funds together hold 12.21 million or $936 million worth of shares, cutting a minor 0.39 million shares in Q4.
The energy exploration and production group may be primed to break-out to its highs in the coming months, especially if global demand rises due to a pickup in economic growth in North America and in BRIC countries. We believe that knowledge of how the best minds in the investment community, in the form of guru fund managers, are collectively positioning themselves in this environment, can inform our investment decision-making, often clueing us into profitable opportunities.
In recent articles on guru fund picks in small-cap biotech and precious metals groups, we have discussed how based on an analysis of their picks in prior quarters, one can position themselves ahead of big moves. We have observed this correlation in other industries as well during the past six to eight quarters during which we have been analyzing leading fund manager consensus picks' data, and additional examples of how gurus have successfully predicted stock moves for many popular stocks, across all industries, including in the case of Apple Inc. (NASDAQ:AAPL), are outlined on our website.
General Methodology and Background Information: The latest available institutional 13-F filings of 79 legendary or guru hedge fund and mutual fund managers, such as Warren Buffett, George Soros, Carl Icahn, Steven Cohen and Mario Gabelli, analyzed to determine their capital allocation from among different industry groupings, and to determine their favorite picks and pans in each group. The hedge fund and mutual fund managers included in this select group include only high profile names who by virtue of their long-term market-beating returns have earned their standing in the investment community and are worthy of our attention. They include well-known names such as those mentioned above, as well as perhaps relatively lesser-known names that also have a stellar long-term history of beating the markets, such as Seth Klarman, John Griffin, Prem Watsa, Robert Karr and Lee Ainslie. Each guru has been carefully selected based on their long-term performance and standing in the investment community. Furthermore, the credentials of most of the 79 guru funds that justify their inclusion in this elite group were detailed in our previous articles that can be accessed from our author page
These legendary or guru fund managers number about 0.5% of all investment fund managers and yet they control about six percent of the U.S. equity discretionary fund assets. The argument is that institutional investors have the resources and the access to information, knowledge and expertise to conduct extensive due diligence in informing their investment decisions. When high alpha generating or guru Institutional Investors by virtue of their fund performance, low volatility and elite reputation in the investment community, invest and maybe even converge on a specific investment idea, the idea deserves consideration for further investigation. The savvy investor may then leverage this information either as a starting point to conduct his own due diligence or even go as far as constructing a model diversified portfolio based on the guru funds best picks.
This article is part of a series on institutional holdings in various industry groups and sectors, and other articles in the series for this and prior quarters can be accessed from our author page.
Credit: Fundamental data in this article were based on SEC filings, Zacks Investment Research, Thomson Reuters and Briefing.com. The information and data is believed to be accurate, but no guarantees or representations are made.
Disclaimer: Material presented here is for informational purposes only. Nothing in this article should be taken as a solicitation to purchase or sell securities. Before buying or selling any stock you should do your own research and reach your own conclusion. Further, these are our "opinions" and we may be wrong. We may have positions in securities mentioned in this article. You should take this into consideration before acting on any advice given in this article. If this makes you uncomfortable, then do not listen to our thoughts and opinions. The contents of this article do not take into consideration your individual investment objectives so consult with your own financial adviser before making an investment decision. Investing includes certain risks including loss of principal.
Disclosure: I have no positions in any stocks mentioned, and no plans to initiate any positions within the next 72 hours.
Business relationship disclosure: Business Relationship Disclosure: The article has been written by the Hedge and Mutual Fund Analyst at GuruFundPicks.com. GuruFundPicks.com is not receiving compensation for it (other than from Seeking Alpha). GuruFundPicks.com has no business relationship with any company whose stock is mentioned in this article.