Dividends are without a doubt an important factor in making an investment decision. Companies with a long and steady history of paying dividends, or better yet increasing dividends, are sought out over others and are often awarded a premium to their share price for carrying such a record. Many investors will not consider making an investment in a company without a history of dividend payments, and investors generally view a cut to dividends as a black mark on a stock.
However, investors can easily lose sight of the true value creation of the operations of a company when they become too focused on the dividend. Companies have several means through which to create value for shareholders, and while dividends are an important factor, it is by no means the most significant aspect an investor, and even a dividend growth investor, should be focusing on.
Investors need to consider that at the end of the day, dividends are a discretionary decision that should be based on cash flow and expected future investment opportunities, done by management to return value to shareholders. Alfred Rappaport's Harvard Business Review article from 2006 succinctly sums up that dividends are excess cash that management should disburse to shareholders when there are no value creating alternatives to invest in.
There are certainly more factors to consider when considering paying a dividend, yet the maxim still stands that dividends can only be paid as a product of earnings and cash flows. I do not seek to downplay the importance of companies having a solid track record of paying a dividend, I simply wish to stress with this article that the yield and dividend history are not as important as earnings, revenues and cash flows.
Case in point - Pitney Bowes (NYSE:PBI)
Pitney Bowes, best known for its production of postage meters, was until recently a member of the S&P Dividend Aristocrats club, boasting a consistent annual dividend increase since the 1980s. On April 30th however, the company announced a 50% cut in its dividend to provide additional capital to invest in operations.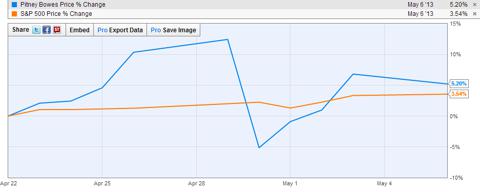 The markets reacted by dropping the share price nearly 16% from the previous day's close. This reaction may seem logical on the surface, yet looking deeper into the figures doesn't seem to make much sense. The company's dividend had long become disconnected from its actual operating results. While the dividend was subject to annual increases, the company was experiencing declining sales and inconsistent net earnings (N.B. 2012 figure is affected by a tax adjustment in favor of Pitney Bowes). This disconnect was so significant, that the Q1 2013 Earnings per share of $0.42 exceeded the dividend by only $0.045, representing a payout of nearly 90% of earnings.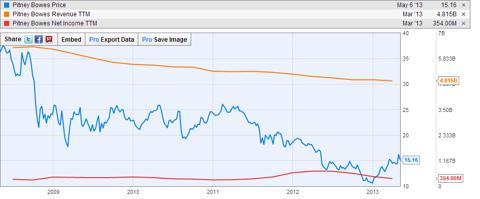 My point here is that an investor focused on Pitney Bowes stellar dividend history would have wholly missed the deteriorating operating results. However the investors basing their analysis on revenues and earnings would not have been surprised by this dividend cut as the underlying conditions would have been apparent to them for quite a while beforehand.
Case In Reverse - Advance Auto Parts (NYSE:AAP)
Advance Auto Parts is a U.S. retailer of automotive parts, accessories and maintenance items. As of December 31, 2012, it operates 3,794 stores and has posted consistent annual increases in sales, and generally growing net income.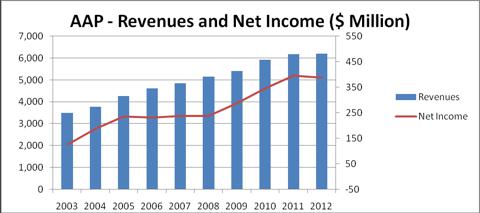 Its dividends have not increased since the first dividend in 2006, and the current meager $0.06 quarterly dividend yields 0.28% per share. From the financial statements, it seems AAP is more focused on growing the business than increasing the dividend, with investments in new stores and the company's supply chain as well as business acquisitions using up a significant portion of operating cash flows. Furthermore, in prior years AAP has engaged in substantial repurchases of shares, which effectively return capital to shareholders through appreciating ownership. Factoring in share repurchases, earnings per share has grown every year for the last 10 years.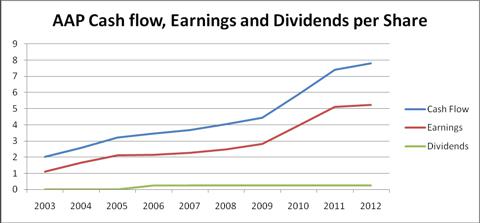 With its current price of $84.91, AAP has a price to earnings ratio of 16.27, which is below that of the S&P 500 at 18.99. The median analyst recommendation is between a hold and a buy with a projected increase in EPS to $5.54 for the current year.
My point here is again that an investor relying too heavily on dividend payments and dividend growth would overlook this investment opportunity. Though AAP hasn't increased its dividend in the past 5 years, its growth in revenues and earnings, the strong operating cash flows generated, as well as the added shareholder value through share repurchases result in a solid company worth a good analysis.
Conclusion
Without discounting too far the importance of both a good dividend yield and a stable dividend payment history, it's important for investors to consider that dividends are a discretionary management tool to return excess capital to shareholders. Investment decisions should not be too heavily weighted on dividends, as they can be out of correlation with the actual performance of the company in the most important terms, those being revenues, earnings and operating cash flows.
Disclosure: I have no positions in any stocks mentioned, and no plans to initiate any positions within the next 72 hours. I wrote this article myself, and it expresses my own opinions. I am not receiving compensation for it (other than from Seeking Alpha). I have no business relationship with any company whose stock is mentioned in this article.