By Jason Napodano, CFA
On May 8, 2013, Pozen (NASDAQ:POZN) reported financial results for the first quarter 2013. Pozen reported revenues in the quarter of $1.415 million, driven entirely by royalties on $19.7 million in worldwide sales of Vimovo at AstraZeneca (NYSE:AZN). Vimovo sales were dead-on with our forecast, only Pozen dropped a mini-bombshell in its earnings release on Vimovo, noting that worldwide commercial partner, AstraZeneca, plans to cease promotion of the drug in the U.S. and Europe (not including Spain and Portugal) by the end of the third quarter 2013.
…Vimovo Failure…
AstraZeneca plans to continue to make Vimovo available in the U.S. and Europe to patients seeking the medication, but the lack of promotion (and sampling / discounting of co-pay) will have an impact on the sales. AstraZeneca plans to continue to market and promote Vimovo in countries where it feels "sufficient future potential can be realized." These territories accounted for roughly 47% of the $19.7 million in Vimovo sales in the first quarter 2013. To date, AstraZeneca has filed applications in 80 countries, but only launched in about half of them. Decisions to launch in new countries will be made by AstraZeneca on a case-by-case basis.
We are expecting a meaningful drop in Vimovo sales starting in the third quarter 2013 as AstraZeneca winds down promotion and inventory in the U.S. and EU. We expect sales to be down 50% by the fourth quarter 2013. From a market perception standpoint, the news is very bad. Investors are already skeptical of PA based on the failure of Vimovo in the U.S. AstraZeneca pulling the plug on the promotion of the drug certainly stirs the bear thesis on PA. However, from a valuation standpoint, the news is minimal. Pozen receives only net 10% royalty on U.S. sales of Vimovo (after discounts). Sales in the first quarter totaled $19.7 million, but Pozen's royalty payment was only $1.4 million. This equated to only 7% due to discounting and co-pay assistance, and the net 6% royalty outside the U.S.
However, there are reasons to believe the impact on revenues will be minimal. First, the royalty rate on ex-U.S. sales from AstraZeneca, where the focus will turn in 2014, moves to 10% starting in 2016. Second, AstraZeneca will reduce discounting and sampling effective at the end of the third quarter 2013. Thus, we think Pozen's net blended royalty will actually trend up after the third quarter, closer to 8-9%. By the end of 2016, the net blended royalty rate may be closer to 9-10%. In the end, the drop in U.S. sales should be offset by higher royalty rates and more focus on areas where prescriptions are growing outside the U.S.
…Costs Remain Low / Cash Remains Solid…
Pozen reported a net loss in the first quarter 2013 of $5.8 million, or $0.19 per share. This was right-on with our estimate. Pozen exited the first quarter 2013 with $80.2 million in cash and investments. Management believes that cash burn in 2013 will be roughly $22 million, which includes no upfront payment from a commercialization partnership on PA. Guidance for 2013 includes securing a commercialization partner before the end of the year. We think PA could command an upfront payment of $15-20 million given our belief that peak U.S. sales are roughly $350 million. We discuss PA in greater detail below.
Why We Remain Bullish On PA
Full data analysis from the integrated results of the two Phase 3 trials with PA-325/40 has now been presented at numerous medical meetings. Management broke up the data between the American College of Gastroenterology (ACG) meeting in late October 2012, the American Heart Association (AHA) meeting in early November 2012, and most recently the American Heart Association International Stroke (AHA-Stroke) conference in early February 2013.
As a reminder, the two Phase 3 studies compared PA-325/40 (EC-ASA 325 mg + IR omeprazole 40 mg) to enteric-coated aspirin (EC-ASA) 325 mg in patients requiring aspirin (ASA) for secondary cardiovascular prophylaxis who were at risk for ASA-associated gastric ulceration. In the two Phase 3 trials, 1,049 subjects were randomized to either PA-325/40 or EC-ASA 325 mg, taken once daily in the morning on an empty stomach, approximately 1 hour before breakfast.
At baseline, subjects were required to be H. pylori stool-antigen negative and have no endoscopic ulcers. Subsequent endoscopies were performed at months 1, 3, and 6. Both trials were run under a special protocol assessment (SPA) with the U.S. Food and Drug Administration (FDA). The design can be seen below:


The primary endpoint of the study was cumulative proportion of subjects with endoscopically-confirmed gastric ulceration (defined as a mucosal break of at least 3 mm in diameter with depth) at any time throughout 6 months. Results below show an impressive separation for PA-325/40 vs. EC-ASA: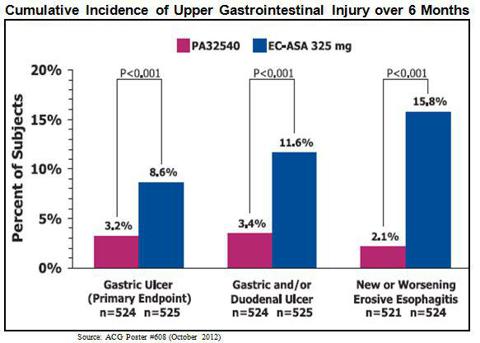 Results were even statistically significant as soon as one month after the start of the trial, and held (actually separated from EC-ASA 325 mg) as the trial progressed.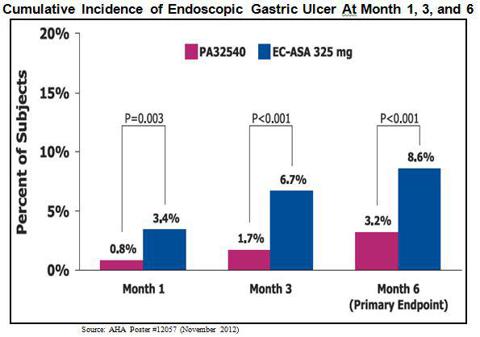 The data equates to an impressive 63% reduction in gastric ulcer. The results were remarkably consistent between the two studies, with PA-325/40 yielding 3.8% in Study-1 and 2.7% in Study-2 vs. 8.5% and 8.7%, respectively for EC-ASA 325 mg. Both trials were statistically significant on a standalone basis.
These results are consistent with our expectations and show the powerful efficacy of Pozen's drug. When duodenal ulcers were included in the analysis, the reduction increased to 71%. Data on new or worsening erosive esophagitis showed an astonishing 87% reduction in favor of Pozen's PA-325/40 versus EC-ASA 325 mg. Secondary analysis also show statistically significant reductions in the presence of heartburn as reported on a standardized questionnaire at month 1, 3, and 6. A post-hoc esophageal mucosal assessment showed a meaningful and statistically significant reduction in new esophageal erythema (2.7% vs. 7.6%, p<0.001) and new esophageal erythema or new or worsening erosive esophagitis (4.8% vs. 22.5%, p<0.001).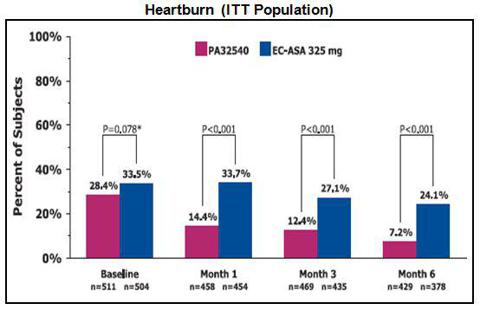 Additional post-hoc analysis of subjects with a history of transient ischemic attack (TIA) or stroke was recently analyzed and presented in February 2013 at AHA-Stroke. The data shows that long-term (6 months) treatment with PA-325/40, compared to EC-ASA (325 mg), was associated with a significantly reduced rate of endoscopic gastroduodenal ulcers (2.0% vs. 12.4% respectively; p=0.005), and study discontinuation due to adverse pre-specified upper GI events (0% vs. 8.0% respectively; p=0.006). The incidence of adjudicated major adverse cardiac events was similar for PA-325/40 (2.9%) and EC-ASA (325 mg) (4.4%).
Discontinuation rates and treatment success at six months also showed strong statistical significance in favor of Pozen's PA-325/40 versus EC-ASA 325 mg. At six months, the observed incidence of discontinuations due to pre-specified upper-gastrointestinal events was significantly lower with PA-325/40 vs. EC-ASA 325 mg, 1.5% vs. 8.2%, p<0.001. Study discontinuations due to any adverse event showed a 40% reduction in favor of Pozen's drug, 6.7% vs. 11.2% (p<0.05).


Treatment success at six months was 95.2% for PA-325/40 vs. 83.2% for EC-ASA 325 mg, a 14% improvement in outcome based on intent to treat (p<0.001). However, if we flip that analysis and instead look at treatment failures, the ratios get even more impressive. A 95.2% success rate means a 4.8% failure rate, and an 83.2% success rate means a 16.8% failure rate. Compare 4.8% to 16.8% failure and investors will see that Pozen's drug yields a 71% reduction in treatment failure, with statistical significance. We see that as highly impressive clinical data; and data that should grab the attention of cardiologists as they are looking to effectively treat patients for the secondary prevention of cardiovascular events.
Treatment-emergent adverse events, included GERD, esophagitis, erosive esophagitis, or reflex esophagitis was 6.1% for PA-325/40 versus 23.9% for EC-ASA 325 mg (p<0.001).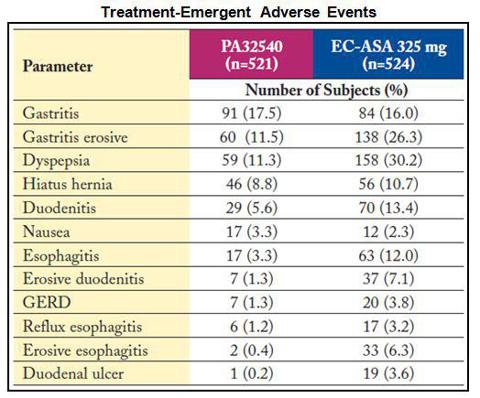 However, potentially the most impressive data from the two posters was the reductions in MACE. Specifically, patients on Pozen's PA-325/40 had a MACE rate of 1.7% vs. 2.5% for EC-ASA 325 mg.
Pozen filed the U.S. new drug application (NDA) on March 27, 2013. The filing will include data from a total of 2,100 subjects over 16 studies, including the 1,049 subjects from the two Phase 3 studies outlined above. The filing also included additional pharmacokinetic, clinical pharmacology, and in vitro dissolution data. The NDA included all the necessary data to gain approval for PA-81/40 as well. The U.S. FDA should accept the application by early June 2013 and assign a PDUFA action date in late March 2014. Pozen is in the process of preparing to file PA in Europe. Pozen recently gained clarity from the Medicines Evaluation Board (MEB) regarding what is required for the approval of PA-325/40 and a lower dosage form containing 100 mg of aspirin and 40 mg of omeprazole (PA-100/40). Similar to the FDA, MEB confirmed that no Phase 3 trial was necessary. Pozen plans to conduct two Phase 1 studies to satisfy the MEB requests prior to filing the Marketing Authorization Application (MAA). These include one Phase 1 pharmacodynamic (PD) study demonstrating appropriate gastric pH control with PA-100/40 and one bioequivalence (BE) study comparing PA-100/40 to a currently marketed enteric-coated aspirin 100mg product. We expect the MAA filing during the second half of 2013. On a side note, MEB has agreed to be the Reference Member State (RMS) in a decentralized filing procedure of PA-325/40 and PA-100/40. We think this is good news. The Netherlands was the RMS for the European Vimovo application. To date, Vimovo has been approved in over 60 countries around the world. The path to approval for PA closely models that of Vimovo. For Vimovo (formerly PN-500/20), Pozen ran two parallel Phase 3 trials under an SPA in similar design (actually smaller at around 800 patients total) to the PA-325/40 trials. Pozen submitted additional bioequivalence, clinical pharmacology, and CMC data on PN-375/20 with the PN-500/20 NDA filing. The FDA approved both PN-500/20 and PN-375/20 after the first NDA filing. In our view, this gives clear precedent for both agencies to approve PA-325/40 and PA-81/40 (or PA-100/40) in one application.
Commercial Potential - Bigger Than You Think
Given the failures of Vimovo, the sales potential for PA has been called into question by investors. But we are far more confident in the commercial success of PA than Vimovo for two reasons.
First, the market opportunity is much larger for aspirin vs. naproxen. Data from the FDA shows that about one-quarter of all adult American's use NSAIDs, with the majority of the use OTC. Over half of the NSAID use in the U.S. is acetaminophen. In fact, according to FDA data, only 17% of all NSAID use is naproxen (another 17% is ibuprofen). That's around 13 million individuals - a decent market size, no doubt. However, further analysis of the data shows the average length of treatment is only 13.5 days.
According to the American Heart Association and Pozen market research, an estimated 17 million Americans take daily aspirin therapy (24 million secondary prevention patients in the U.S. with roughly 60-80% compliance to daily aspirin recommendation). The market is bigger, and these patients are taking their medication every day of their lives, versus intermittent two-week regimens of naproxen. Both PA and Vimovo are designed to provide safer chronic use, specifically with respect to GI toxicity. However, the average intermittent naproxen user, taking the drug for 13.5 days, is not concerned with GI toxicity.
We know this is not the case for users of daily aspirin. Meta-analyses and peer-reviewed research concludes that 20% of all patients on daily-aspirin are at risk for upper GI adverse events such as gastric or duodenal ulcers. Pozen's Phase 3 trial showed that 8.2% of secondary prevention patients on 325 mg enteric-coated aspirin discontinue after six months. A systematic review and meta-analysis on the hazards of discontinuing or not adhering to daily aspirin therapy shows a greater-than 3-fold increased risk of a potentially fatal cardiovascular event. It is clear to us, the market Pozen is going after with PA absolutely dwarfs that of Vimovo.
Second, the pricing of PA will be cost neutral for the patient. Vimovo is primarily covered as a Tier-3 drug, similar to Pfizer's (NYSE:PFE) Celebrex (celecoxib). The average patient co-pay for Vimovo ranges between $75 and $200 per month. This is far more expensive than re-creating the drug by buying comparable generic components over-the-counter. A box of 60 tablets of naproxen sodium might cost between $10 and $15, and we found a one-month supply of OTC Prilosec (omeprazole) for around $20. Thus, the average monthly cost of re-creating an equivalent product to Vimovo OTC is around $30 to $35. AstraZeneca is charging $5 to $6 per pill, or upwards of $165 per month for Vimovo, mainly because the Nexium (esomeprazole) component remains exclusive.
Pozen plans to make PA available at around $1 per pill, or $30 per month. Pozen has had extensive conversations with payers, healthcare providers, and patients.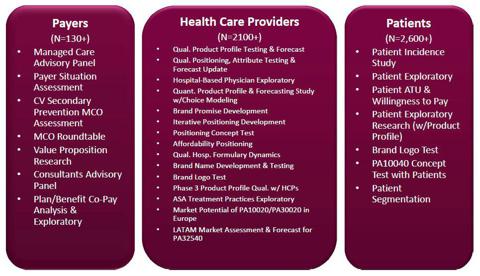 At this level of pricing, the company has received extremely favorable feedback from formularies noting broad-scale Tier-2 coverage. This would put the patient out-of-pocket at around $25 to $30 per month. Similar to re-creating PA by buying its generic components OTC, a prescription of PA costs the patient and healthcare system roughly the same as the majority of patients are spending now. This type of cost-neutral / reasonable pricing gives us confidence that the hurdles to use and low acceptance by patients and physicians that has dogged Vimovo may not be an issue with PA. Pozen's extensive market research finds that 40 - 60% of physicians recommend using gastro-protective agents, such as proton pump inhibitors (e.g. omeprazole) to 35 - 50% of their patients. The interesting thing is Pozen found that over 80% of physicians would prescribe PA instead of the separate components of OTC aspirin and OTC proton pump inhibitor if the cost was comparable because it allows the physician to track the usage of PA and make sure the patient is staying on therapy. No such prescription tracking exists for OTC aspirin. Physicians have to trust that their patients are buying and taking the medication, and they see no orders or re-orders each month to confirm the patient is maintaining the regimen. We think the market dramatically under-appreciates this concept. The slide below is from Pozen's investor presentation in April 2013. It shows that 36% of patients are willing to pay $30 per month for PA: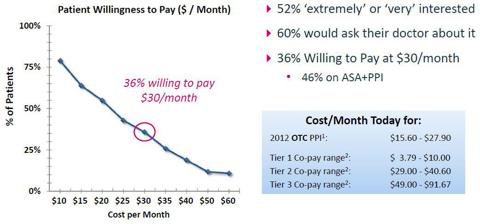 The following is our "back-of-the-envelope" calculation on potential PA peak sales in the U.S.

…Partnership Could Drive Shares Higher…
We believe that Pozen will be able to secure a U.S. commercialization partner for PA now that the NDA has been filed. Management's goal is to have a deal signed in 2013. We believe an upfront payment on PA could be in the area of $15 to $20 million, along with over $150 million in back-end milestones and royalties on sales. A deal that includes countries outside the U.S. presents upside (perhaps a doubling) to these figures. As a point of reference, the Vimovo transaction with AstraZeneca provided $40 million upfront, $45 million in approval milestones, and $290 million in sales milestones plus roughly 6-10% royalties on sales. Pulling in a deal of this magnitude has the potential to move the stock significantly higher.
Valuation
We see the shares fairly-valued at $9 based on Vimovo sales tapering off over the next few years down to a level of $50 million. We see PA peak global sales at $500 million. We expect a significant jump in the stock price on the day the partnership is announced. Our DCF model can be found below.

Disclosure: I have no positions in any stocks mentioned, and no plans to initiate any positions within the next 72 hours. I wrote this article myself, and it expresses my own opinions. I am not receiving compensation for it. I have no business relationship with any company whose stock is mentioned in this article.
Additional disclosure: PropThink is a team of editors, analysts, and writers. This article was written by Jason Napodano, CFA. We did not receive compensation for this article, and we have no business relationship with any company whose stock is mentioned in this article. Use of PropThink's research is at your own risk. You should do your own research and due diligence before making any investment decision with respect to securities covered herein. You should assume that as of the publication date of any report or letter, PropThink, LLC and persons or entities with whom it has relationships (collectively referred to as "PropThink") has a position in all stocks (and/or options of the stock) covered herein that is consistent with the position set forth in our research report. Following publication of any report or letter, PropThink intends to continue transacting in the securities covered herein, and we may be long, short, or neutral at any time hereafter regardless of our initial recommendation. To the best of our knowledge and belief, all information contained herein is accurate and reliable, and has been obtained from public sources we believe to be accurate and reliable, and not from company insiders or persons who have a relationship with company insiders. Our full disclaimer is available at www.propthink.com/disclaimer.