Stocks got a modest boost from an upward revision to Q1 US productivity data (which was corrected to double the initial estimate) and a stabilization in continuing jobless claims. The number of people who have been claiming unemployment insurance for a number of weeks which fell for the first time since early January.
This despite a wobbly start again yesterday after three-quarters of retailers reporting chain-store sales missed their targets, dashing hopes that consumers are again spending the American way. Oil stocks also saw buying Thursday on the back of a Goldman Sachs research piece calling the year end price of a barrel of crude to $85.
Today's Market Moving Stories
The blowout in US Treasury bond yields has resulted in mortgage rates hitting 5.3%. Ouch.
Miner Rio Tinto (RTP) shares surged 8.2% after the mining giant rejected a $19.5 billion deal to sell part of itself to China's Aluminium Corp.(NYSE:ACH), announced the launch of a heavily discounted rights issue to raise about $15.2 billion and signed a joint venture deal with BHP Billiton (NYSE:BHP) (whose shares are up 11% today.)
Elan (NYSE:ELN) saw its share price rise by 9.4% yesterday after reports that Pfizer (NYSE:PFE) may make a bid for the drug maker. The bid was said to enable Pfizer to gain access to the multiple sclerosis drug Tysabri, which Elan has developed in conjunction with Biogen Idec (NASDAQ:BIIB) and which analysts believe could generate sales of more than $1bn a year upon its launch. Similar speculation surrounding a potential Pfizer bid of $4bn for Elan emerged in January, while as recently as Tuesday media speculation that Bristol Myers Squibb (NYSE:BMY) were reportedly considering a bid emerged. Any potential suitors will have to deal with Elan's €1.2bn in debt and negotiate around the "poison pill" strategy said to be in place, which allows Biogen to buy the rights to Tysabri in the event of a takeover.
In the aftermath of Anglo Irish Bank's (OTC:AGIBY) awful results on May 29th, Moody's has downgraded its senior debt rating by a notch to A3, just one notch above investment grade. It has put the ratings of Alpha Bank (OTCPK:ALBKY), Bank of Ireland (and its subsidiary ICS Building Society) and IPM under review, pending a separate review of Ireland's 'ability to provide support to its banking system'. It currently rates ALBK and BKIR A3 and IPM at A1. According to the release, Anglo's downgrade reflects 'the serious challenges faced by the bank as indicated by a significant capital erosion and a liquidity position highly reliant on central bank support.' It believes significant restructuring will be necessary for Anglo to 'develop a viable business model again.'
Some Data That Slipped below the Radar

Amid the forest of the green shoots, last week the American Trucking Association (ATA) reported that their truck tonnage fell a seasonally adjusted 2.2% in April, after plunging 4.5% in March. After bouncing at the turn of the year this important guide to activity is slipping again. It's easy to explain this downturn as an industry aberration. But the renewed downturn mirrors exactly what the railway guys are saying. The Association of American Railroads weekly traffic report also shows that rail freight traffic remains extremely weak compared to the turn of the year.
The American Truckers Association chief economist is a chap called Bob Costello. He is one of the few market commentators out there who seem to have understood what is going on at the moment and is able to square the current circle of madness. Costello said last week, "While most key economic indicators are decreasing at a slower rate, the year-over-year contractions in truck tonnage accelerated because businesses are right-sizing their inventories, which means fewer truck shipments…The absolute dollar value of inventories has fallen, but sales have decreased as much or more, which means that inventories are still too high for the current level of sales. Until this correction is complete, freight will be tough for motor carriers". This is confirmed by the macro data as well. Inventories have indeed contracted deeply, but they are still wholly excessive in the absence of a revival of final demand
A nice visual from The Big Picture showing the anatomy of the U.S. economic collapse.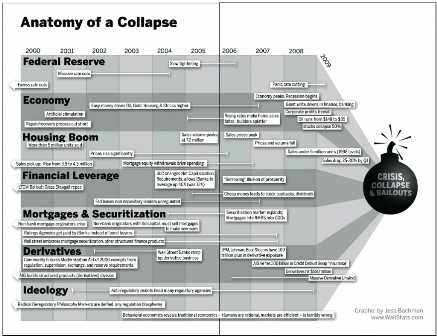 The UK is Browned-Off
Sterling has not been able to recover from yesterday's dump. Rumours that UK PM Brown resigned may have been denied, but speculation is still rife. The latest in the political saga saw Work and Pensions Secretary James Purnell quit the
Cabinet and calling for Gordon Brown to stand down to save the Labour Party. His resignation fuels fear of widespread dissent within the party. Meanwhile news Gordon Brown may replace Chancellor of the Exchequer Alistair Darling with Ed Balls has raised concerns about the UK credit rating once more. Darling had pledged to curb the deficit while Balls is a proponent of increased spending before the next general election. In regards to the local elections, first results are expected this morning, with most declarations in the afternoon. Short of any major divergence from expectations, today's May PPI is likely to be overshadowed by the politics.
Foreign Exchange Mood swings
The German Philosopher, Arthur Schopenhauer, was presumably day-trading FX when he noted more than 150 years ago that "life swings like a pendulum backward and forward between pain and boredom." The mood swings of the FX market continue to be extremely painful for anyone trying to sustain a position in the cash market amid the vagaries of fickle sentiment. I noted two days ago that the sell-off in the USD had moved beyond what was consistent with the movements in the equity market, and much of the price action since then could be seen as a drift to close that gap, but one which has occurred without any particular fundamental impulse. Instead, analysis of short-term moves is once again falling into the trap of trying to find a trigger for what was simply a shift in market mood, one which recognised that the sell-off in the USD was overdone in the same way that the sell-off in equities back in March was seen as overdone with hindsight!
The critical difference is that the current re-think does not feel like it is set to foster the kind of sustained reversal for an oversold USD that we witnessed amid the revisionist view of equity prospects from oversold levels. For one, that equity rally was not simply sentiment driven, as mild improvements in economic data, huge government sponsorship, a slightly better than expected US corporate earnings season and cheap valuations propelled the upswing. By contrast, USD bulls would really need to find grounds for a fresh pick-up in risk aversion to argue that the short-covering exercise could gain some traction. Unlikely to foster anything other than a brief local currency ripple.
Through the keyhole…now who lives in THIS house?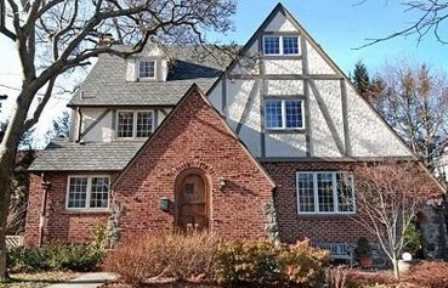 So the man with the tan, former CNBC uber regular and purveyor of Ninja loans to millions of unlucky Americans, former Countrywide (CFC) CEO, Mr Angelo Mozilo may have to do some porridge! There was no news on personal tanning machines behind bars as he'll need more than one hour a day to keep that George Hamilton IV look.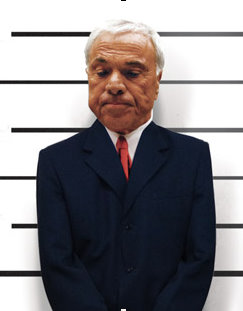 Some humour upon a Friday

Ahead Today.
As it's the first Friday of the month the US jobs report (non farm payrolls) at 13.30 (all times UK) will be the focal point of the session. After digesting the many US labour market releases this week, the market consensus is for a further 520k job losses. The unemployment rate release will take some of the limelight, with expectations centering on 9.2% from 8.9% previously.

The market mood is that the worst job declines have passed and pretty much every labour market indicator points in that direction.

Now that we have got used to NFP numbers like -500K or worse, it seems like we will still have to see a forecast miss of 100K or more to get excited. Since August 2007, we have only seen one forecast miss of more than 100K (in November 2008) and last month we saw the number come in better than expected for the first time since July 2008.

Interestingly, recent price action around the employment data has tended to see equities rally afterwards, presumably because the passage of the data has signalled one more bullet dodged.

The reaction after last month's data was particularly notable for the large equity gains and the start of the USD rot. Currency traders now believe that the number either has to be extremely strong or extremely weak to help the dollar. Anything in the middle will tend to play with the grain of the positive risk appetite.

And finally…….
A new economic plan for America?

Nation's Girlfriends Unveil New Economic Plan: 'Let's Move In Together'
Disclosure: None