Autodesk (NASDAQ:ADSK), with a market cap of $8.85 billion, is a design software and services company, providing customers productive business solutions mainly in the architecture, engineering, construction, manufacturing, digital media and entertainment industries.
Create 3D Models by Autodesk and iPad
Autodesk is on the right spot for 3D printing as the company is trying to help users create a 3D model via the iPad and a free app called 123D Catch. By taking 50-70 shots around the subject twice at different angles, 2D photos can be processed into a 3D model by using Autodesk's software. The 3D model can then be uploaded to Autodesk's 123D site or printed directly with a 3D printer, such as MakerBot.
Imagination and Limitation of 3D Printing
Although there are still limitations for 3D printing, the development for 3D printing technology had been phenomenal in the last few years. Autodesk's CEO, Carl Bass, stated, "It's taken it 20 plus years for it to really develop, but the acceleration of the technology in the last few years has been incredible." 3D printing continues to have scaling problems and be limited by the materials. Still, 3D printer companies, such as 3D Systems Corporation (NYSE:DDD) and Stratasys, Ltd. (NASDAQ:SSYS) continues to enjoy rapid expansion by selling what analysts call a disruptive technology.
Autodesk had tripled its workforce in San Francisco in the past 5 years and had aggressively expanded into 3D printing software. As said by Autodesk's chief marketing officer, Chris Bradshaw, "Not unlike LaserJet printers, 3D printers are going to end up in everyone's house." The impact may be further beyond and apply to the manufacturing and supply chains. The future of 3D printing is only limited by imagination.
Hype?
The future is bright for 3D printing, however, are 3D printing related companies overpriced? A quick comparison will be reviewed for Autodesk, 3D Systems and Stratasys including the revenues, return on equity, and P/E ratios.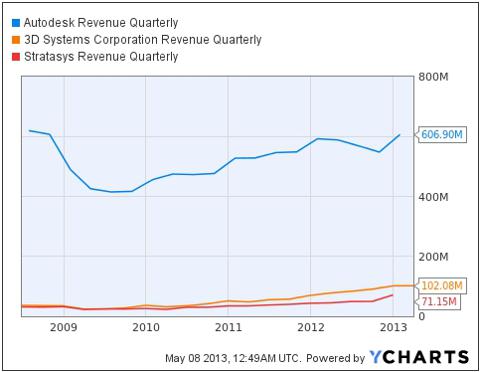 Source: YCharts.com
The revenues for all 3 companies continue to increase since mid-2009. The growth has accelerated for both 3D Systems and Stratasys since 2011.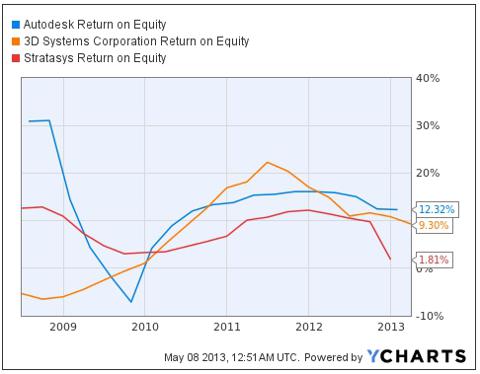 Source: YCharts.com
The ROE for Autodesk had peaked in mid-2011 while 3D System and Stratasys had started to decline in early 2012.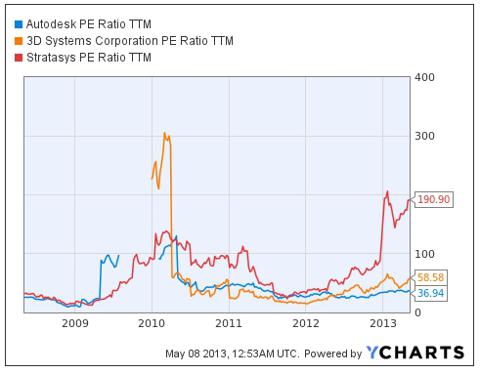 Source: YCharts.com
Despite the rapid growth, Stratasys' P/E of 190.90 is much higher than 3D System's P/E of 58.58 and Autodesk's P/E of 36.94. Although there may be some hype surrounding the 3D printing industry, the valuation for 3D Systems and Autodesk are justified and supported with its solid revenue growth. 3D Systems had just announced another solid quarter with record revenue and gross profit on higher printer units for Q1, 2013, where revenue grew 31% from 2012 to $102.1 million on a 61% increase in printers and other products. Despite a high P/E, Stratasys is expected to ride the long-term uptrend for 3D printing as the integration continues for the company after the merger, supported with a healthy balance sheet.
Autodesk remains a solid, safe bet for 3D printing with its current business model. Autodesk enjoys a wide economic moat and a strong market leadership with its computer-aided design software. The company continues to aggressively expand into mobile, social, and could market by leveraging its advanced technology. Autodesk is well positioned to capture the 3D printing trend with its solid fundamentals and well established positions in the 2D market.
How to Invest
Autodesk's P/E of 37.0 remains below the industry average of 57.5. The Forward P/E of 18.2 is justified with its estimated revenue growth of 5.90% and 8.40% for 2013 and 2014. Analysts have a mean target price of $41.47 for Autodesk. Technically, Autodesk's share price should be supported at $36, the long-term uptrend support. Autodesk remains a solid long-term buy.
Disclaimer: Investors and traders are recommended to do their own due diligence and research before making any trading/investing decisions.
Disclosure: I have no positions in any stocks mentioned, but may initiate a long position in ADSK over the next 72 hours. I wrote this article myself, and it expresses my own opinions. I am not receiving compensation for it (other than from Seeking Alpha). I have no business relationship with any company whose stock is mentioned in this article.