It has been an amazing run for most investors and traders over the past three months. Those who bought at the bottom reaped tremendous gain. I initiated a buy for Carlisle Companies at $22.30 (NYSE:CSL) on 4/29/09. The stock immediately shot up to $24 and I recommended selling it on 5/4/09. On average, the "market" typically return 10% annually, so I had to take a 7.6% profit in Carlisle after just 3 trading days (market were closed on 4/2 - 4/3). It may be a quick "trade" but it was a rational thing to do. I was not trying to time the market, but simply take what the market had given me.

After selling all my holding, I gave the following advice:
Although I closed my position, I will continue to monitor Carlisle closely and would like to re-purchase the stock near $22 or 2.8% yield (previous resistance).
As you can see on the chart below (click to enlarge), Carlisle sold off shortly after peaking at $24.17.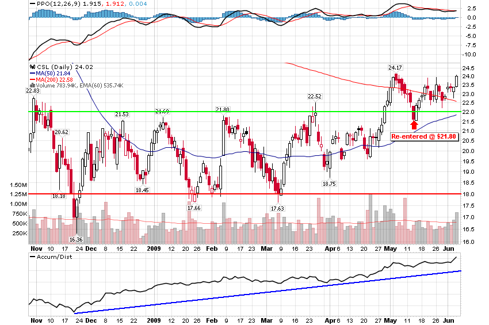 If you have the time to follow the market closely, you would be able to buy it back at $22 range. I did just that at $21.80. What is important about the $22 is that it was a "resistance" that turned into a "support". Psychologically, as more buyer see the stock approaching that level, they would step-in to buy based on chart and creates a support for that price range.

It may just be pure luck or voodoo, but Carlisle had given me a total of 17.5% return. If you didn't sell, you would still be sitting on 7% gain and a dividend payment that was paid out on 5/31. I was greedy enough to buy it back before ex-dividend date. Surely Citi Bank or BofA would make you rich by now, but this is not a casino. I invest my hard earned money wisely.

What to do now?
Hold on to the stock if you have it. The probability of the stock falling below $22 is present so be aware of your risk.
If you want to get in, wait. Valuation is a bit rich for me so I would wait for $22 range (2.8% yield).

The goal is not to sell you stock, but educate you the thinking process behind my buy and sell. I am really comfortable holding Carlisle at this price ($21.80) because at the current price, I will get 2.8% dividend with payout ratio of 33%. All the company has to do is increase their earning by 7.2% for me to gain 10%. The historical performance has been 15% over the past 15 years. The latest low estimate is for earning to grow 13% in 2010.

It is amazing that such a small company (1.5B market cap) can performed so well. I will be holding on to this company and see if the company can raise their dividend again, next quarter. That would make Carlisle a Dividend achiever for 32 years! Now, who said small caps are risky.
Disclosure: I currently hold shares of CSL