How the mighty have fallen. Genco Shipping & Trading Limited (NYSE:GNK), the one-time jewel in Peter Georgiopoulos' shipping empire, may very well be the next shoe to drop among high-profile shipping companies heading for bankruptcy court. Today Genco, a dry-cargo shipping company that owns a fleet of 53 vessels, is a shell of its former self. Its stock price has fallen from an all-time high of $84 per share in May 2008, to Tuesday's all-time intra-day low of $1.12 per share. Its market capitalization has shrunk from approximately $2.4 billion to just above $60 million.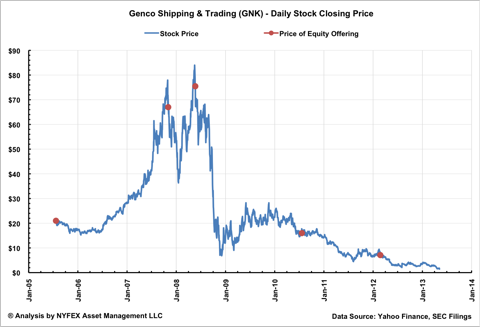 What caused Tuesday's sell-off amid very heavy trading volume, (the stock did manage to close at $1.44 per share, down only 18.64% for the day) were renewed concerns about the company's ability to serve its debt beginning in 2014, including rumors that it may have hired bankruptcy specialists to guide it through restructuring talks with its lenders.
Following an amended agreement with its lenders in August 2012, GNK is currently enjoying temporary immunity from debt repayments, and waivers for most of its debt covenants until December 31, 2013. It still has to maintain its minimum cash covenant, but I will cover this requirement later in the article. Its total debt outstanding as of March 31, 2013 was $1,437 million at the parent level, including $125 million in senior convertible notes.
Beginning next year, GNK will have to repay some $220 million in 2014 alone, an amount the company does not have, nor it can reasonably be expected to generate from operations. During the first quarter of 2014, GNK actually burned through $17.7 million in cash to fund its operating shortfall!
In addition, GNK would have to again comply with its amended - read watered-down - covenants starting in the first quarter of 2014. Because of the uncertainty (sic) in meeting its covenants and servicing its debt, GNK had to reclassify its total debt outstanding as current liabilities, which has a lot to do with the recent sell-off in the stock.
I believe that GNK will hit the wall well before the first quarter of 2014, and possibly as early as this summer. As always the devil is hiding in the details. GNK appears to have enough cash to sustain the current market environment for a few more quarters. Its total cash on hand as of March 31, 2013 was $65.2 million. But, after adjusting for $39.75 million (or $750,000 per vessel) that the company must maintain to meet its minimum cash covenant, and another $1 million that belongs to its subsidiary Baltic Trading Limited (NYSE:BALT), that leaves GNK with just about $25 million in breathing room, before it has to go hat-in-hand back to its lenders.
Spot freight markets are not helping either (GNK operates all of its vessels in the spot market, a chartering strategy I still try to comprehend). Supramax & panamax vessels have seen better earnings so far this quarter, but cape size vessels have continued to struggle in the second quarter.
I know that troubled shipping companies and their lenders have been playing a high-stakes game of chicken, with lenders mostly choosing to look the other way to avoid writing down their shipping portfolios. But when companies run out of cash then all bets are off. Memory should serve us well recalling the recent bankruptcy petition of General Maritime Corporation (NYSE:GMR), the tanker venture of Peter Georgiopoulos. It was show time when General Maritime came down to its few remaining dimes.
To be fair, the management of GNK, and in particular its CFO John Wobensmith, has done as good a job as any in dealing with a weak hand. But in the absence of a spectacular turnaround in spot freight markets in the very near term, I do not see what anyone can do to right this ship. The lesson we must never forget is that markets can stay low, long enough to humble even the mightiest.
Disclosure: I have no positions in any stocks mentioned, and no plans to initiate any positions within the next 72 hours. I wrote this article myself, and it expresses my own opinions. I am not receiving compensation for it (other than from Seeking Alpha). I have no business relationship with any company whose stock is mentioned in this article.