After seeing its stock down over 11% the last twelve months (compared to the NASDAQ Index's 15% upward movement) is Intel (NASDAQ:INTC) now an undervalued stock pick?
In reality, one of the big underlying questions is; is it time to by any tech stock? The Dow pushed through the 15,000 barrier, an all-time record, and both the DOW and S&P have jumped 14% this year alone. The CBOE index, a.k.a. the fear index, is at about 13. This is not surprising, as the markets have hit new highs. The continued sluggish global economy is tightening the consumers' belt and volatility of the IT market should remain high in 2013. However, the tech industry outperformed the global economy.
So let's get back to Intel. Last quarter earnings came in down 25.3% year over far and first quarter revenues were down 7% sequentially. Patrick Darling at Intel claims this performance shows promise considering the global economy. Wait, what? This year they started shipping their new ultrabook and smart phone processors, but companies and consumers have been watching their spending as economic uncertainty continues.
Analyst's projections indicate that Intel's current quarter earnings will be down 28% versus the industry down 12%. As well, for the full year (2013), analysts expect Intel to underperform all the major tech peers. For 2014, Intel is expected to rebound, but still only be in line with some of the major peers.
| | | | | | |
| --- | --- | --- | --- | --- | --- |
| EPS Growth Estimates | Intel | Microsoft | Cisco | Qualcomm | Dell |
| This year | -12.2% | 1.1% | 7.6% | 22.4% | -11% |
| Next year | 8.6% | 11.2% | 5.5% | 8.1% | 8.5% |
However, when compared to the semiconductor industry, tech sector and S&P 500, Intel is expected to underperform all of them.
| | | | |
| --- | --- | --- | --- |
| EPS Growth Estimates | Industry | Sector | S&P 500 |
| This year | 15.6% | 17.2% | 8.1% |
| Next Year | 46.9% | 32.9% | 12.6% |
Intel also has one of the largest R&D expenses in the industry. Of late, that R&D expense has been growing much quicker than revenues. This will likely continue straining earnings.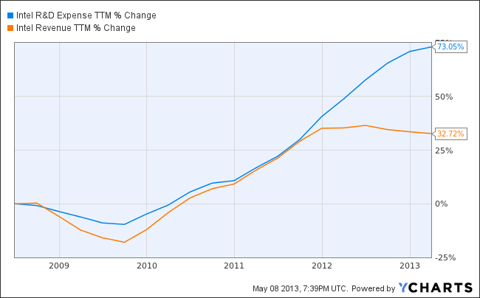 Product development costs will likely remain high in the interim as Intel prepares for the emerging mobile segment. Intel has also increased focus on the its ultrabook concept; however, adoption of new technology is naturally much slower in an uncertain economy. What's more is that the ultrabook success has been limited by the growing number of tablets in the market.
Developed markets remain in secular decline and developing markets could soon follow suit. The enterprise segment has for long been a savior for Intel, but growth rates have slowed down in this segment as well. Intel should however continue to gain from the ongoing move to cloud computing.
Where's Intel at Now?
Interesting enough is that in the innovation of technology, it is often to a company's benefit to diffuse their technology for the benefit of complimentary products. Intel for example, innovated the USB device, but decided to diffuse the technology because it would benefit their core business, the silicon chip. Intel's competitor in core processors is AMD. However, Intel remains the leading producer of microprocessors for PCs.
Unlike most innovation and technology companies who have a skimming marketing strategy to gain high upfront prices, Intel takes a penetrating approach to reach the masses. By diffusing their technology, manufacturers can purchase Intel's products at low prices. For example, a consumer may purchase a computer form one manufacturer and a printer from another. This requires a universal USB device that Intel has innovated. Keeping the prices low creates mass-market penetration.
Intel has been the leader in processors for over 40 years. However, there innovations cross many industries:
Their digital signage assists consumers in their online shopping and assist retailers to target their markets.
They are creating efficient energy management systems to streamline the energy industry.
They are heavily invested in R&D for alternative energy.
Intel's In-Vehicle Infotainment (IVI) "…detects and adjusts to road conditions".
They have created devices to send diagnostic data virtually to physicians from patients.
Has trained over ten million teachers around the world
R&D in agriculture, space exploration, manufacturing, microbiology
Bluetooth technology
Mobile and Smartphone components
Intel's recent innovation is the UltraBook laptop computer.
Part of Intel's move toward other initiates includes the strengthening of McAfee system. Recent news shows that Intel has made a bid to purchase Stonesoft Oyj (SFT1V) located in Finland. The offer is for $5.90 per share, more than double the May 3rd closing price. The total offering is for $389 million. This is a premium of 128% over the stock's price at the time of the offer. News of the offering sent Stonesoft's share price rocketing. Intel's intent for the purchase is to expand their acquisition of their McAfee product purchased in 2011 for $7.7 billion. Stonesoft was founded in 1990, has approximately 265 employees, and has a projected sales growth rate of 50%.
Bottom line
There's no denying that Intel appears cheap. The stock trades at 12 times earnings, but its 5-year P/E rang is 8.5 times to 29.7 times. However, there is always the possibility of a cheap stock being a value trap. The real overhang for Intel is its exposure to the PC industry. It generates some 65% of revenues from its PC segment. This segment is being pressured due to declines in notebook and desktop platforms.
Intel is a "hold" at best for the time being, with its 3.7% being the key support for holding the stock. Investors should wait for an sign that Intel is regaining traction in its PC segment, or that its data center segment and move to the cloud, is garnering a larger portion of revenues. Then, investors can rest assured that Intel is not going anywhere; it's the world's largest processing chip provider.
Disclosure: I have no positions in any stocks mentioned, and no plans to initiate any positions within the next 72 hours. I wrote this article myself, and it expresses my own opinions. I am not receiving compensation for it (other than from Seeking Alpha). I have no business relationship with any company whose stock is mentioned in this article.