The 4-week moving average of weekly initial unemployment claims reached its highest point nine weeks ago, on April 8. Since that peak, at 659,500, the metric has fallen into a range between 632,000 and 624,500. The most recent reading, 631,000 yesterday (June 4 report, May 30 data), is still close to the peak. This indicates that there is still a lot of pain, with nearly double the number of people applying for the first time for unemployment benefits as would be the case in a healthy economy. But nine consecutive weeks below a peak has, in six of the seven occurrences, indicated a recession has ended. The one exception occurred in the 1969-70 recession, when the first peak, occurring 30 weeks before the recession ended, was followed by a second peak only five weeks before the recession ended.
The chart, courtesy of the St. Louis Fed FRED data base, is shown below: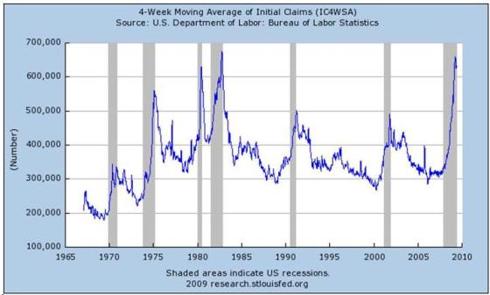 Recent articles discussing weekly claims and the end of recessions have been posted by Lounsbury, Iacono and Miller.
Two other employment indicators that could flash signals within the next month would reinforce the weekly claims peak signal. One of these is from the monthly report from the Bureau of Labor Statistics, U.S. Dept. of Labor. A minimum in the weekly hours worked in manufacturing is an early indicator that a recession is ending. This number rose in the early May report (covering April) from the level for March. If the report for May (due today, June 5) and for June (due in early July) remain above the March minimum, a second signal will be made that the recession has ended in the second quarter.
The third indicator to watch is the number of continuing insured unemployment claims (the insured unemployed number). The 4-week moving average of insured unemployed has also peaked nearly coincidentally with the end of recessions. As of this week it is still rising, but at a slower rate. Jeff Miller has cautioned that this number may not peak in as timely a manner in this recession because of the high level of extended benefits implemented.
Unemployment data is too often dismissed as a "lagging indicator." If you look at the right pieces of data it can actually be concurrent or slightly leading economic turning points. This subject, including all three of the statistics mentioned in this article, as well as some less timely data, is covered in more detail here.
Data can be followed at dol.gov, updated every Thursday at 8:30 am Eastern Time, for weekly initial unemployment claims and insured unemployment totals. Monthly employment data is updated the first or second Friday of each month at bls.gov.