Introduction
In an earlier article, we discussed one of the most important metrics to analyze the gold industry, the actual cost of mining an ounce of gold, which can help an investor figure out whether it is time to buy GLD and/or the gold miners. In that analysis, we used the FY2012 financials to calculate the combined results of publicly traded gold companies and come up with a true all-in industry average cost of production to mine each ounce of gold.
In this article we will categorize all the gold miners based on their true all-in costs. This will give investors a chance to see how each miner ranks in its true all-in costs of production and compare them with their competitors.
We must stress that even though the true all-in costs are an important metric to measure miners, investors must still do their due diligence and evaluate other important factors that may affect each miner. Mines coming online, political risk, management experience, and balance sheet health are all important things that must also be taken into consideration. This list is best used to identify potentially strong or weak miners to begin further research.
Calculating the True Mining Cost of Gold - Our Methodology
In the previously mentioned article, we gave a thorough overview of the current way mining companies report their costs of production and why it is inaccurate and significantly underestimates total costs. Then we presented a more accurate methodology for investors to use to calculate the true costs of mining gold or silver. Please refer to that article for the details explaining this methodology, and I would encourage all precious metals investors to understand this concept.
Top Tier Miners
Here is a list of the top five miners that had the lowest true all-in costs for 2012.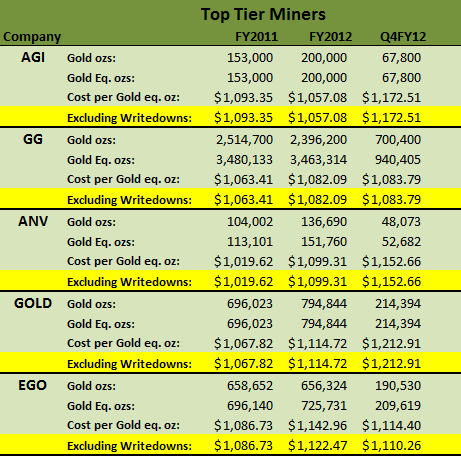 Alamos Gold (NYSE:AGI) leads off the list and wins the 2012 crown with a terrific cost structure of $1057 per ounce of gold. This company is a hidden gem in the gold mining industry that most retail investors have not heard of, and management even instituted a share buyback strategy because they believe AGI shares are undervalued.
Goldcorp (NYSE:GG) is second on the list and its cost structure is one of the main reasons why it is now the largest miner by market capitalization, beating out fellow majors Barrick (NYSE:ABX) and Newmont (NYSE:NEM). Eldorado Gold (NYSE:EGO) is an interesting miner because of its rapid low-cost growth, but it does have some major political risks that may be scaring some investors.
Middle of the Pack Miners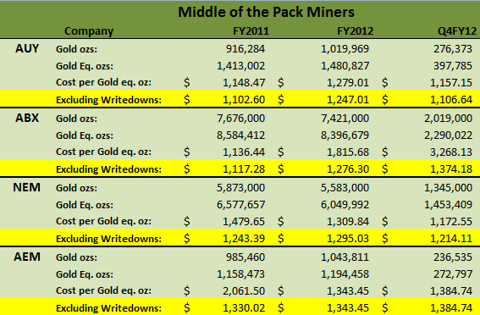 All of the middle-tier miners produce over one million ounces of gold - so they are relatively large. Barrick and Newmont offer investors very similar cost structures, with Yamana (NYSE:AUY) slightly ahead of them. Finally, Agnico-Eagle (NYSE:AEM) rounds out the list with a relatively high $1343 per ounce true all-in cost.
Bottom-Tier Miners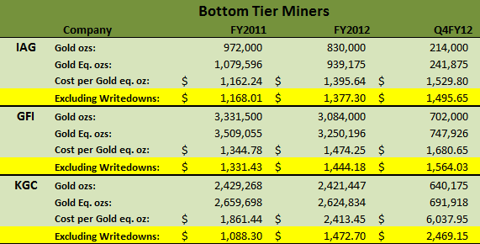 Iamgold (NYSE:IAG) falls into the lower tier of miners with rising costs and lowering gold output. Gold Fields (NYSE:GFI) cost structure is unsurprisingly high primarily due to expensive South African operations, but they may be much higher on the list next year after spinning off these operations into Sibanye Gold. Finally, Kinross Gold (NYSE:KGC) falls to the bottom of the list with the highest true all-in cost structure - but they are developing a major mine so if they do get it into production in the next year their costs will probably fall.
Takeaway for Investors
The true all-in costs provide investors with a good way to estimate how miners rank in terms of their total production cost structure. Miners with low cost structures tend to perform well when gold prices are low because they can remain profitable and keep relatively healthy balance sheets. But high-cost miners can offer investors more leverage if gold prices rise since their margins are much lower, so increases in the gold price have a much greater effect on their earnings per share and P/E ratio. So when investors select miners for their portfolio they should take both these factors into consideration.
Finally, since it is earnings season for many miners, investors should use 2012 and Q4FY12 numbers to measure first quarter miner performance. We believe investors have shifted their focus in evaluating miners from production growth to cost structure - this especially holds true since gold prices have fallen significantly from its previous year's highs. Whether they use true all-in costs or other cost metrics, investors should pay close attention to the cost structure of the miners they hold in their portfolios - we believe the miners that can demonstrate the lowest cost structures will outperform their peers in the current negative gold sentiment environment.
Disclosure: I am long AGI, GG, EGO, SGOL. I wrote this article myself, and it expresses my own opinions. I am not receiving compensation for it (other than from Seeking Alpha). I have no business relationship with any company whose stock is mentioned in this article.